AIBD Strategic Plan Team (SPT) elected new Chairman and Vice-Chairman during the last meeting held on 29th November 2021. 10 members from 7 countries participated in the meeting, which was observed by 5 delegates from other AIBD member organisations.
The SPT Members are from 8 members countries elected at the 18th AIBD General Conference in Bhutan, 2019- Cambodia, China, Fiji, India, Iran, Korea, Philippines and Thailand. However, China was absent in this meeting.
New Chairman elected: Dr Kim Youngyiill, Korea
Vice-chairman elected: Mr Raman Kumar, India
5 delegates as observers: Ms Shahin Islam, NIMC, Bangladesh, Ms Phobe Thi Thu Nguyễn, VOV, Vietnam, Dr Amal Punchihewa, AIBD Technical Advisor, New Zealand, Mr Paul Soosay, AIBD Business Advisor, Malaysia and Mr Bae Jing Seob, AIBD Special Advisor, Korea .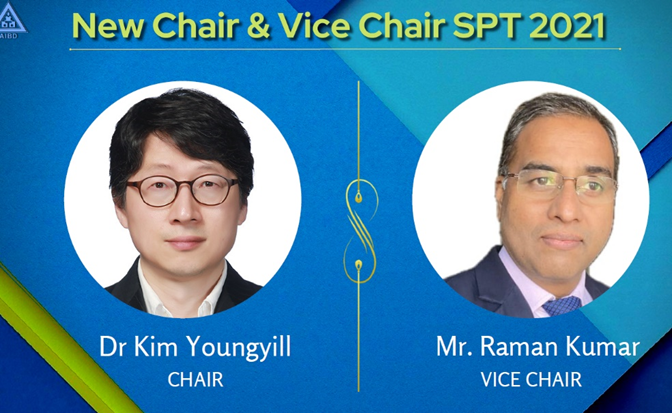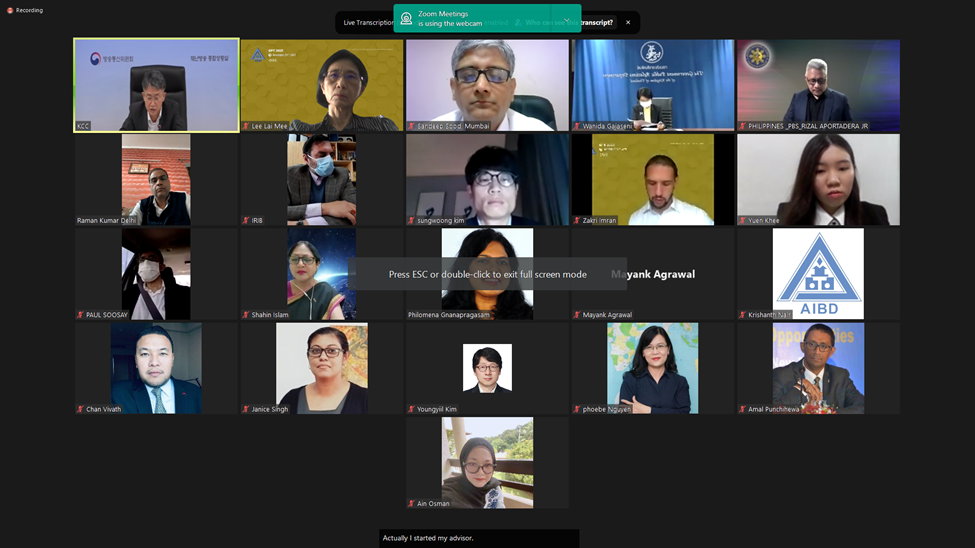 AIBD Strategic Plan Team (SPT) elected new Chairman and Vice-Chairman
For the first time since 1998 a strategic plan document
SPT Members Review AIBD's New Strategic Plan Members of the AIBD
The strategic Plan Team (SPT) met recently during the 16th AIBD General Conference in Maldives to discuss, among others, funding sources for AIBD and the Asia Media Summit (AMS).
The AIBD Strategic Plan Team (SPT) wants institutions in Asia and beyond to know more about the Institute's programmes and achievements as part of efforts to recruit new members and better serve its current members.
AIBD currently has 34 full members and 66 affiliate member organisations, representing 48 countries and regions.
The SPT has endorsed the Secretariat's efforts, among others, to beef up dissemination of the AMS proceedings and achievements to its members and partners.
AIBD is pleased to announce that Mr. Chang Jin from China has been appointed as Director of AIBD on 15 January 2015. The interview panel met in Kuala Lumpur, Malaysia to finalise the decision after an extended short-listing process and lengthy deliberation.
Mrs. Rosarita Niken Widiastuti, President of AIBD General Conference, chaired the panel. The panel also included Mr. Anothai Udomsilp, Chairman of the Strategic Planning Team (SPT) and Dato' Adilah Shek Omar and Mr Laxman Humagain, Executive Board members.
Mr Chang Jin will take office as soon as possible pending work permit approval.
AIBD's Strategic Plan Team (SPT) has met during the 13th General Conference in Phnom Penh, Cambodia to review the Institute's major projects in 2014 and examine planned activities in 2015, particularly the Asia Media Summit to be held in Kuala Lumpur, Malaysia in May next year.
For a week from 28 April to 2 May 2014, international radio broadcaster Voice of Nigeria (VON) gathered in Lagos to prepare for a new Strategic Plan. In a workshop facilitated by AIBD, some 30 participants looked at the international media environment and the ways in which a Strategic Plan is crafted, monitored and published as a promise to audiences and parliamentary funders.
Mr Anothai Udomsilp, Director of Academic Institute of Public Media at Thai Public Broadcasting Service (Thai PBS) was unanimously selected as the Chairman of the AIBD Strategic Plan Team (SPT) at the 31st Meeting of SPT held on 7 May 2014 in Jeddah, Saudi Arabia.