In response to the ongoing COVID-19 situation and information dissemination efforts of media, Asia-Pacific Institute for Broadcasting Development (AIBD), organised a half-day In-Country Seminar on 'Reporting on Health Crisis: Training Journalists for Emergencies and Outbreaks' today. The Seminar was organised with support from World Health Organisation (WHO), National Institute of Health (NIH), National Institute of Occupational Safety and Health (NIOSH) and Asian Disaster Preparedness Center (ADPC).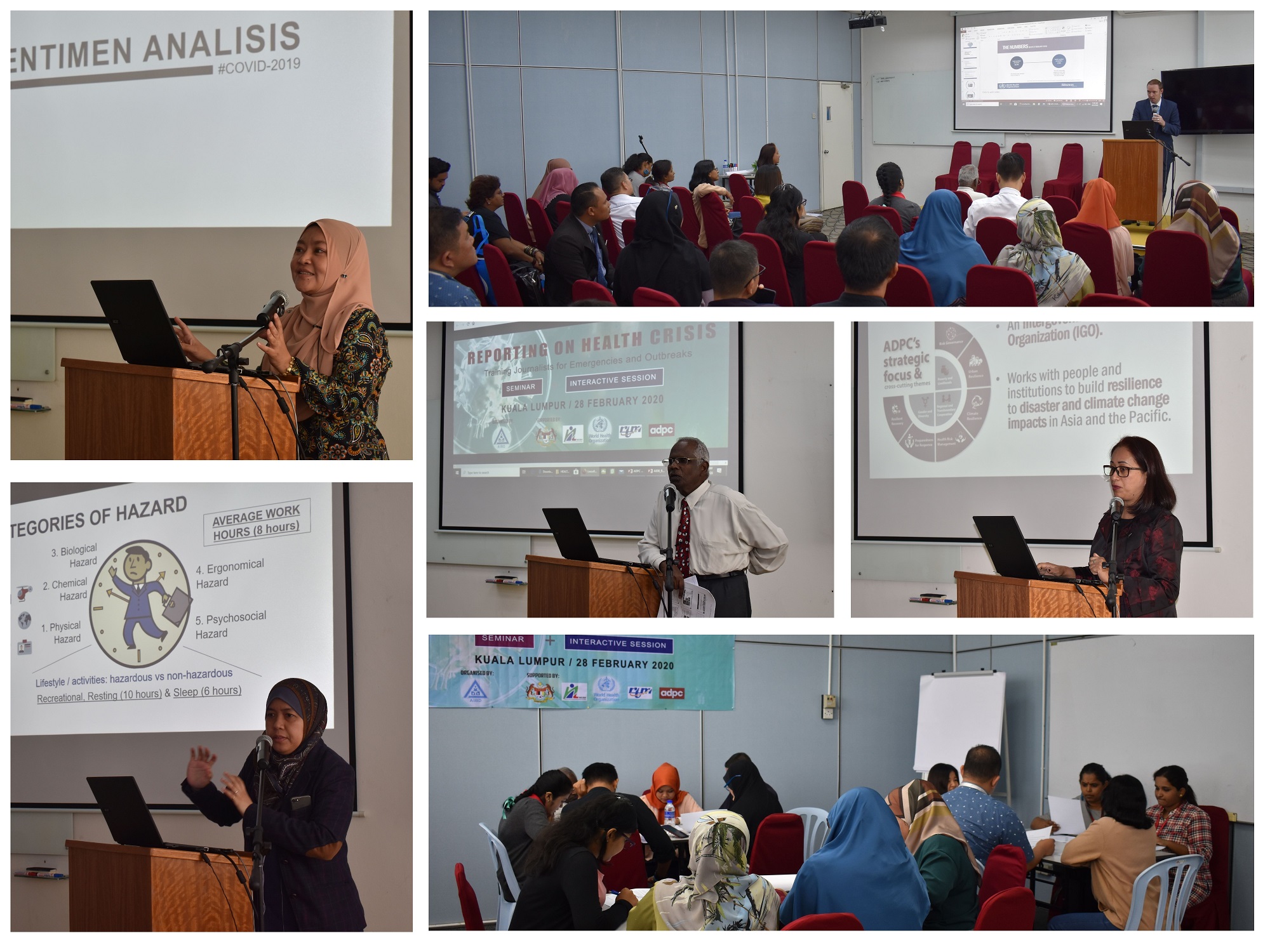 Forty-five participants from 18 organisations attended the Seminar, which aimed to help the journalists and content creators gain deeper knowledge on the COVID-19 and explore methods on how to report on health issue to ensure greater public awareness.
There were five speakers highlighting different areas of focus within health crisis reporting. Dr. Cory Couillard, Consultant with WHO gave presentation on the current situation and emphasised the role of media on public health and risk perception.
Ms Khairulnissa Abdul Kadir, Health Education Officer at National Institute of Health (NIH) elaborated upon the public behavioural aspect and importance of disseminating accurate information at the correct time.
The third speaker of the event, Dr Yvonette Duque, Senior Public Health Specialist at Asian Disaster Preparedness Center (ADPC), Thailand gave an overview of the standard of procedure for Disaster Risk Preparedness from an international perspective, and Ms Ruzita binti Mohd Shariff, Technical Expert with Department of Education and Training at National Institute of Occupational Safety and Health (NIOSH), Malaysia, gave presentation on the key factors to ensure safety and health for journalists during crisis reporting.
The final speaker was Assoc. Prof. Dato Dr. S. Vellayan, consultant avian, exotic reptile, wildlife and veterinarian, gave brief presentation on the importance of research and history of pathogens while reporting.
An interactive session focusing on filtering information and avoiding sensationalizing during health reporting was also conducted after the seminar. The session was conducted by Dr Couillard.
In response to the ongoing COVID-19 situation and information dissemination
For the first time since 1998 a strategic plan document
Given the importance of both law and ethics to the
Thai Public Broadcasting Service (Thai PBS) focus its mandate in three specific