"We can't create new law every time we have new case, but a strong leadership, a strong determination, a strong teamwork and a joint effort," said Dr. Khieu Kanharith, minister of information, Cambodia. He was giving his keynote address at the Media Dialogue on 'Disinformation, Legislation, and Freedom of Expression', organised by Asia-Pacific Institute for Broadcasting Development (AIBD), in collaboration with the Ministry of Information, Cambodia.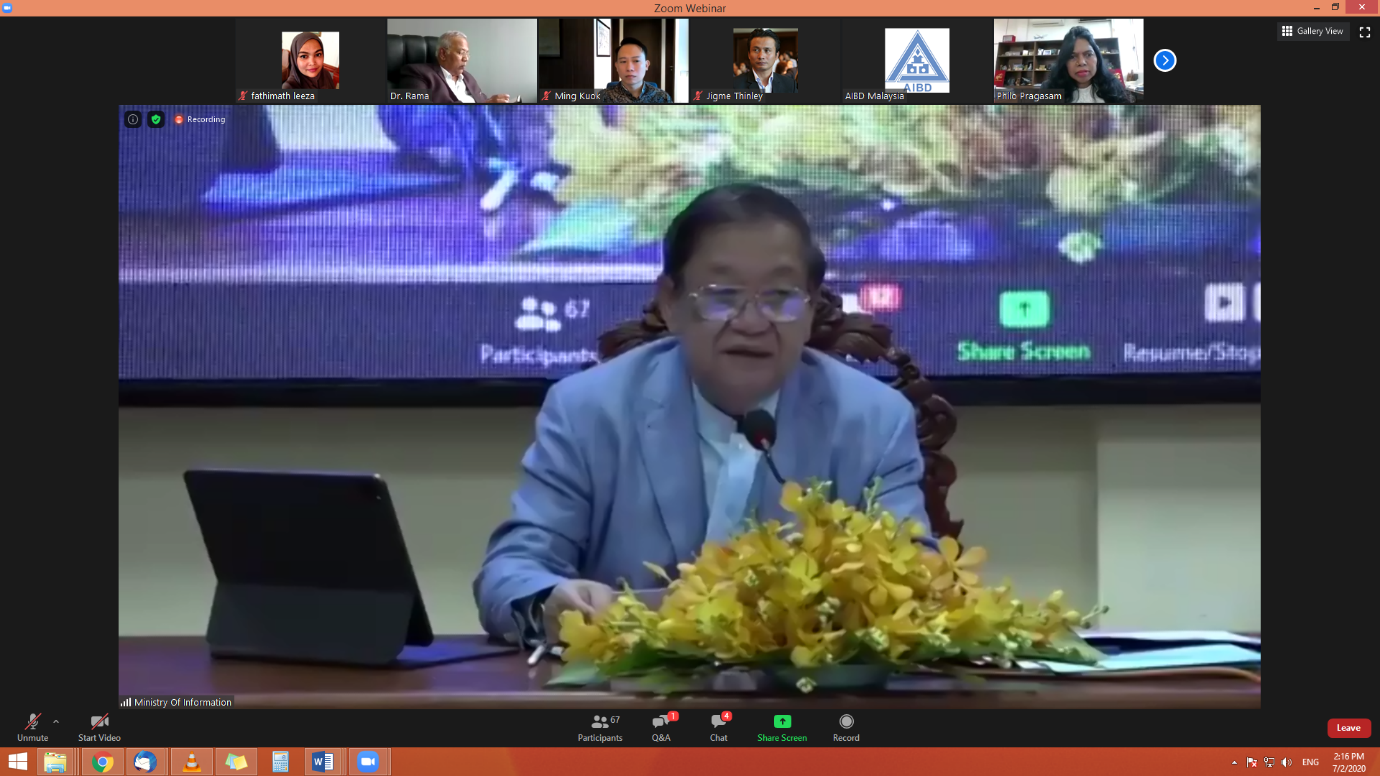 Referring to the current pandemic the minister said some groups and countries, instead of promoting joint effort to solve the problem, were creating more confusion and chaos for their own interests and benefits. "Cambodia is no exception to this sad event," he said.
When asked about whether a legislation or a law can help control 'fake news', Dr. Lim, Ming-Kuok, Advisor for Communication, UNESCO, Indonesia, said 'NO'. He added that it is a complex issue and needed multi-faceted approach to the address it.
Making his presentation on 'International Laws vis-a-viz Freedom of Expression', Dr Ming-Kuok said there is still a lot one can do before even thinking of restricting freedom of expression by bringing in legislation to address the issue. "We haven't even done our due diligence, of providing all the alternatives," he said, adding that freedom of expression is an important individual right, and also an important component for a democratic society.
Dr Ming-Kuok underscored three-part test for permissible restrictions of freedom of expression under the international laws. They are, according to him; legality test, legitimacy test and necessity test.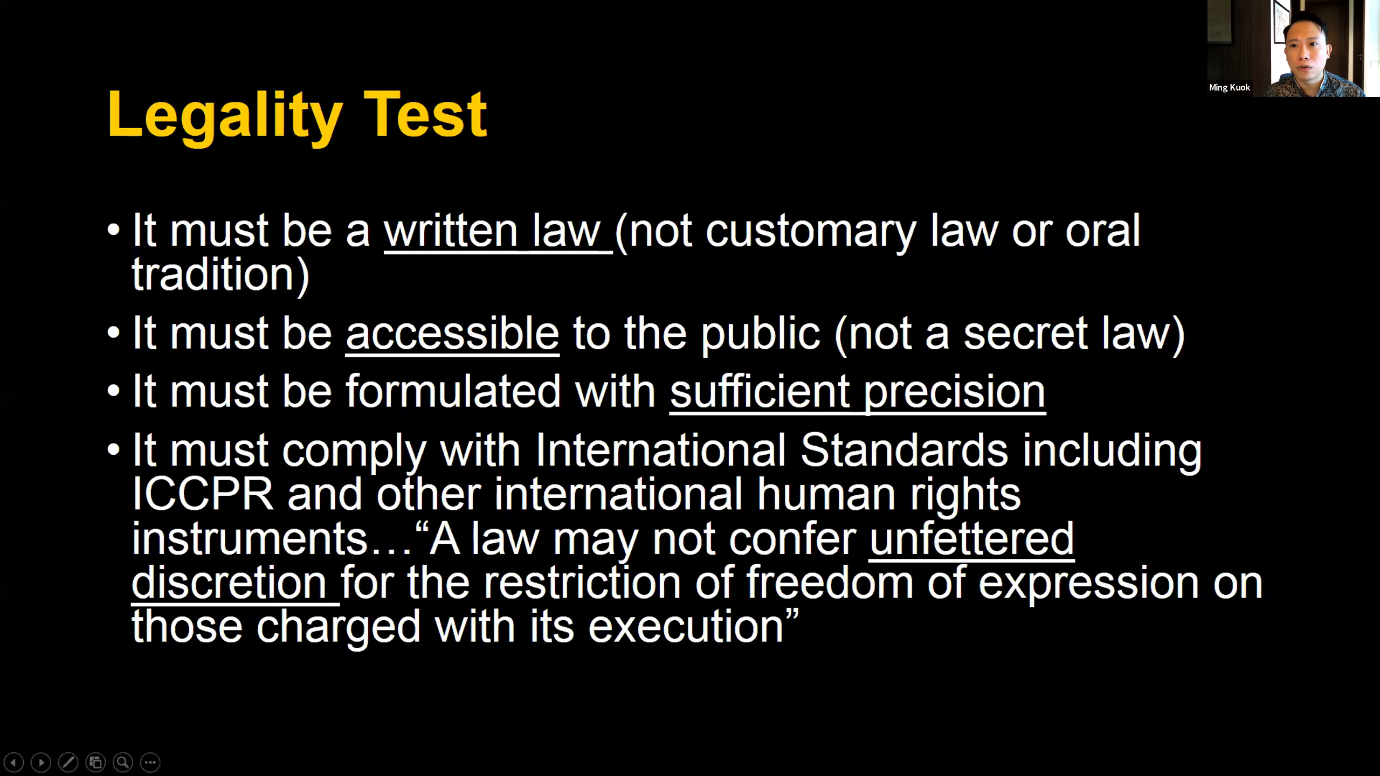 Speaking on 'Regulatory options for disinformation', Dr. Ahmad Helmi Azhar, a public policy analyst from Malaysia, provided four regulatory options. The first one, he said, was engagement and collaborations with platforms and new media. The other three, according to him, are: Digital literacy and awareness campaigns; Fact-Checker and technical standards; and Legislation.
Referring to case studies from other countries, Dr Helmi said, Singapore's 'Protection of Online Falsehoods and Manipulation Act' (POFMA) is a good example of state-legislative approach while European Commission's, a good example of co-regulation approach (see diagram below).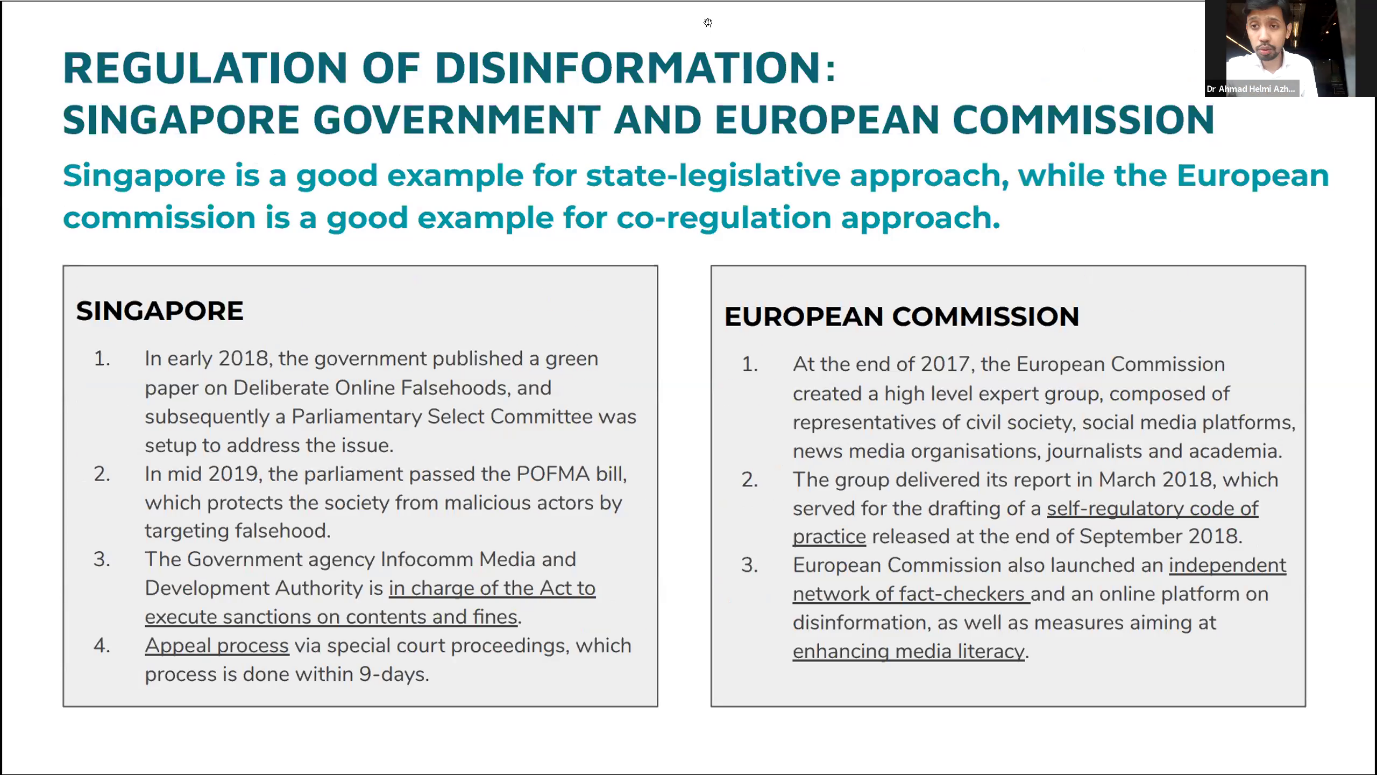 Dr. Masato Kajimoto, Associate Professor with the University of Hong Kong said media literacy education is the answer but there are lot of limitations. "The results are not immediate and it is not a good tool to fight something like the current pandemic, because you need the actions and reactions immediately," he said.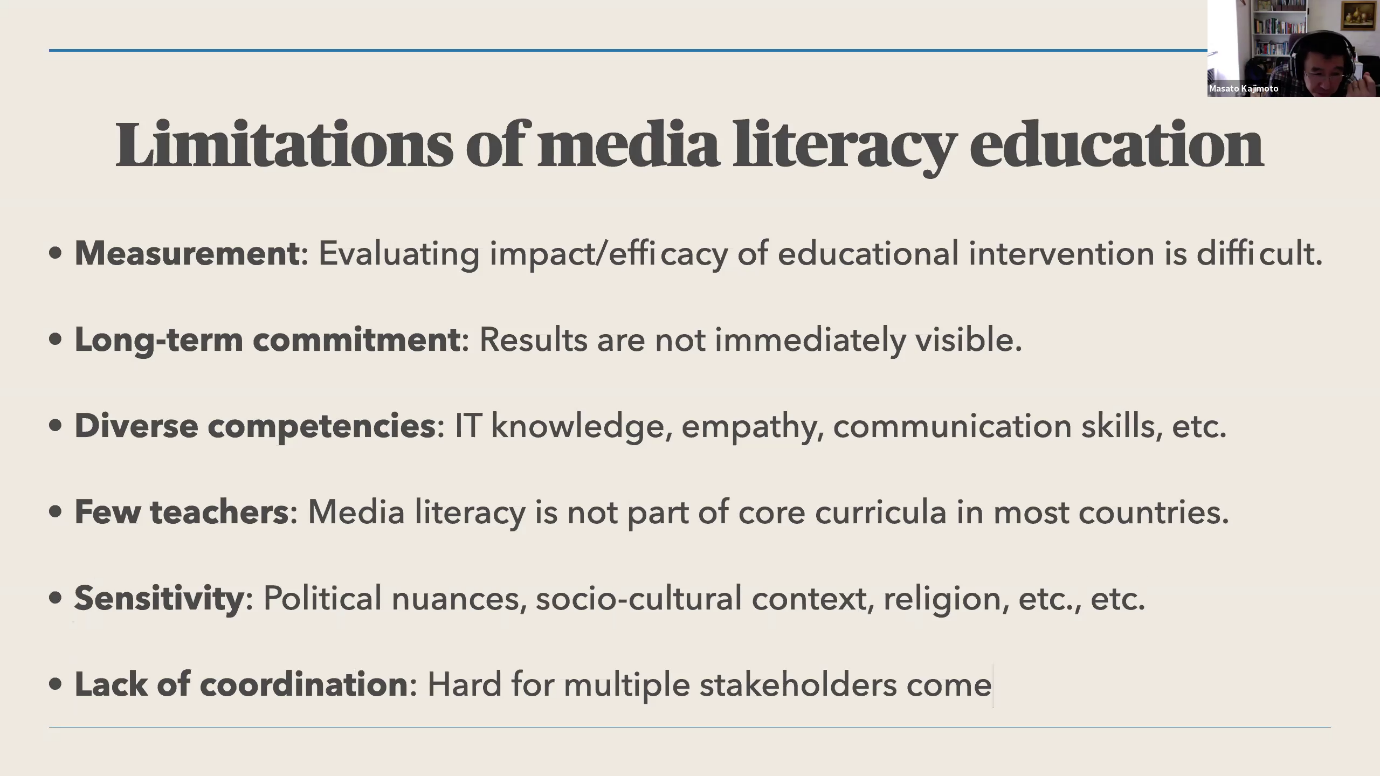 The other limitations, he highlighted, were diverse competencies (IT and communication skills), few teachers who can teach media literacy, sensitivity and lack of coordination among multiple stakeholders.
Dr Masato made some proposals; that all teachers must be trained and there should be daily myth busting in classroom. For instance, he said, science teachers can de-bunk COVID-19 rumours, likewise geography teachers about flat earth theory and history teachers about alternative conspiracies.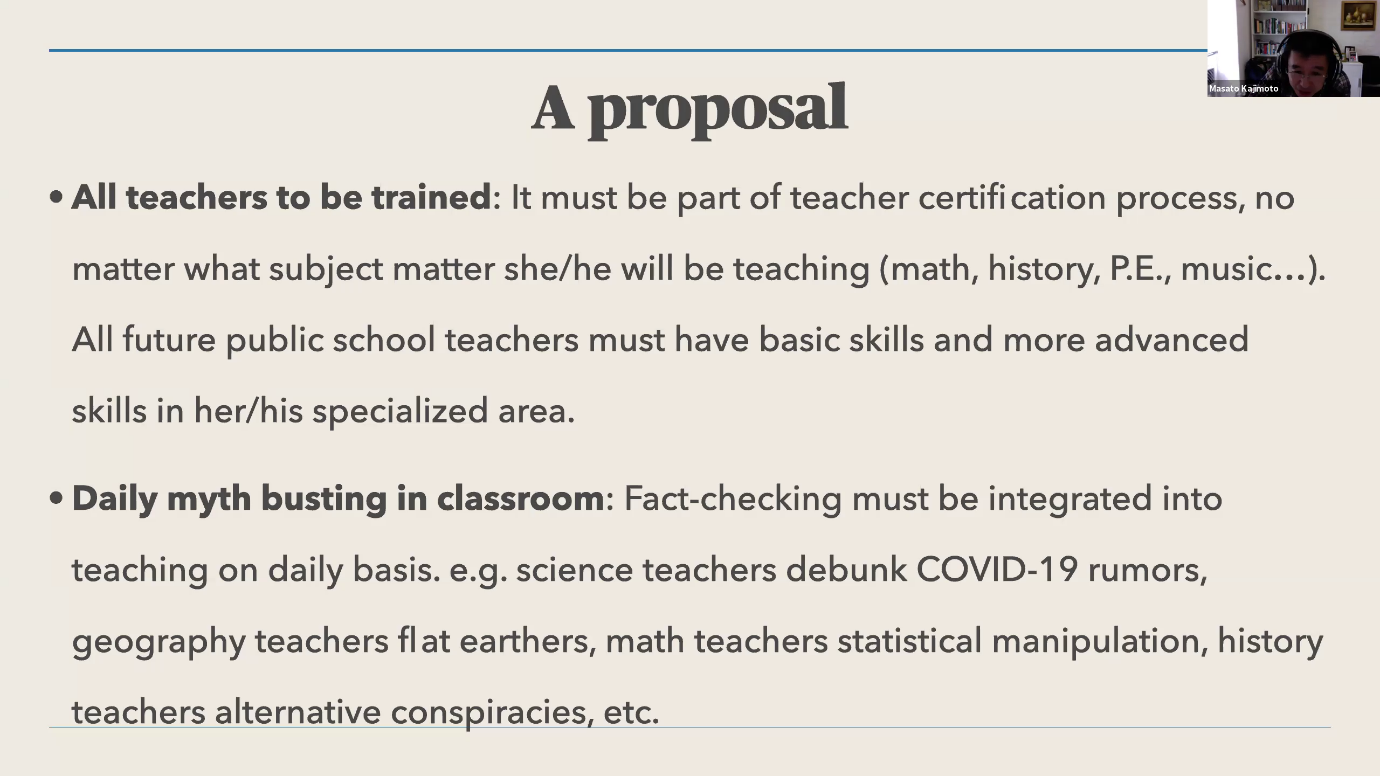 Dr. Sara Chinnasamy, Associate Professor & Political and Social Media Analyst based in Malaysia spoke on misinformation/disinformation in the Asia-Pacific Region and its implications. Dr. Antoon De Rycker Associate Professor of Berjaya University College in Malaysia and Dr. Ramachandran Ponan presented preliminary findings of AIBD Angkor Anti-Fake News Research.
More than 70 participants from 12 different countries took part in the webinar on 2nd July, 2020.
"We can't create new law every time we have new