MINISTERIAL TALK:
Media's role in Dissemination of Information on the Pandemic
Media is all about creating awareness, disseminating information and creating communities. Its role becomes all the more significant in times of disaster in mitigating crisis. The inaugural AIBD Leaders' Web-Summit featured leaders and experts from all over the world, who highlighted the accomplishments of the media and discussed the challenges ahead.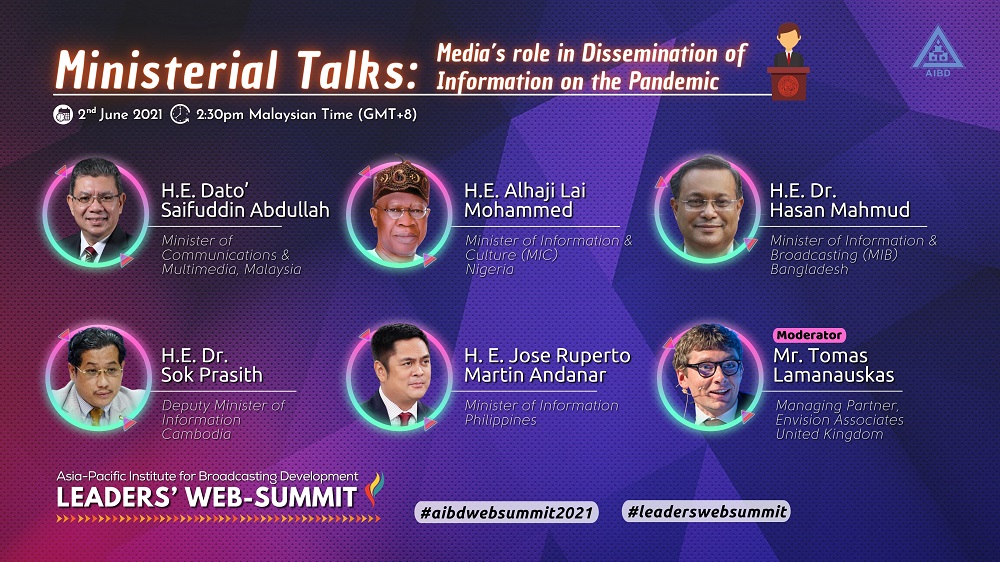 The summit began with a session on Ministerial Talk – Media's role in Dissemination of Information on the Pandemic. This session featured H.E. Dato' Saifuddin Abdullah, Minister of Communications & Multimedia, Malaysia, H.E. Alhaji Lai Mohammed, Minister of Information & Culture (MIC), Nigeria, H.E. Dr. Hasan Mahmud, Minister of Information and Broadcasting (MIB), Bangladesh, H.E. Dr. Sok Prasith, Deputy Minister of Information, Cambodia, and H. E. Jose Ruperto Martin Andanar, Minister of Information, Philippines.  
The eminent panelists stressed the value of the media's role during this COVID 19 pandemic.  Information on the pandemic and preventive measures were disseminated through all government agencies and private media organisations. Daily press briefings, live discussion programmes and PSA were aired on radio, TV and social platforms in almost all the countries.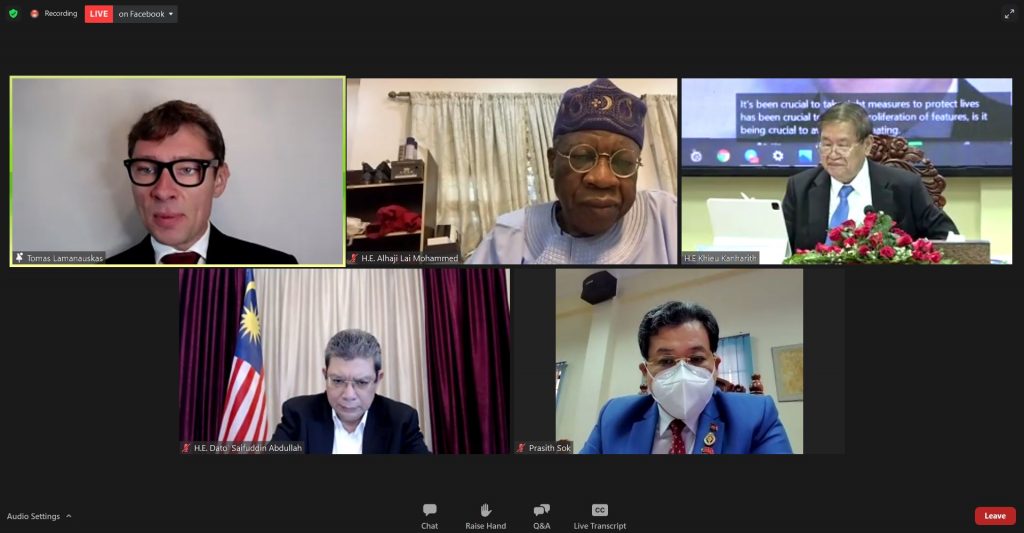 The ministers also expressed concern about the flood of fake news during the pandemic and stressed the importance of fact-checking information to counter false narratives. They underlined the indispensable role of media and how they must offer hope, not fear.  
This 2-day Web-summit was joined by over 400 participants from 40 countries.  
MINISTERIAL TALK: Media's role in Dissemination of Information on the
COVID pandemic is said to be the biggest data story