AIBD is pleased to announce the final winners for the AIBD TV and Radio Awards 2019. The judging session took place on 19 July 2019 at the AIBD office in Kuala Lumpur. The winners were announced during the inaugural ceremony of 45th Annual Gathering / 18th AIBD General Conference & Associated Meetings, held in Paro, Bhutan on 22 August 2019
The judges' board included Mr Jack Nadarajah, renowned Malaysian Broadcaster; Dr Ramachandran Ponnan, Taylor's University, Malaysia; Ms Salbiah Mohd Sharif, Assistant Director, Department of Broadcasting Malaysia and Mr Zairul Eizam Abdul Rahman, renowned Malaysian documentary maker.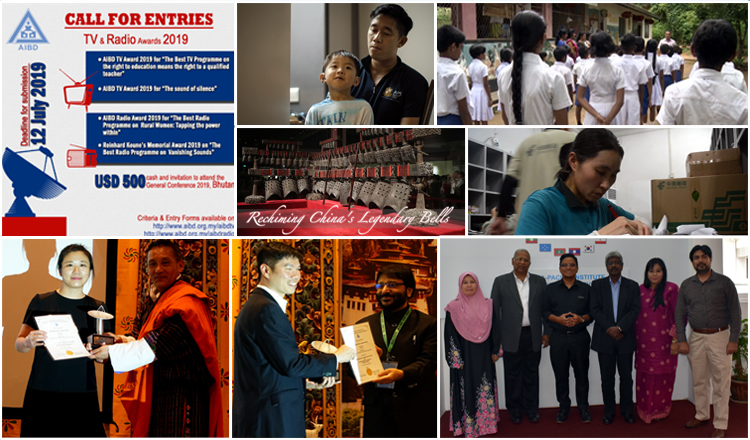 The panel evaluated the entries for the different award categories based on concept and production values. The final award winners are below.
AIBD TV Award 2019 for the Best TV programme on: The right to education means the right to a qualified teacher:
"Amazing School" from Sri Lanka Rupavahini (TV) Corporation, Sri Lanka
AIBD TV Award 2019 for the best TV programme on The Sound of Silence:
"This is What I Hear – Finding My Way" from Channel News Asia, MediaCorp – Singapore
AIBD Radio Award 2019 for the best radio programme on Rural Women: Tapping the power within:
"Xiaomei, When you are you going to show up?" from News Radio, CNR – China
Reinhard Keune Memorial Award 2019 for the best radio programme on Vanishing Sounds:
"Rechiming China's Legendary Bells" from China Radio International – China
Presentation of AIBD Awards Winners at General Conference 2016 Inauguration
The announcement and presentation of the winners of the AIBD TV & Radio Awards 2016 was conducted at the Inauguration Ceremony of the AIBD General Conference in Tehran, Iran on 25 August 2016. The winners were each presented with a certificate, trophy and USD 500 as reward for their special programmes.
Award winner Mr Jae Eung Jong, Director, Educational Broadcasting System, Korea