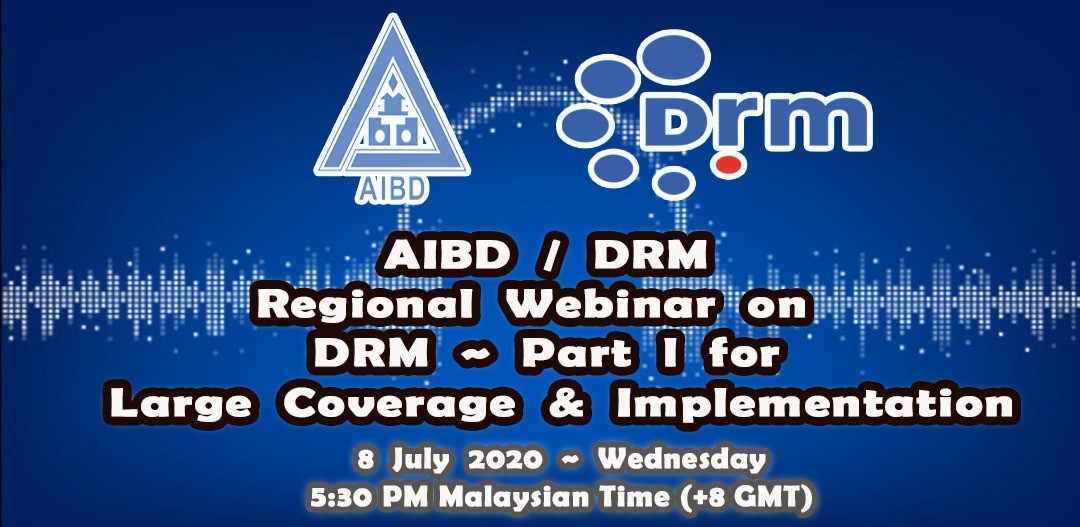 AIBD with the collaboration of the DRM Consortium organised the online webinar on DRM – Part1: Large Coverage and Implementation, on 8 July 2020. The workshop was specially designed for the broadcast engineers/technicians who are associated with studio and transmitter department. Over 160 participants from the Asia Pacific and other region participated in this webinar.
The session was divided into two parts, the first session focused on the aspects of DRM – Key Facts and where DRM fits and serves as per its coverage requirement;
DRM Key features like audio quality, coverage, automatic tuning, multimedia applications, Emergency warning and alert and listeners choices were also discussed.
DRM consortium had also developed live online content monitoring systems where this allows management, engineering and editorial staff to have access to and feedback from remote transmissions.
The session discussed on DRM in the AM Bands for Large- Area and International Coverage, the topics covered were DRM for large area coverage, AM Energy Consumption. The coverage comparison between AM (MW) analogue and DRM MW with energy used were also highlighted. Similarly, coverage comparison between FM and DRM MW is also discussed.
The Session continued with DRM international broadcasting medium wave trial, the case studies from BBC Cyprus its AM operation and Trial, how easy for trial with transmitter modification were also discussed.
The second part of the webinar focused on the coverage of DRM Single Frequency Network (SFN) with State-of-the-Art Network Planning. While using single frequency network with DRM and its advantage for listener and broadcasters were also highlighted. The importance of DRM during emergency warning and how DRM can be used during Disasters were discussed too.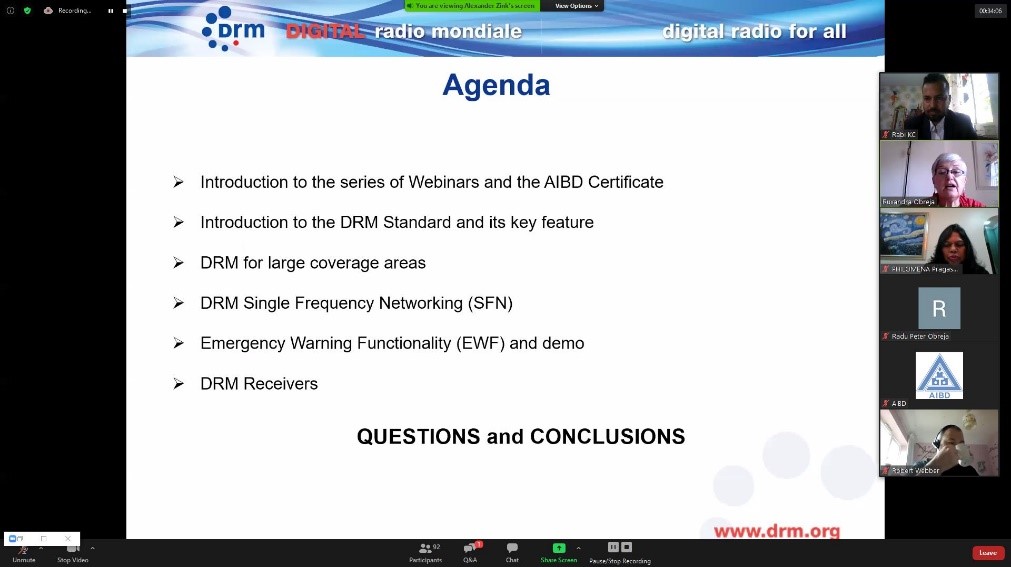 At the Question-and-Answer session, the participants presented their concerns and enquiries to respective resource persons. The session ended with huge exchange of knowledge and experience sharing. To keep the interest of the participants going, some useful take-home questions were handed out.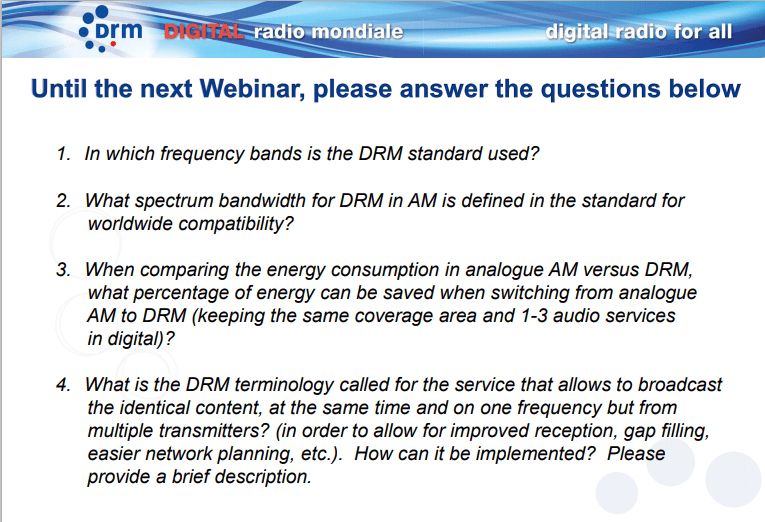 Ms Ruxandra Obreja, DRM Chairman thanked participants and AIBD for organising this second time such webinar. She said the goal of this webinar was to give all participants a clear understanding of the DRM digital radio broadcasting technology, features and benefits and the superiority of digital over analogue.
Ms. Philomena Gnanapragsam, Director AIBD, thanked DRM consortium, Speakers – Alexander Zink, Vice- Chairman DRM Consortium, Radu Peter Obreja, Marketing Director, DRM Consortium, Simon Keens, Ampegon, Robert Webber, BBC World Service and Yogendra Pal, Honorary Chairman, DRM Consortium (India); and the participants for their great interest shown and their active participation throughout the session. She was glad that AIBD could offering this unique chance to participants to learn and share valuable implementation information and results from real case studies and hoped it had benefitted all that had attended.
The Media cooperation exchange programme was held in Beijing, China from 23 to 28 August 2016. The programme was designed for the technical and programme staff of Radio and Television stations from AIBD member countries. The exchange programme was supported by Beijing International Radio, TV, Film equipment exhibition (BIRTV).