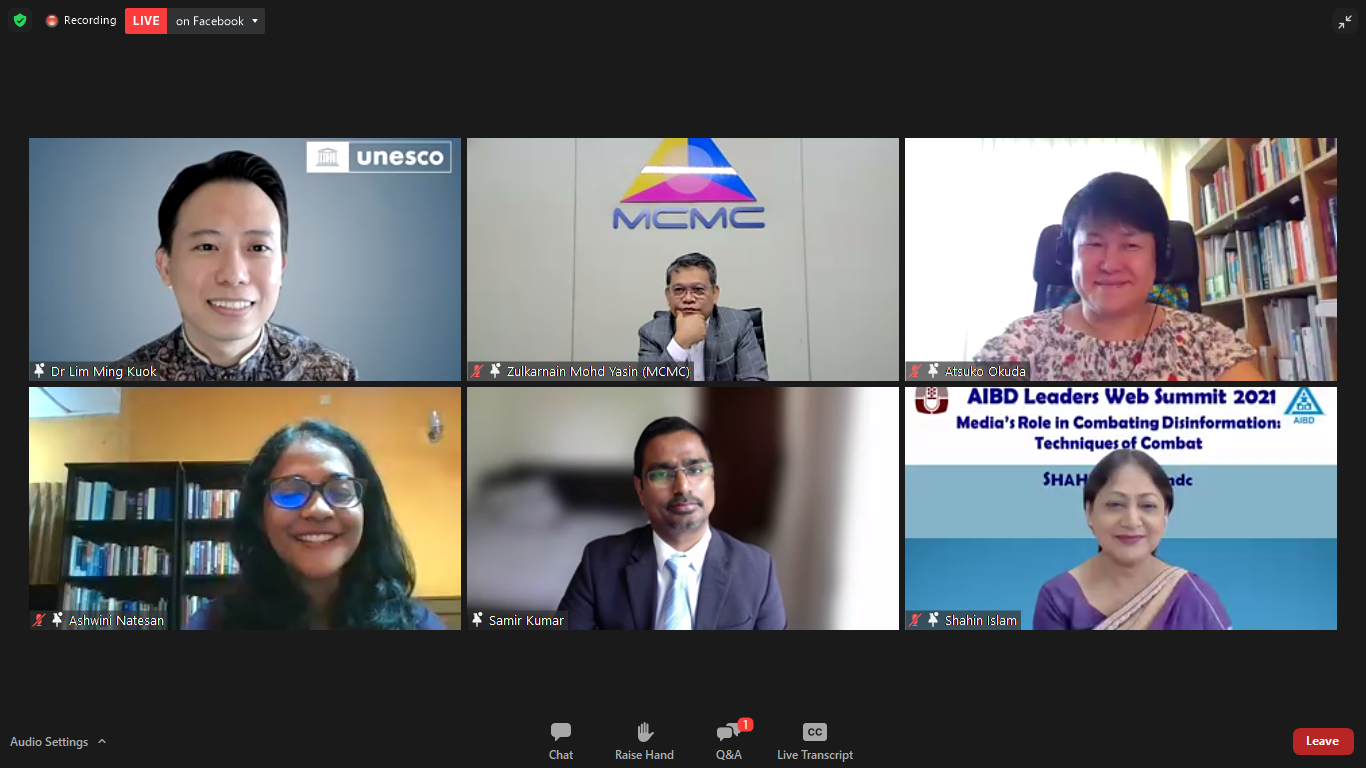 Media's Role in Combating Disinformation in the Era of Social Media 
Session 3: Media's Role in Combating Disinformation in the Era of Social Media
In recent years, with the advancement of technology through the internet and social media, news and information spread with the speed of light alongside fake news. 
Recognising the importance of addressing the growing tsunami of infodemics, particularly during the Covid-19 pandemic, AIBD dedicated 1-hour session on the topic with leaders from across the Asia-Pacific region sharing their expertise. This session was held on 3rd June 2021, during the AIBD Leaders' Web-Summit: Redefining the Role of Media in the New Norm, and focused on the topic "Media's Role in Combating Disinformation in the Era of Social Media".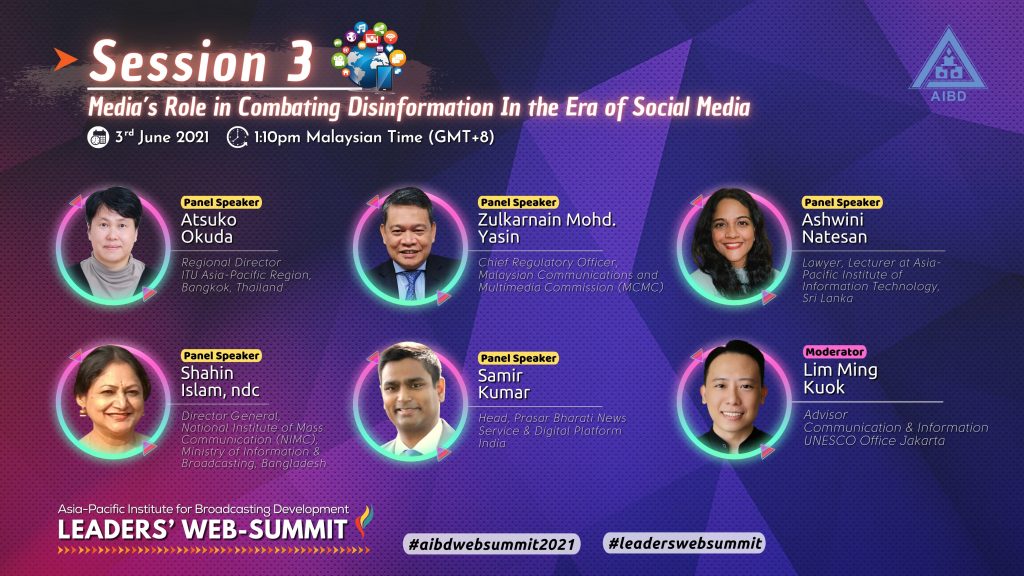 This session featured Ms. Atsuko Okuda the Regional Director of International Telecommunication Union Asia Pacific Region, Mr. Zulkarnain Mohd Yasin the Chief Regulatory Officer of Malaysia Communication and Multimedia Commission (MCMC), Ms. Ashwini Natesan a lawyer and lecturer at Asia-Pacific Institute of Information Technology, Ms Shahin Islam Director General for National Institute of Mass Communication (NIMC) and Mr Samir Kumar Head of Prasar Bharati News Services & Digital Platform.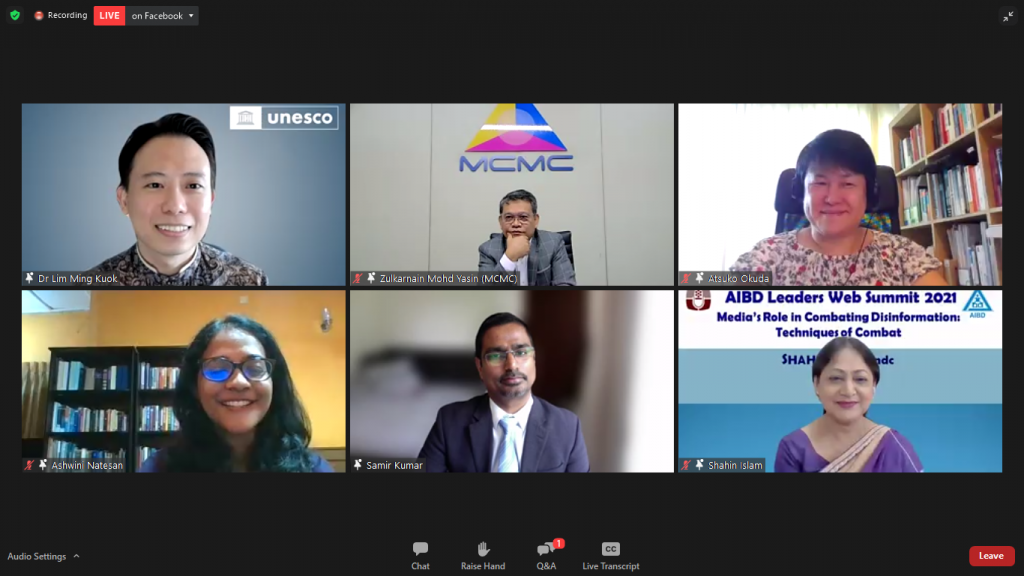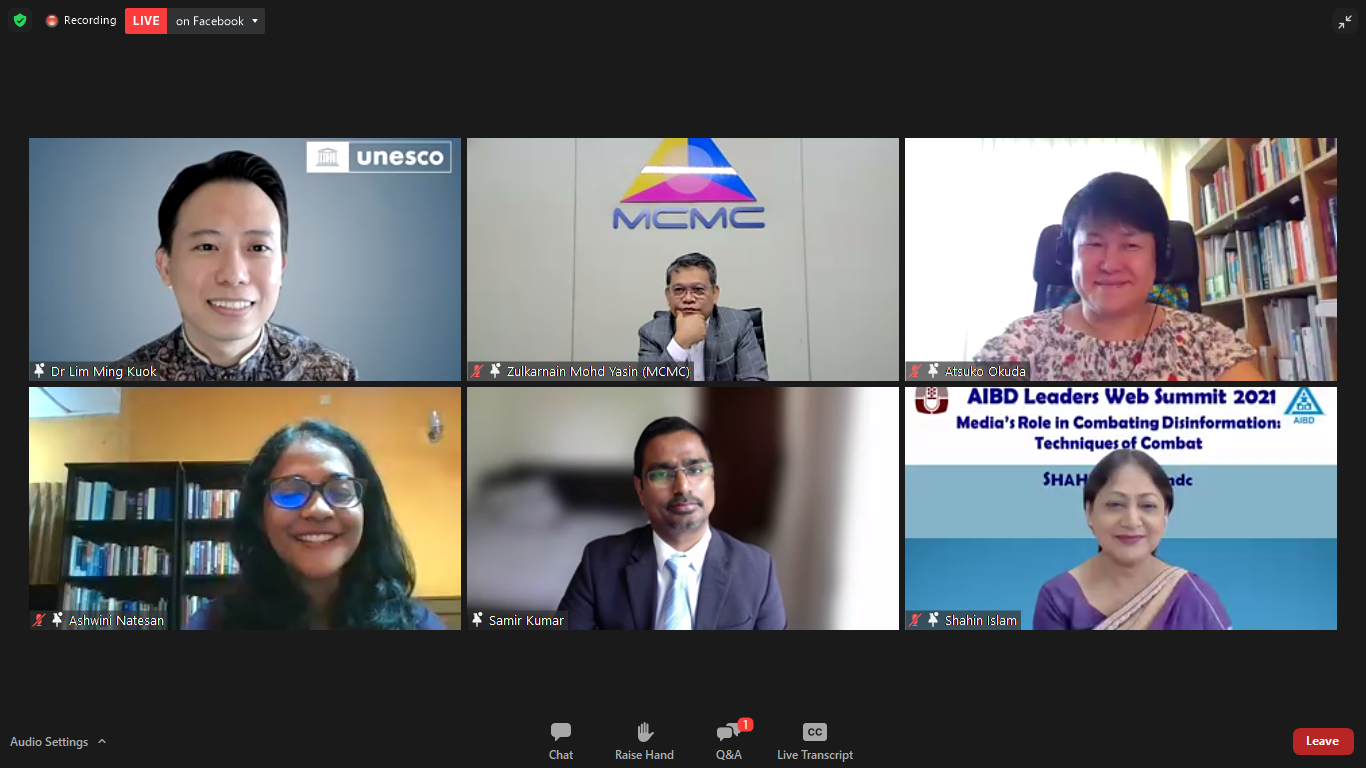 The speakers gave knowledgeable and insightful information on how to combat disinformation. Ms. Atsuko spoke about how to tackle disinformation, the traditional and new media must join in and work as a whole. She also mentioned that to redefine the role of media, there must be digital inclusion and empowerment, especially in the Asia and Pacific. Initiatives, ways, and techniques to tackle fake news were shared in the session by Mr. Zulkarnain, who highlighted the media information and literacy for the masses as a panacea to mitigate fake news. Ms. Shahin and Ms. Ashwini stressed the mechanisms and techniques to combat disinformation. Ms. Ashwini further stated that formulation of new regulations to curb fake news and creation of mechanisms for compliance with regulations while honouring freedom of expression is the way to go. While Ms. Samir, as the last speaker for the session, emphasized that joint initiative from the government, private organization and media is required for fact-checking and thus curb disinformation. 
The session was moderated by Dr. Lim Ming Kuok, Advisor, Communication & Information UNESCO Jakarta Office and observed and reported upon by the two rapporteurs; Mr. Bazlur Rahman, Chief Executive Officer and Mr. Hiren Pandit, Project Coordinator of Bangladesh Network for Radio and Communication (BNNRC).