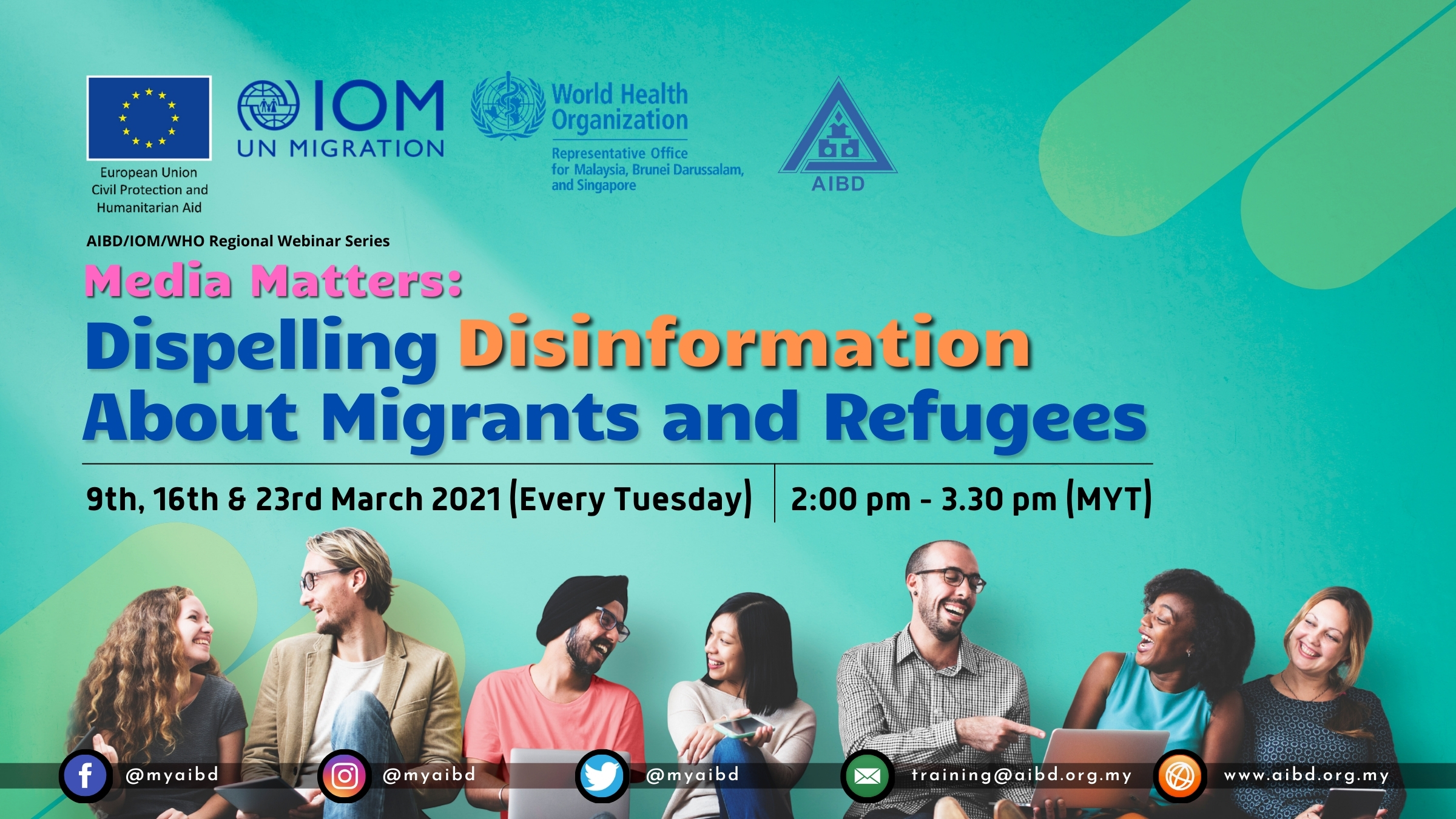 Media Matters:  Dispelling Disinformation about Migrants & Refugees.
Many communities around the world have responded to COVID-19 with strong sense of cooperation and solidarity. Some have, however, used it as a pretext to scapegoat migrants, refugees and the most vulnerable, blaming them for the spread of the virus.
There has seen an alarming increase in anti-migrant rhetoric, stigma, xenophobia, and discrimination against these vulnerable groups. Discriminatory attitudes and hate crimes grounded in fear, compromise the rights of those targeted, affect the safety of all and undermine the complex recovery process.
According to the World Health Organization (WHO), stigma can drive people to hide their illness to avoid discrimination, preventing them from seeking immediate health care which is not only in their own best interests but also of the entire community.
In the longer term, stigmatization and discrimination can negatively impact the ability of refugees, migrants and vulnerable population to integrate into society. This not only undermines their wellbeing, but more broadly, that of receiving communities which benefit from their diverse contributions to social cohesion.
Hence, media practitioners whose 'pens are mightier than the sword' have important roles to play in shifting the negative perception towards these vulnerable groups based on realities on the ground.
In line with this noble objective, the Asia-Pacific Institute for Broadcasting Development (AIBD) in collaboration with the International Organization for Migration (IOM) and World Health Organization (WHO) is jointly organising the 2nd regional webinar to dispel disinformation about Migrants and Refugees. The webinar is funded by the European Union Civil Protection and Humanitarian Aid (ECHO).
Hosted virtually on 9th, 16th and 23rd March 2021 from Kuala Lumpur, Malaysia, local and international communication experts, media practitioners and representatives from Civil Society Organizations (CSOs) shared their experiences and expertise through approaches in migration journalism.
UN Migration Agency, the International Organisation for Migration (IOM) Malaysia's Communication & Media Consultant/Trainer, Ms Malarvili Meganathan shared her topic on Shaping the Narrative of media and public perception regarding migrants and refugees.
Through the webinar, audience can learn and have an insight regarding facts that the current media, playing an influential role in shaping how the public perceive migrants and refugees while many people have false information about these vulnerable groups.
Ms Malar interacts with the audience and asked them regarding their understanding about migrants and refugees with Q&A, which was not surprising that the audience thinks that the media portrayed migrants and refugees with discrimination, prejudice and etcetera. She also raised awareness about xenophobia and social stigma, which should be avoided in news reporting on the issues about migrants and refugees.
The second speaker is Ms Faizza Tanggol, Risk Communication & Community Engagement Consultant, WHO Country Office from Malaysia, Brunei Darussalam & Singapore.
She spoke about 'The Role of Community Engagement in Reaching Out to Migrants & Refugees', as the priorities in Covid-19 through direct engagement and inclusion in decision-making with communities, especially vulnerable groups.
She also suggested to get peers and community leaders to talk to them who are more likely to pay attention to information from people they already know and trust, and who they feel are concerned about their well-being.
She reiterated that it is important to listen more and talk less when it comes to community engagement. "Listen to their concerns and questions. Ask them what they already know, and what they want and need to know about the disease and COVID-19 vaccines. Explain a few, clear and simple messages to the community (including families, caregivers and local leaders) in the language they prefer, and avoid using technical terms", she pointed out.
Mr Adrian Pereira, Executive Director, North South Initiative Malaysia, was the 3rd Speaker on Day 2 of the webinar on 16th March 2021.  His presentation on the topic – Strategy In Combating Disinformation On Migrants & Refugees was insightful as he brought up numbers of real life reporting cases regarding migrants and refugees.
He shared the migration scene in Malaysia, where migrants are taken for granted and are all suppressed in their working field.  It reflected that the reports by the journalists was misleading.  He raised awareness towards the journalists and encouraged them to uphold the "Ethic of Journalism" by doing the necessary and relevant research before penning their stories by not using discriminatory words.
Ms Milica Pesic, Executive Director, Media Diversity Institute (MDI) London sharing MDI's stories on New Neighbours for Migrants Project. Her short video clips, featuring migrants and refugees who are the creators of the narrative, and wish to see in the integrations into the local society.  The objectives of the project is to highlight the positive social and economic contributions made by migrants and refugees for the local communities across Europe.  They aim to promote the direct participation in media production and intercultural dynamics with the local communities.