During the AIBD General Conference that was hosted by Prasar Bharati in India from October 19 to 21, 2022, Mr. Mayank Kumar Agrawal, CEO of Prasar Bharati and President of AIBD GC, pledged support to AIBD to host a series of events in collaboration with the AIBD Sustainability Commitee and AIBD partners to explore environmental issues related to broadcast and digital media production and services. A minimum of five events will be planned for the AIBD member countries from the APAC region. The events aim to bring the broadcast industry together to discuss key sustainability issues because no one person, organisation, or government can make an impact alone.  Ms. Philomena Gnanapragasam, the Secretariat Director of AIBD, appreciated the pledge from Prasar Bharati.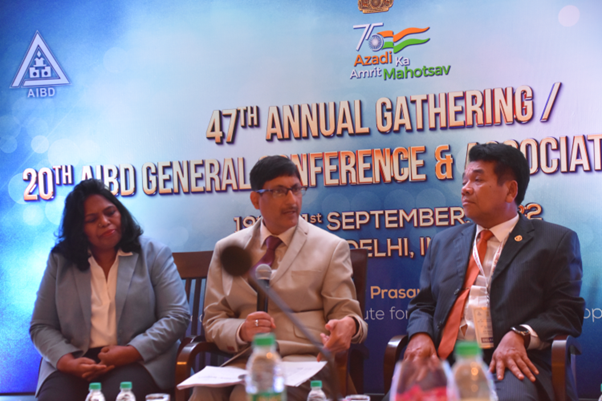 Sustainability in broadcast and connected digital media is not an easy concept to explain in a nutshell, as it is a complex subject. It considers the life cycle—from origin to consumption—from extracting raw materials to designing and manufacturing products and services that have value. It includes using components/products that do not pollute or damage the environment either in use or at end of use, and it considers the energy, materials, and water used to make the products, as well as waste management. With sustainability becoming a core element of organisational strategy within every organisation, broadcasters and media service providers need to consider the carbon footprint associated with their broadcast and media services. They must also optimise processes to reduce the carbon footprint and impact on the environment by implementing best practices.
Some of the proposed areas to work on are: Sustainable Productions, Sustainable Supply Chains, Green Heating and Cooling Systems, Using Less Water and Eliminating Single-Use Plastics, Educating Staff about Climate Change, Green Buildings, Renewable Energy, Organisation Transport for Staff, Incentives for Using Public Transport and Commuting by Bicycle.
Dr. Amal Punchihewa, Distinguished Lecturer of IEEE Broadcast Technology Society and AIBD Technical Advisor/Consultant, presented a paper on the AIBD-Prasar Bharati Initiative on Regional Sustainability during the General Conference so that members could gain a better understanding of the initiative. APAC broadcasters can develop plans to reduce carbon emissions by a predetermined percentage by 2030, in accordance with a 1.5 degree science-based emissions scenario. The formation of the AIBD Sustainability Committee, which will serve as a think-tank to assist members in their sustainability mission. The Committee will also come up with ideas and an action plan to involve all broadcasters. Consultancy will also be made available where necessary. The committee will be made up of AIBD members and a few advisors.

During the AIBD General Conference that was hosted by Prasar