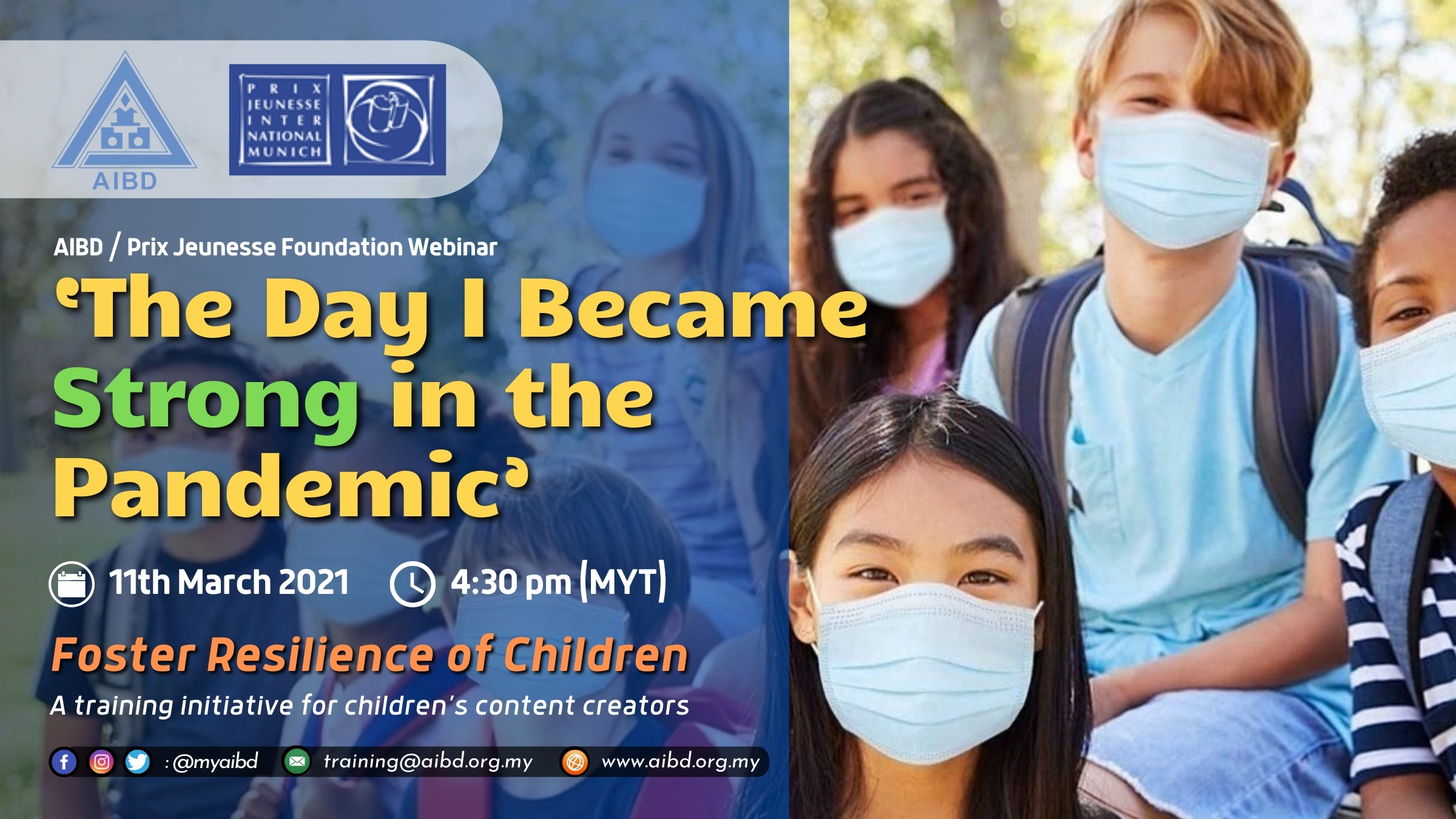 Telling Strong Stories -The Day I Became Strong In The Pandemic
The COVID-19 pandemic has caused a worldwide crisis in 2020, leading amongst other things, to a radical change in children`s lives. Children all over the world are affected by the measures that have been taken to encounter the COVID-19 pandemic. They have to cope with lock-downs, online schooling, not being able to meet their friends and they have to deal with their own fears and the worries of the parents as well as other people they feel connected to. Their voices were lost and presence gotten distanced in the pandemic with negativity eating into them. How do they tell their stories, when stories and storytelling are the integral part of their voices and growing up?
On 11 March 2021, AIBD in collaboration with Prix Jeunesse Foundation organised a Webinar on `The Day I Became Strong In The Pandemic`. The aim was to enable children to learn to recognize their own strengths, tell their own stories and foster resilience of children, and to help facilitate content producers to look at the issues faced by children and explore the challenges and opportunities that the pandemic has brought forth.   A total of more than 40 children content producers and educators from 16 countries across the Asia-Pacific Region, Africa, Latin America, Europe and Australia registered for the 1-day webinar. As a training initiative for children's content creators, a post webinar 2 -day scripting writing workshop was planned. All the participants of the 1st Webinar were invited to join the 2-days workshop , scheduled on 7-8 April 2021. AIBD wants to will and build champions of resilience in children and join effort to be the light of children in the pandemic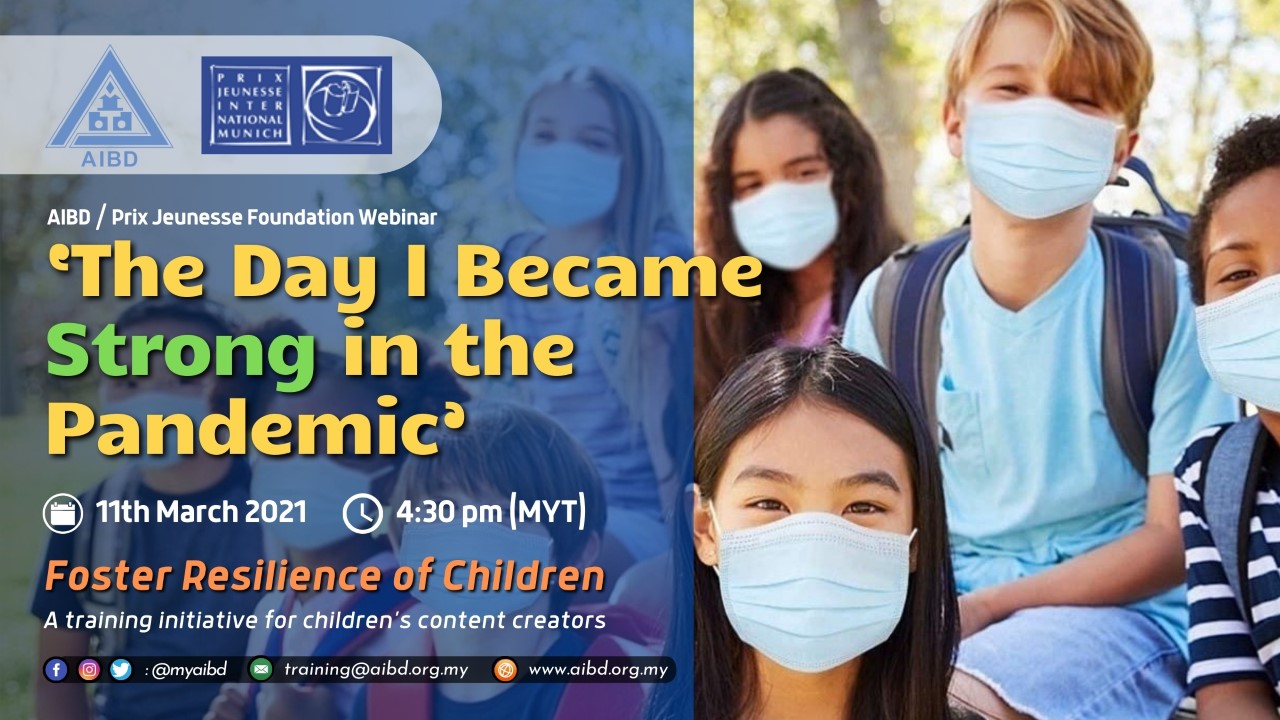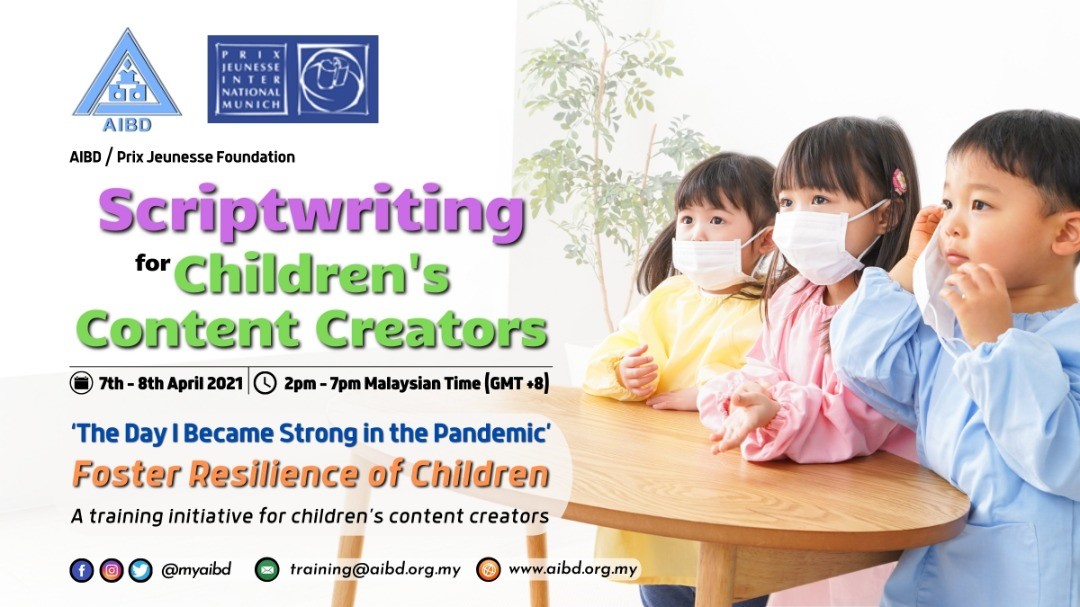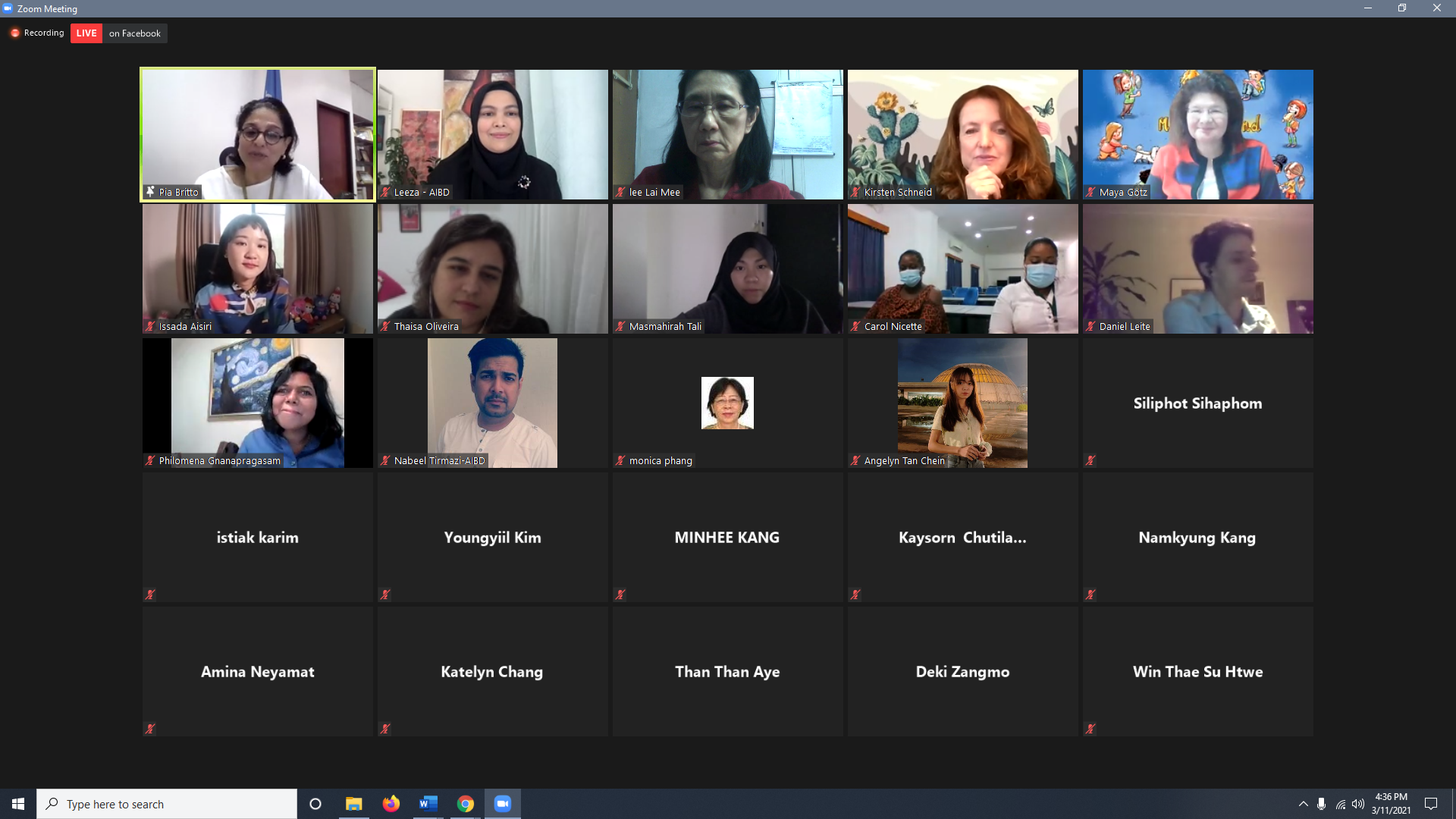 Dr Pia Britto, UNICEF Representative, Lao People's Democratic Republic (PDR) and a Developmental Psychologist gave the keynote address.  In her address, Dr Pia briefly told that aside from the challenges of online education, the pandemic threatens children's mental health as well due to the isolation and loneliness caused by not being able to meet with their friends. She also added that in spite of it all, many children have used the pandemic as a source of growth and innovation, learning new skills as a source of motivation to create content and to inspire others. She believes children are the agents of change; they are part of the solutions.
Dr Maya Gotz, Head of IZI and Prix Jeunesse Foundation, in her presentation- `Children and the Pandemic`, spoke of fostering resilience with storytelling. Dr Maya shared that in a study done worldwide, it was found that children were really worried about the pandemic. Results have shown that the more they knew, the less they were worried. Therefore, what children needed in this time was more than ever a safe space to reflect and talk about their experience and they needed resilience, the ability to become strong, healthy, successful again after something bad happened. It was the matter of how they had to deal with crisis, how they still can stay healthy in this very difficult time.
She said, ` research has shown that we can do a lot of things with media if we know how to do the story/find the right story/how to tell the story. Telling own  stories, strong stories in `The Day I Became Strong In The Pandemic`, is a dramaturgy that focuses on the strength and how problems and challenges are solved instead of showing how helpless a child is '.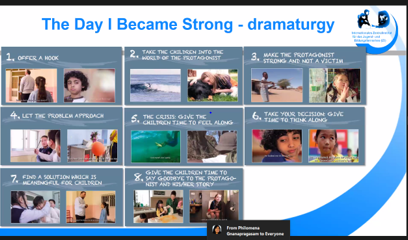 Ms Kirsten Schneid, Project Coordinator, Prix Jeunesse Foundation, introduced what is Storytelling Club (STC)to the participants. In order to help the children and young people to become aware of their own competencies in dealing with the challenges, this STC was developed as a safe space for children to find their voice and grow, educators trained on pedagogy and/or therapy help children find these stories that strengthen their identity. Through real meetings with the children, they learn to write, tell and draw their own strong stories and through exercises, games and films they discover their self-worth. The project is suitable for children ages between 8-12 years old.  The result of STC will be a book full of strong stories and drawings of strong moments in children's lives that will bring benefits to the children in their difficult times.
The virtual version of the Story telling club is based on the concept of analogue storytelling clubs that have been successfully conducted worldwide since 2017. Due to the pandemic situations, the meetings were done virtually. She gave a brief detail of analogue STC and virtual STC.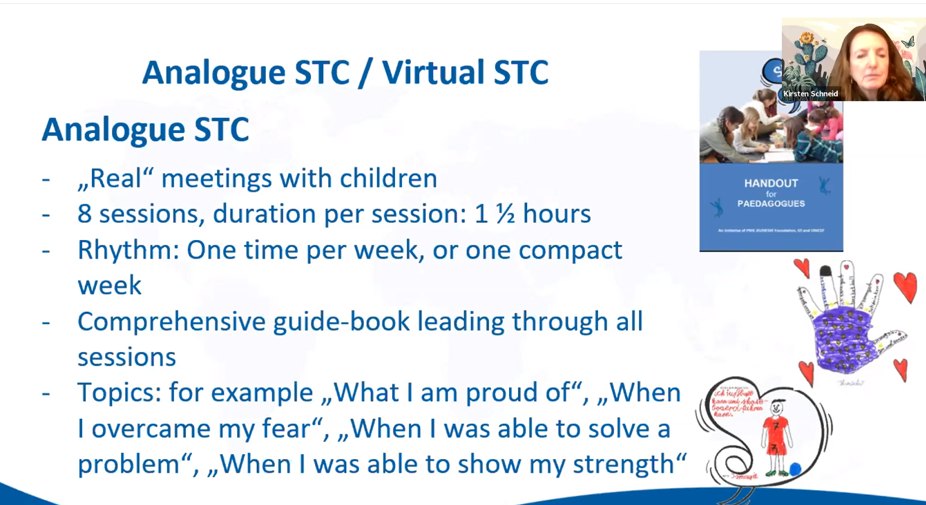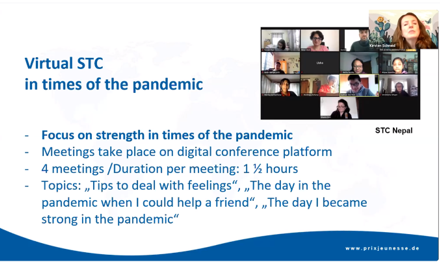 Real success stories were shared by the invited speakers from Thailand and Brazil.
Ms Issada Aisiri, Managing Director, Miracle Mushroom Co., Ltd, Thailand shared her experience about storytelling and the process of her finding a good story to film for the Thai children. She had been conducting Storytelling Club since 2014 and this time around, was lucky as Thailand was not greatly impacted by the pandemics when she started on the series on 'The Day I Became Strong'. The children were only enduring super long holidays and online schooling. She chose the fighting brothers to film because she believed that there were lots of siblings who have to deal with their brothers and sister during the lockdown and thought it would be helpful for them.  She did a face-to face shooting with the kids which she completed in one day while the editing took about a week.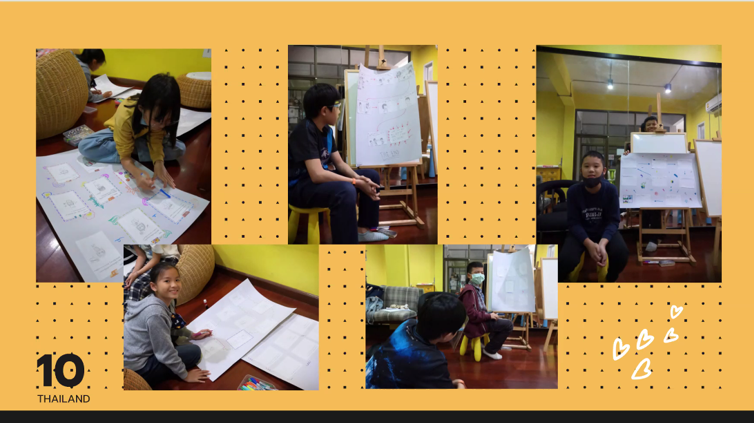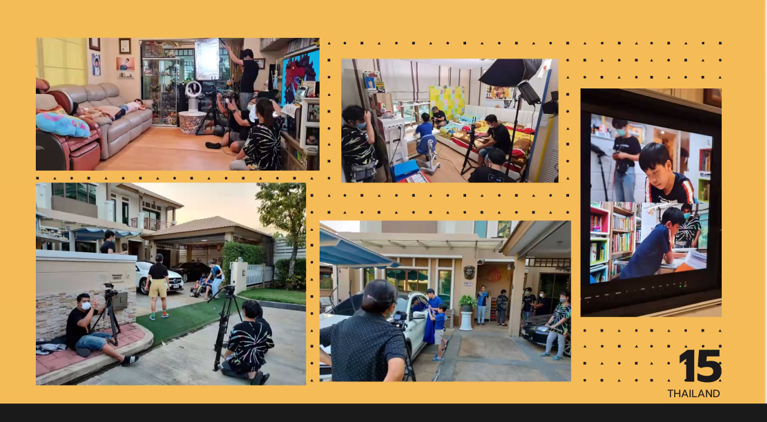 Mr Daniel Leite, Executive Secretary of Midiative, Brazil spoke of the difficulty in selecting and choosing the children. His team had great challenges in sourcing for children from four different parts of Brazil and getting stories from the children of age 8-12 years low- middle income families. The methodology they used was via google meet and the use of padlet for drawings. Hard stories covering sickness, death, parent's divorce were told. As a moderator of this STC production, he shared his experience that by recognising the children`s feeling and giving time for them to tell their own strong stories, will teach them how to overcome their problems. He was joined by his colleague, Ms Thaisa in the webinar to further elaborate on their STC production experiences.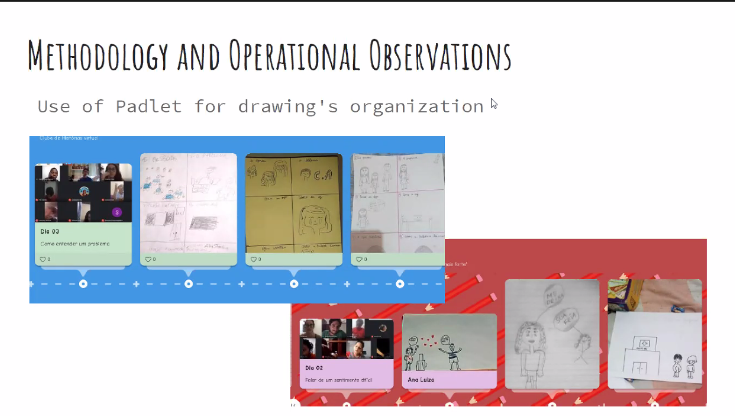 To show-case their success in STC, Ms Thaisa Oliveira, Midiativa, Brazil, shared 2 interesting stories with the participants– Broken Bow and a COVID related death story. She related the challenges her team faced while filming these STC stories, amongst which were casting the real children to act in the episodes, including children's participation in the final script, adapting the production to the children`s needs and working with a very reduced production team due to the pandemic.
Storytelling is a social and cultural activity of sharing stories, sometimes with improvisation, theatrics or embellishment. So to all the participants who are continuing onto the next level- Scriptwriting Workshop For Children Content Creators, go forth tell your stories, strong stories and be victorious. AIBD wishes you all the best.