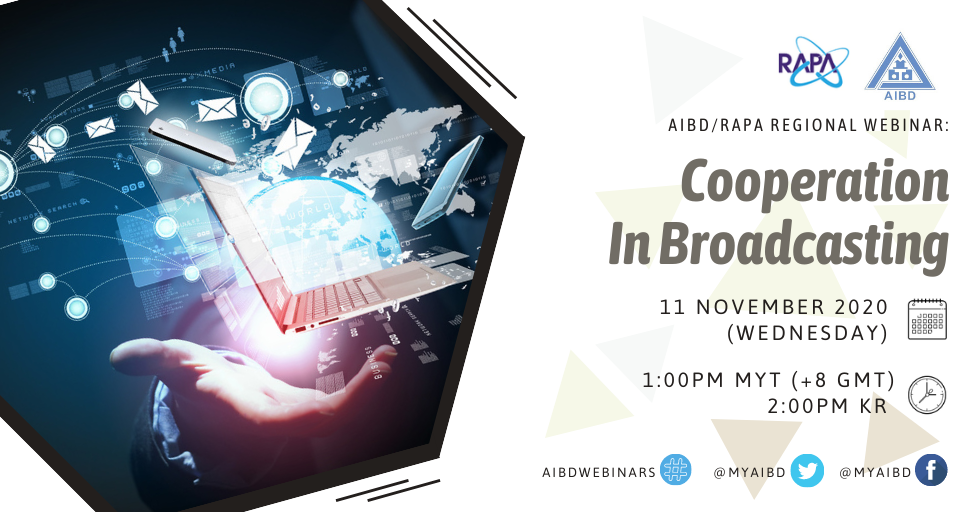 AIBD/RAPA Cooperation in Broadcasting of Developing Countries
By: Lee Lai Mee, CCO
AIBD in collaboration with Korea Radio Promotion Association (RAPA), organized the webinar on "Cooperation in Broadcasting of Developing Countries" on November 11,2020. The aim of the webinar was to strengthen cooperation with ODA (Official Development Assistance) recipient countries, share the experience of the Korean ICT ODA project, promote the ODA project 'Support the Improvement of the Broadcasting Environment' and to learn how COVID-19 pandemic has impacted the broadcast media and education industry.
A total of 168 participants, comprising senior officials from Ministry of Science and ICT(MSIT), AIBD member countries from across the Asia-Pacific Region and International industry players in Korea attended the webinar. Various topics were shared by the esteemed experts.

The Director of MSIT, Ms. Yeon Jin Kim, in her opening remark, said the rapid growth in Science and ICT has enable Korea to support ODA projects to developing countries. MSIT would cooperate with RAPA, and partner with AIBD and members countries in the Pacific Region to face the  challenges of the future broadcasting environment.

Mr Sang Kyoo Choi, the Secretary General of RAPA, said RAPA through the ODA projects with the Korean government, has been supporting the Improvement of Broadcasting Environment projects as part of its off-shore assistance programmes to 21 countries. RAPA will continue to promote this international cooperation even though, the demand paradigm has shifted to non-face to face relationship in this COVID-19 era.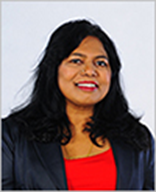 The Director AIBD, Ms Philomena Gnanapragsam, said AIBD has been a long-time partner with MSIT, RAPA, KISDI and KBS in bringing international cooperation through ODA and many other projects.
In her presentation, the Role of AIBD in Promoting International Broadcasting Cooperation, she highlighted the three core areas through which AIBD strengthens international broadcasting cooperation.

Platform– AIBD provides a regional open platform, like the Asia Media Summit, for exchange of information in media that can respond to digital transformation.
Research– Every year AIBD conducts survey on trends of development, regulation and policy of the media industry.  The focus for 2019-2020 was 'Fake News' and Its Impact On Public Broadcasters; and Health Communication Manual for 2020-2021.
Training– AIBD develops and provides new broadcasting technology training programmes and activities in collaboration with partners towards strengthening broadcasting cooperation.

Mr Jun Hee Han, Deputy Director, MSIT, spoke on the ICT ODA Program of MSIT- Current state and Outcome of the program 'Support the Improvement of the Broadcasting Environment'.
He said MSIT has introduced 6 ICT ODA Programs. Amongst which is the Support the Improvement of the Broadcasting Environment, implemented by RAPA will provide broadcasting facilities and technical training to ensure quality broadcasting service in partner countries and long-term capacity building for the improvement of the broadcasting environment.
RAPA has been offering broadcasting equipment and training to 21 countries* since 2007, based on the experience of successful transition to digital broadcasting and the experience of the world's first ATSC 3.0 terrestrial UHDTV broadcasting service. •
** Bangladesh, Bhutan, Cambodia, Fiji, Lao PDR, Myanmar, Nepal, Pakistan, Papua New Guinea, Samoa, Sri Lanka, Vietnam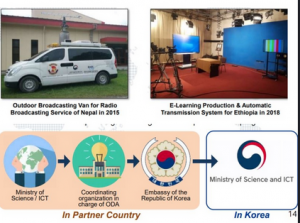 In 2019, RAPA had surveyed the demands for Support the Improvement of the Broadcasting Environment 2020-2022' for the AIBD member countries. Six member countries applied -Mozambique, Bhutan, Laos PDR, Myanmar, Nepal, Seychelles and Bhutan was selected while other successful countries applied though survey of demands for ODA MSIT. RAPA will support 3 countries -Bhutan, Vietnam and Sri Lanka for 2021 by providing broadcasting equipment and capacity building program(education).
MSIT conducts official Survey of Demands for ODA Programs to 24 partner countries classified as Priority Partner Countries* by Korean government every year.
** Nepal, Lao PDR, Mongolia, Myanmar, Vietnam, Sri Lanka, Indonesia, Cambodia, Pakistan, Philippines, Ghana, Rwanda, Mozambique, Senegal, Ethiopia, Uganda, Tanzania, Bolivia, Colombia, Paraguay, Peru, Azerbaijan, Uzbekistan

Ph.D. Sam Youl Lee, Yonsei University, Professor and moderator spoke on International Cooperation In The Period Of COVID-19. He said there were three core aspects of International Cooperation- knowledge sharing, investment and building expert network through internet connection. Due to the COVID threats, the transfer of knowledge was difficult to share during the online platform while Investment was often hindered by lack of field study and preliminary onsite research which led to a high tendency to postpone.
In order to create a new paradigm for international cooperation, new ways were needed to replace the value of site-visit and hand-on experience to via online besides promoting knowledge-sharing in the new era.

Mr Jeasung Wee, President of WEESUNG System Co, presented Trend and Future of Global Broadcasting Environment after COVID-19 crisis. The pandemic had changed the Broadcasting Environment, the Broadcasting Production and content delivery technology had to adapt fast to overcome the situation.
Surveys had hown that local OTA Broadcasting – OTA TV & RADIO has resurged to be important to supply emergency information and medical updates to the local community and regional area; while Digital Terrestrial Television (DTT) became the way to provide vital information and entertainment to all during the pandemic.
The lockdown had impacted the video production workflow. Broadcaster wearing a mask was not good enough. Media companies in the New Production Environment had to broadcast with minimum human and equipment resources, news reporting using MOJO and broadcast from home (Untact) as ways of doing things without direct contact with others.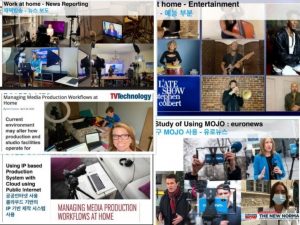 Remote Live Production and Cloud-Based Workflows became new norm for studio production using remote audience techniques.
The trend and future of global broadcasting technology for the New normal is now the combination of OTA and OTT. New way to view the future service is the creation of Next Gen OTA technologies with internet connection and new IP based DTT format; and the development of Virtual Production as new ways of Media Production using AI, AR, VR and MR in Broadcasting with Robotic and Virtual Camera operations.

Mr Joonyoung Park, President DigiCap spoke on Introduction of ATSC 3.0 On- line learning System, the key to educational success in stay-at-home era. This was because not all students have reliable access to the internet and it was not economical to run fiber optic cables or LTE/5G wireless broadband to all the students in the rural and metro area, it involves huge infrastructure investments.
He introduced a platform to deliver the existing Internet on-line applications via Datacasting protocol defined as ATSC 3.0 or Next Gen TV which will reduce the cost to deploy Internet and online education services to low-income families and rural areas.
Students can still use other end-user devices of their choice- PC, laptop, mobile phones, tablets. There would be no more issues with DRM besides bringing new business opportunities for local broadcasters interworking with on-line education service providers.