Cooperation in Broadcasting of Developing Countries

The COVID-19 pandemic has brought in enormous challenges to broadcast media industry. While it has come as a boon, in terms of regaining the trust and confidence of the people, it is not without challenges.  It has created an increasing need for cooperation and collaboration among the countries in the region to come together to learn from each other, share resources and experiences as the core value and responsibility of broadcasting remains the same—to educate and inform viewers.
On November 11, 2020 about 168 participants from Korea and across the Asia Pacific Region attended AIBD /RAPA Webinar on Cooperation in Broadcasting of Developing Countries. The participants were mostly senior officials from Ministry of Science and ICT(MSIT), AIBD Secretariat together with AIBD member countries from across the Asia-Pacific Region, Europe and Africa; some Korean and International industry players.
The aim of the webinar was to strengthen cooperation with ODA (Official Development Assistance) recipient countries, share the experience of the Korean ICT ODA project, promote the ODA project 'Support the Improvement of the Broadcasting Environment'. The participants also gained insights about the Trend and Future of Global Broadcasting Environment after COVID-19 crisis.
The webinar was opened by the Director of MSIT, Ms. Yeon Jin Kim, who spoke of how Korea after the devastation caused by the Korean War (1950-1953), was heavily dependent on ODA from many developed countries for its development. Consequently, Korea has become the only country that has moved from an aid-recipient country to become a donor country. Today, based on their rapid growth in Science and ICT, Korea is able to support ODA projects to developing countries. She hoped that the webinar could seek new ways for MSIT to cooperate with RAPA, and to partner with AIBD and other members in the Pacific Region to face the challenges of the future broadcasting environment.
Meanwhile, in his congratulatory message, Mr Sang Kyoo Choi, the Secretary General of RAPA, said RAPA through the ODA projects with the Korean government, has been supporting the Improvement of Broadcasting Environment projects as part of its off-shore assistance programmes to 21 countries. He said RAPA will continue to promote this international cooperation and look forward to new opportunities even though, the demand paradigm has shifted to non-face to face relationship in this COVID era.
The Director AIBD, Ms Philomena Gnanapragsam, in her welcoming speech said AIBD has been a long-time partner with MSIT, Korea, RAPA, KISDI and KBS in bringing international cooperation through ODA and many other projects. She said members of AIBD will surely benefit much from these ODA projects, and AIBD is ready to collaborate in future initiatives with MSIT and RAPA. She added that she was honoured that she was given the opportunity to share her thoughts and experience on AIBD`s Role in Promoting International Cooperation.
Mr Jun Hee Han, Deputy Director, MSIT gave a presentation on Introduction of the ICT ODA Program of MSIT- Current state and Outcome of the program 'Support the Improvement of the Broadcasting Environment'
He said, in order to strengthen Science, Technology and Innovation Policy and ICT capacity of developing countries, MSIT has introduced 6  ICT ODA Programs.
ICT Development Consultation, implemented by KISDI aims to accelerate the sustainable socioeconomic growth and development of partner countries by sharing Korea's development experience
Information Access Center Project (IAC), established by NIA is a multifunctional facility that includes an ICT training lab, Internet lounge, seminar room aiming to offer local communities a wide range of opportunities for ICT enablement and bring them into the information society
Establishing and Operation of the Korea Fabrication Laboratory (K-Lab), established by NIPA is a maker space where anyone can make a prototype with their own ideas in real by using digital fabrication machines such as 3D printers, laser cutters, and CNC routers.
Korea Leader's Information Network(K-Link), implemented by NIPA aims to invite officials of the government and public institutions from partner countries to Korea to train for one to ten weeks to build each individual's capacity in ICT policy and technology
Korea ICT Leadership Program, implemented by NIA aims to invite policy-makers, CIO, public officials, and experts to share ideas on application of emerging technologies and issues reflected on national policies and plans so that participants address challenges on public services through ICT technologies.
6 Support the Improvement of the Broadcasting Environment, implemented by RAPA provides broadcasting facilities and technical training to ensure the opportunity for quality broadcasting service in partner countries and long-term capacity building for the improvement of the broadcasting environment.
RAPA has been offering broadcasting equipment and training to 21 countries* since 2007, based on the experience of successful transition to digital broadcasting and the experience of the world's first ATSC 3.0 terrestrial UHDTV broadcasting service. •
* * Bangladesh, Bhutan, Cambodia, Fiji, Lao PDR, Myanmar, Nepal, Pakistan, Papua New Guinea, Samoa, Sri Lanka, Vietnam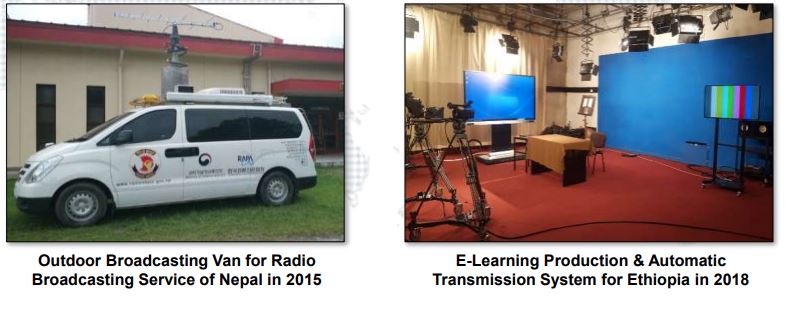 By the ICT ODA Program of MSIT 'Support the Improvement of the Broadcasting Environment ' for 2020-2022, RAPA will provide broadcasting equipment and capacity building program(education). RAPA has surveyed the demands for the support from 2020 to 2022 for the AIBD member countries in 2019. Among them, 6 countries applied -Mozambique, Bhutan, Laos PDR, Myanmar, Nepal, Seychelles and 1 country -Bhutan has been confirmed while other countries applied though survey of demands for ODA MSIT. For the year 2021, RAPA will support 3 countries -Bhutan, Vietnam and Sri Lanka.
Survey of Demands for MSIT ODA Programs •
MSIT conducts official survey of demands for the Development Cooperation Programs to 24 partner countries classified as Priority Partner Countries* by Korean government every year.
** Nepal, Lao PDR, Mongolia, Myanmar, Vietnam, Sri Lanka, Indonesia, Cambodia, Pakistan, Philippines, Ghana, Rwanda, Mozambique, Senegal, Ethiopia, Uganda, Tanzania, Bolivia, Colombia, Paraguay, Peru, Azerbaijan, Uzbekistan
①A ministry that wants to participate in the ODA programs should submit a proposal to the coordinating organization in charge of ODA in the partner country.
② The coordinating organization should deliver the ministry's proposal with an official letter while expressing the willingness to cooperate in the programs to MSIT.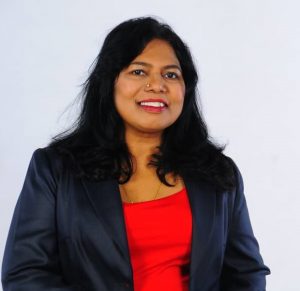 AIBD's Role in Promoting International Broadcasting Cooperation

Director AIBD, Ms Philomena, in her presentation highlighted the three core areas through which AIBD promotes/strengthens  international  broadcasting cooperation.
Platform– AIBD provides a regional open platform for exchange of information in media that can respond to digital transformation.  The Asia Media Summit is the gathering of professionals, Heads of Government, and delegates from media organisations to discuss matters related to media development while the General Conference brings together members from different countries to chalk out plans and policies of the Secretariat.
Research– Every year AIBD conducts survey and research of data and trends of development, regulation and policy of the media industry.  The focus for 2019-2020 was on 'FAKE NEWS' AND ITS IMPACT ON PUBLIC SERVICE BROADCASTERS- Practices, Needs and a Way Forward. For 2020-2021, AIBD is working on another important document- Health Communication Manual.
Training– AIBD develops and provides new broadcasting technology training programmes and activities in collaboration with partners. From July 2019 to June 2020, AIBD conducted 37 training activities. More than 1800 broadcasters, including Latin America and Africa, benefited from the activities.
All the programmes and initiatives are geared towards strengthening broadcasting cooperation, not only in Asia and the Pacific, but globally. AIBD has representation from Europe, Latin America and Africa.
(to be contd Part 2)