This article was published in IEE-BTS.
By Ms Philomena Gnanapragasam and Dr. Amal Punchihewa
Asia-Pacific Institute for Broadcasting Development
At the Regional Preparatory Meeting for the World Telecommunication Development Conference 2021 (WTDC-21) for Asia and the Pacific (RPM-ASP) that took place virtually from 9 to 10 March 2021,  the Asia-Pacific Institute for Broadcasting Development (AIBD) contributed to the preparatory meeting as an ITU-D member. The WTDC-21 to take place in Ethiopia in November 2021. The RPM-ASP aims at engaging the regional membership in preparation of the WTDC-2021 to achieve regional coordination in identifying issues at the regional level that need to address and fostering the development of telecommunications and ICTs, taking into account the most pressing needs faced by the ITU Member States and Sector Members of the region.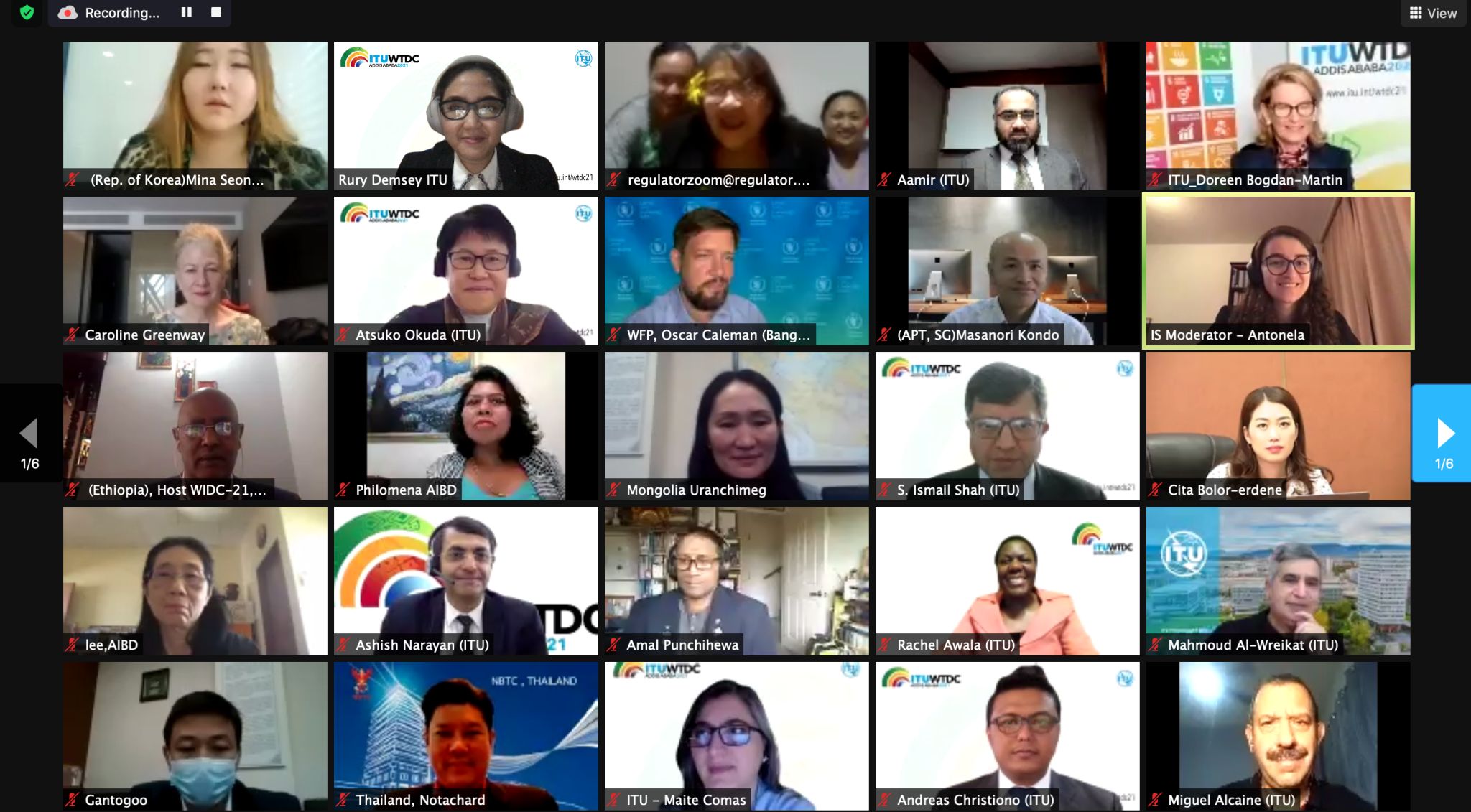 A screenshot of the part of the RPM-ASP delegates including Ms Atsuko Okuda – Regional Director of ITU-ASP, Ms Philomena Gnanapragasam, Director AIBD and Dr Amal Punchihewa, Consultant, AIBD.
The Asia-Pacific Institute for Broadcasting Development (AIBD) was established in August 1977 under the auspices of the United Nations Educational, Scientific and Cultural Organisation (UNESCO). It is a unique regional inter-governmental organisation, servicing countries of the United Nations Economic and Social Commission for Asia and the Pacific (UN-ESCAP) in the field of electronic media development.
The COVID-19 highlighted the value of radio and television broadcasting, especially over the air (OTA). OTA served as the most resilient and reliable disaster management communication mechanism used by national authorities. It also provided education when students locked down at home. As per the mandate of AIBD, it wishes to continue collaboration with ITU to achieve a vibrant and cohesive electronic media environment, especially over-the-air broadcasting in the Asia-Pacific region. AIBD wishes to work with ITU to raise its concern to promote sustainable, both energy and spectrum efficient radio and television broadcasting for each of the populations in their respective countries through policy and resource development.
Lessons learnt from Broadcasting during the COVID-19 to sustain broadcasting
Broadcasting has been playing a vital role during the lockdown and subsequent actions as always. Many nations like New Zealand, Turkey and many states in the US declared Broadcasting as an essential service while organisations utilised these services not only to inform, educate, entertain but also to support the public during the crisis. UNESCO in a news reported that "Communication is aid and the right information at the right time saves lives! Media is now more than ever becoming both an essential and emergency service in addition to being critical in response to COVID-19." On the technical side, the Internet traffic peaked with the start of lockdown as schools closed, teleworking became a normal practice and services become increasingly digital. During COVID-19, the impact of broadcasting on the broadband network was mitigated as the audience accessed television via over-the-air; either terrestrially using digital terrestrial television broadcasting (DTTB) or direct-to-home (DTH) via satellite.
Some broadcast organisations and collectives suggested temporarily cap streaming bitrates at appropriate levels for various end-user devices, particularly during the daytime, and that public service media organisations should encourage audiences to consume their offerings over broadcast rather than broadband, and on fixed broadband rather than mobile, where possible. There is no such bottleneck in over-the-air broadcasting services.
Public Service Media (PSM) are also the primary means of communicating with citizens in national emergencies. It can be noted that public service media organisations are playing a key role in managing the crisis – not only by continuing to inform, educate and entertain, but also by actively engaging with relevant organisations and the public to ensure that broadcast and broadband infrastructure is used most effectively and efficiently.
As observed in the recent past, collaboration among stakeholders in a country is key to survival and thrive. At a crucial period, such as the COVID-19 pandemic, Public Service Media (PSM) have taken an active and lead role in coordinating national efforts and engaging with other media, network operators and regulatory agencies to collectively analyse and respond to the situation.
The role of Broadcasting in Education and need to sustain while complementing other learning
It is required to understand why broadcasting is important for education today. The COVID-19 pandemic has been one of the biggest disruptions to education the world has ever known, affecting over 90% of the world student's population. UNICEF's COVID-19 education rapid response tracker showed 77% of countries included television in their national response to COVID-19 school closures. It is important to note that a large percentage of 77% of countries included television in their national response to COVID-19 school closures.
UNESCO reports that "Considering this technological divide, most countries around the world are also using television and/or radio-based programmes to implement distance education.". Africa seems to be the most active in the efforts to leverage either TV or radio (70%), some combining both (34% of countries), while Europe and North America seem to be using less radio than other regions, yet very active in deploying TV-based distance education programmes. The COVID-19 disrupted learning and education for both school children and tertiary students globally. According to the estimates carried out by UNICEF in May 2020, 1.3 billion students were out of school, out of which millions of students lacked Internet access or lived in areas not covered by mobile networks.
While innovative online learning solutions were deployed widely, many countries turned to television to broadcast educational materials, increase access to distance education, and ensure uninterrupted learning. Public service media in countries have used and continue to use radio, TV and web-based platforms to instruct students in a wide range of subject areas at the pre-primary, primary and secondary levels.
The COVID-19 pandemic has underscored humanity's growing reliance on broadcasting systems. Recognising the impact of television in today's changing world, the United Nations General Assembly proclaimed 21 November as World Television Day to promote the role of TV in issues of peace, security, economic and social development and cultural exchange.
Before the escalation of the COVID-19 pandemic, media and broadcast industries were looking at several areas, including Digital Audio Broadcasting (DAB). A BBC research in the UK has shown that DAB is the most energy-efficient way to deliver radio content besides that was known to the industry as DAB as the most frequency efficient mechanism.  However, with the emergence of COVID-19, broadcasters are looking at how we can mitigate threats to the staff of broadcast stations while discharging the duties of television and radio broadcasting.
About the Authors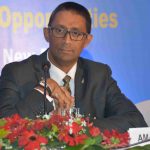 Dr Amal Punchihewa is a researcher, educator, advisor and consultant in ICT, Media and Broadcasting with close to four decades of experience in the industry, academia and research. Amal is a Chartered Professional Engineer and Fellow of IET(UK) and a senior member of IEEE(USA) He is also a distinguished lecturer of IEEE-Broadcast Technology Society. Amal facilitates and advocates technical guidelines and standards, and provides expertise related to the convergence of media, and evolving technology needs. He creates, encourages, and manages member communities, and understands and explains the trends that shape the media, to empower media & ICT stakeholders to continue to take good strategic decisions. He attended the RPM-ASP event as the Consultant and Advisor of the AIBD.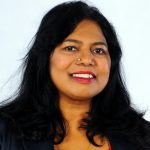 Ms Philomena Gnanapragasam is the Secretariat-Director of the AIBD. She holds a double degree in Psychology and Political Science from UK and Malaysia respectively.  She is two-time recipient of the Prime Ministers loyalty award and has 15 international awards for radio and television including the prestigious Golden Globe Award. Philomena was Station Manager of Malaysia's Pioneer English Radio Station, Traxxfm, RTM.  She has significant experience in both radio and television programming and news. Philomena also sits on the board of several universities in Malaysia and as an industry expert, she advises on the media curriculum for communication studies. Currently she is working on reinvigorating AIBDs mandate as an intergovernmental body focusing on key policy and current issues in the region.
This article was published in IEE-BTS. By Ms Philomena Gnanapragasam and