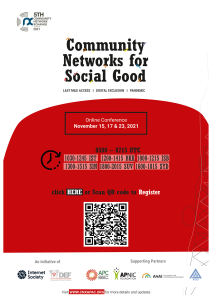 The 5TH Community Network Exchange Asia-Pacific 2021 will be hosting 3 days online conference for the Community Networks for Social Good. The online conference will be hosted on November 15th, 17th and 23rd.
AIBD is organizing the Day 2 session on "Synergies between Community Radio and Community Network" on 17 November @ 1pm MYT(GMT+8) and the Director AIBD will be participating as panel speaker for Day 3 Session on "Community Networks: Media, Misinformation and Misuse" on 23rd November @1pm MYT (GMT+8).
Register now through scanning the QR Code!!
The 5TH Community Network Exchange Asia-Pacific 2021 will be hosting