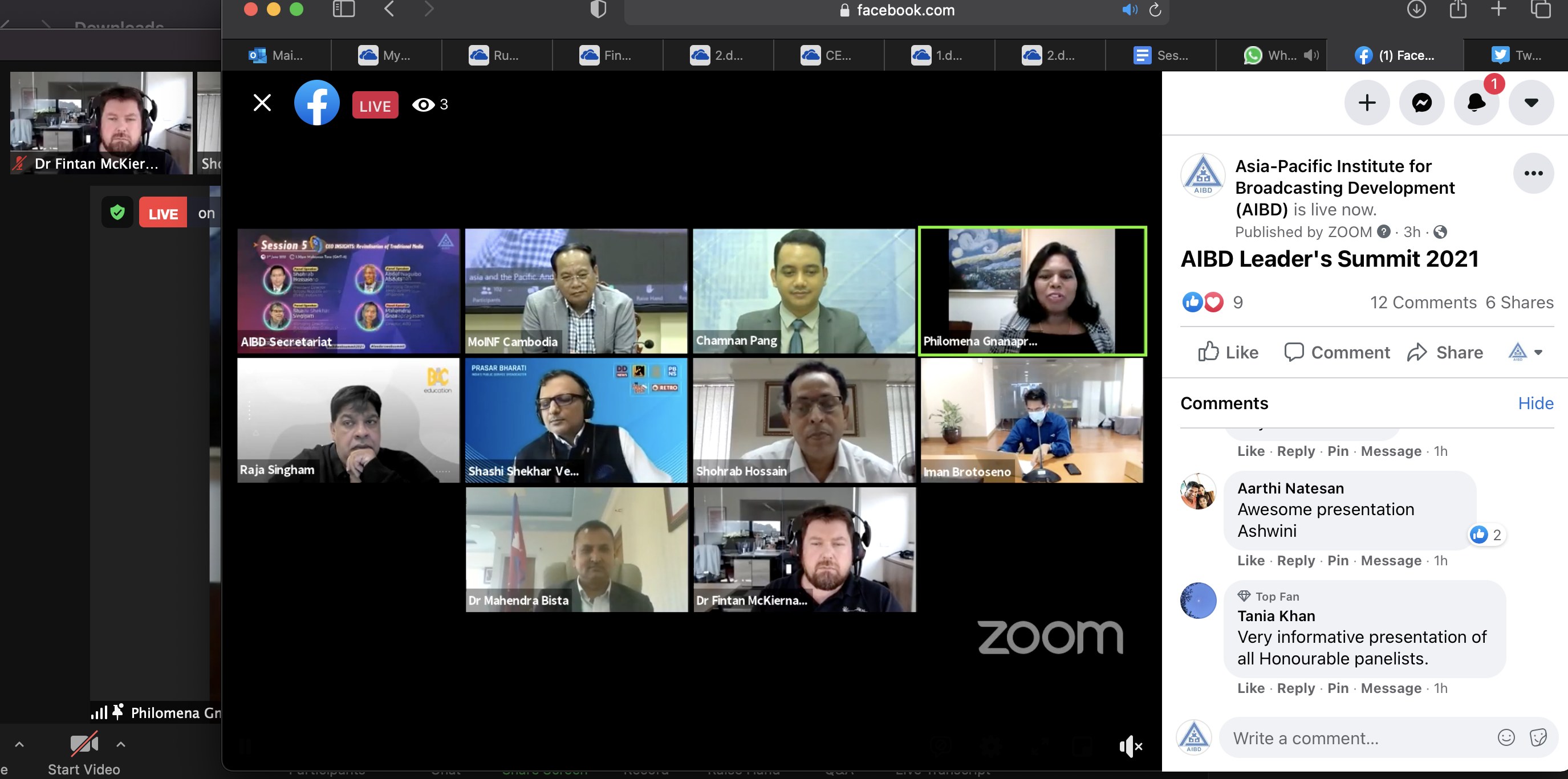 CEO Insights: Revitalising the Role of Traditional Media
COVID-19 has changed the world, and will continue to shape many aspects of human lives for years to come. Currently, the traditional media is going through a revival and re-gaining its past-glorified recognition during this pandemic. The public are turning to them for credible news, especially on governmental plans regarding the pandemic and treatment strategies that include providing vaccination for the community.
Session V featured CEO INSIGHTS: Revitalising the Role of Traditional Media which is moderated by the Director of AIBD Ms Philomena Gnanapragasam with CEO around the world, Mr Shohrab Hossain, Mr Iman Brotoseno, Mr Shashi Shekhar Vempati, Dr. Mahendra Bista, Dr Fintan McKiernan and Mr Raja Singham.
Mr Shohrab Hossain, Director-General of Bangladesh TV shared his thoughts regarding Role of State Broadcasting Media in Tackling COVID-19 Pandemic:  Bangladesh Perspective. He people get frustrated due to disinformation in the social media. Bangladesh Television (BTV) served as a gatekeeper in crisis situation by transmitting credible information to reach wider audience.  BTV App: Television in mobile made it more user friendly. Trust is at the centre of the relationship with the audience to ensure most credible, diverse and creative media.
Mr Iman Brotoseno, President Director, Televisi Republik Indonesia (TVRI) shared that TVRI is the first to start broadcasting learning activities through TV. In April 2020, TVRI launched a home learning program initiative called "Learn From Home" or BELAJAR DARI RUMAH (BDR) to serve around 45 million students.  TVRI took up a role by doing digital literacy – to fight false information not only in traditional media but in social media also.
Mr Shashi Shekhar Vempati, the Chief Executive Officer of Prasar Bharati, spoke about how broadcast media rose to the challenge during the tough times of the pandemic. He said, "It was the time where the people look forward and watch the news."   Many things were possible due to technology. Free to Air and Direct to Home (DTH) has nationwide reach. In offices and establishments everything was paper-based which is now all automated due to IT and which helped to cope up with the challenges during the epidemic.
Dr Mahendra Bista , Executive Chairman, Nepal TV talked  about Challenges, Opportunities & Way Forward in Post COVID era. The way forward now is for media convergence, adopting technology for convergence at the earliest and putting up a cross platform technical setup. Hence, Remote Broadcasting must be explored.
COVID-19 pandemic gives perfect transformation opportunity for development in technology, content, revenue generation, and human resource which in turn can revitalize traditional media houses. Dr Mahendra Bista, emphasized that traditional media is not becoming extinct as it is transforming itself constantly for survival.
The Chief Executive Officer of Ideal Systems Singapore, Dr Fintan McKiernan spoke on 'Managing Broadcast Systems – The Cloud.   He said the way forward is Total Media control in the Cloud Operation, Orchestration, Business Process Management, Cloud Native Platform for Broadcaster, Alice Broadcast Solutions which integrates key business systems and automates broadcast operations.
Managing Director Brickfields Asia College Group, Mr Raja Singham stressed on leveraging media for social good. Media is in a new era and media can change the mind of the people slowly. Today everyone has their own channel and technically a media owner. So those who are most adaptable to change can survive easily. The COVID19 is a wake-up call for the traditional broadcaster with a task to set the plan for next generation. Therefore, traditional media needs to change at the new normal by remain relevant for generational change and making the world  a better place.