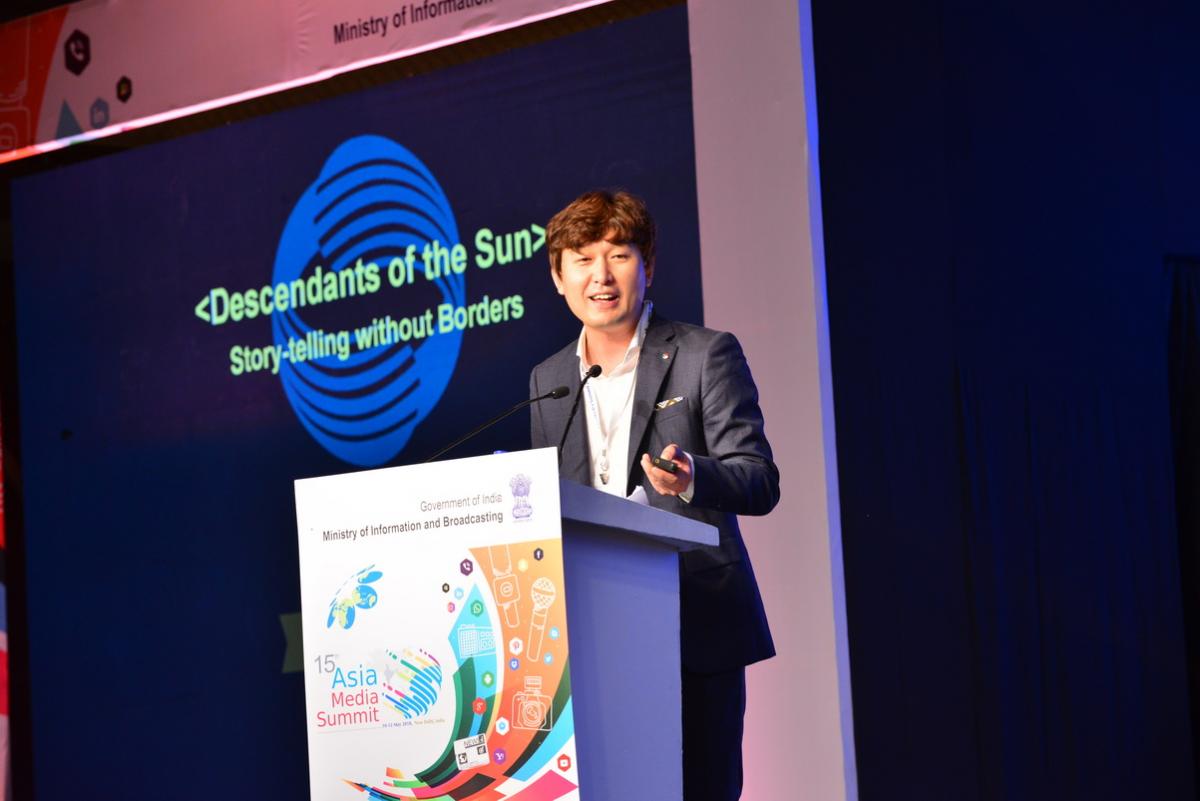 Love Stories are an Indispensible Part of Korean Drama
"Love Stories are an Indispensible Part of Korean Drama": Baek Sang- Hoon
by Garvita Sethi
The Asia Media Summit of 2018 on its first day was shimmering with stupendous minds from across the globe with excellence in the field of art, cinema, technology and diplomacy. Amongst them was a well-known face from the film industry of South Korea, Mr. Baek Sang -Hoon. He was invited to speak on the thematic session of Mythology, Folklore and Contemporary Stories.
Mr. Baek Sang -Hoon joined KBS as drama producer in 2004. Since then he co-directed popular dramas such as Secret Love (2013) and Who Are You? (2015). His directorial career reached its peak with Love in the Moonlight (2016) and Descendants from the Sun (2018), which were not just a big hit in South Korea but many other Asian countries. Presently, he is working on the project titled 'Like a Magic', planned to be aired in the second half of 2018.
Taking out time from his eventful day at the summit, he ventured into a light hearted discussion with Garvita Sethi and talked about Korean cinema, Bollywood and his upcoming projects.
Garvita:Your presentation on Descendent of the Sun was well received by the audience. Congratulations for it, Mr. Baek. Would you like to tell us something about your experience in the Asian Media Summit 2018?
Mr. Baek:I am delighted to receive such a tremendous response from the Indian audience for Descendent of the Sun. When I think of it now, none of us from the team expected it to scale high in terms of fan following at the global stage. But this encouragement has helped us positively and we are striving to broaden our horizons and produce even better content. Coming back to the summit, It has given me a vibrant platform to interact and creatively brainstorm over cinema with numerous directors, producers and content creators. Otherwise, it is never really possible to find your contemporaries under one umbrella and know what they are thinking and experimenting with.
Garvita: Bollywood is known to be a pot of gold having an amalgamation of drama, music and dance sequences. Have you watched any Bollywood movie back in Seoul?
Mr. Baek:Of course, Bollywood has taken a major leap of faith when it comes to evolving as a genre through experimentation. I happened to come across 3 Idiots a few years ago. It was a fantastic watch. And then there was some other movie as well in which a magician dies, but nobody believes and takes it as a façade. I find such movies really amusing.
Garvita: I remember you mentioned in your presentation that Koreans adore love stories. Tell us something more about it.
Mr. Baek:It would not be wrong to say that love stories are an indispensible part of Korean drama, and we excel in producing them. Though from the outside the audience would display a sense of boredom from the monotonic display of this genre, but deep down they are always longing to watch more of it. We heavily borrow from the classical literary texts and make changes he plotline to make them suitable as per our aesthetics. The stories in which the heroine is caught in some trouble, and her prince charming is all armed up to save his beloved sell like hot cakes there.
Garvita:There is a stiff competition in almost all the film industries across the globe when it comes to visual effects, storyline and direction. Streaming applications like Netflix have also created their own space. Amidst this tempestuous wind, where do you see the future of Korean film industry?
Mr. Baek:Netflix is famous in Seoul and people enjoy watching dramas and movies over it. It might be a threat to some broadcasting companies, but it is definitely a boon for the audience and budding directors. One can make dramas for Netflix or experiment with crime genre, war sequence and many other things. We have always been constrained in cinematic expression and such platforms give us the chance to turn things the other way round. As far as I can think of it, content is the central figure everywhere and not the channel. If we need to survive in the long run, immediate attention should be paid to enhance the quality of our content.
There is also an interesting facet related to cinema in Seoul. Koreans refrain from watching Hollywood or British drama. They would any day prefer watching a native on screen than George Clooney. There has always been little scope of being adaptive and embracing foreign elements from the audience.
Garvita:The conflict in the Korean peninsula makes headlines every other day. Has the cinema in South Korea tried to cover this aspect?
Mr. Baek:After the fallout in World War II, tensions have always been simmering from both the sides. The political aspect of it was extensively covered by the filmmakers in that decade. Presently, we just use it as a background of the story sometimes. The audience of current times never really wants to see ideologically driven content on screen.
Garvita: Thank you, Mr. Baek for giving your valuable time to us. I am really keen to binge watch Descendants from the Sun now. And I wish you all the success for Like a Magic. It will definitely break all the previous records.
Mr. Baek:Thank you for your kind words, Miss Garvita. I will go back to Seoul with a lot of positive energy and promising ideas. See you some other time. Goodbye.