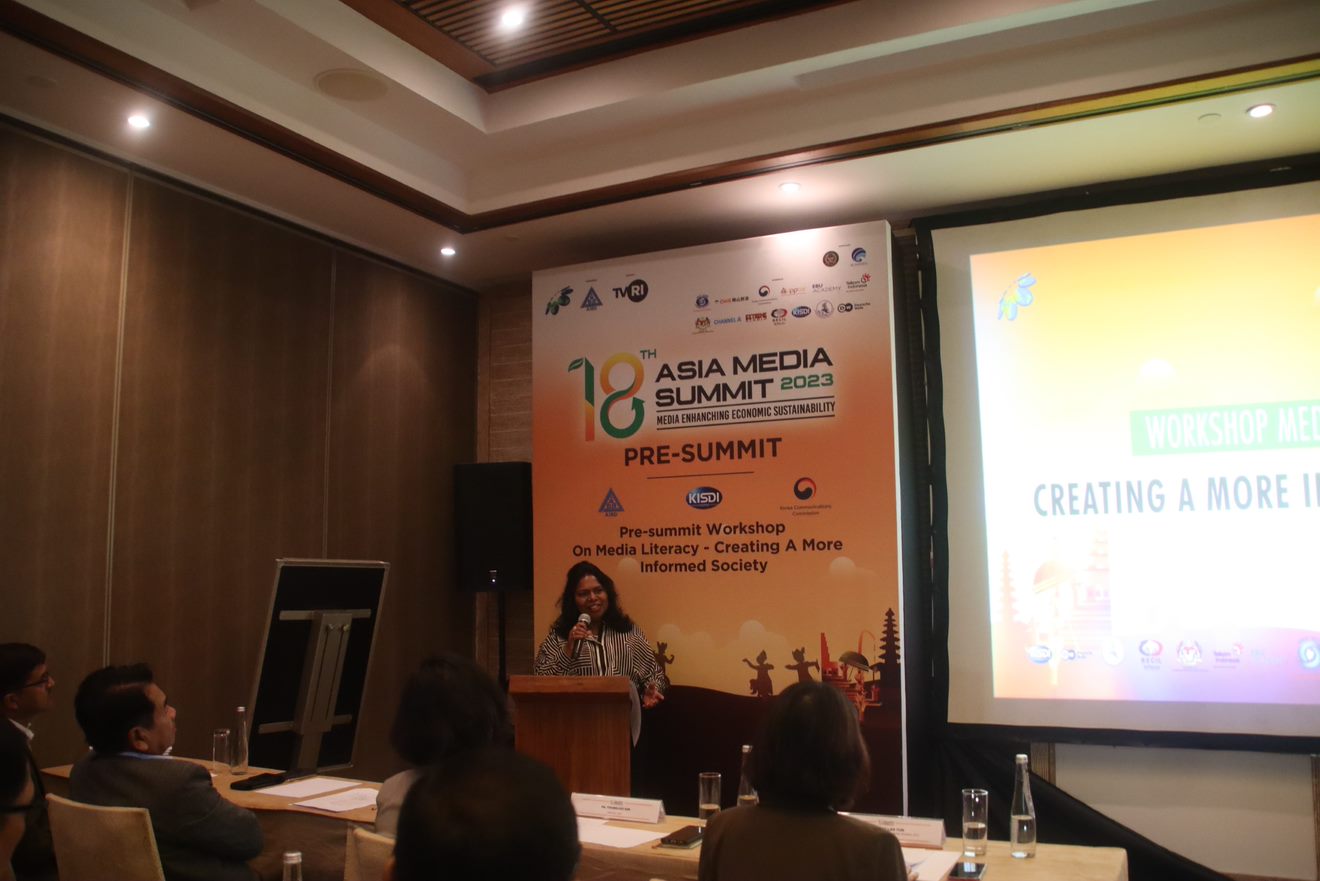 Media Literacy Pre-Summit Workshop Empowers Asian Broadcasters
Bali, Indonesia From May 21 to 22, 2023, Bali became a hub for over 40 participants from various Asia-Pacific countries as they gathered for a two-day media literacy pre-summit workshop. This event, held as a precursor to the 18th Asia Media Summit, aimed to equip media practitioners with the necessary knowledge and skills to promote media literacy in their respective regions. This activity was a joint collaboration of AIBD with KISDI and KCC Korea hosted by TVRI Indonesia.
Representing countries including Bangladesh, Bhutan, Cambodia, India, Indonesia, Lao PDR, Nepal, the Maldives, Malaysia, Mongolia, Thailand, Pakistan, and Vietnam, the diverse group of media practitioners brought their expertise and experiences to foster collaboration and shared learning.
The workshop commenced with a dynamic agenda on the first day, featuring a warm welcome and opening speech by Ms. Philomena Gnanaprgasam, Secretariat Director/ CEO of the Asia-Pacific Institute for Broadcasting Development (AIBD), and Ms. Youngjoo Kim, Director of the Korea Communications Commission (KCC). Attendees then took part in a group photo session to commemorate the start of the event.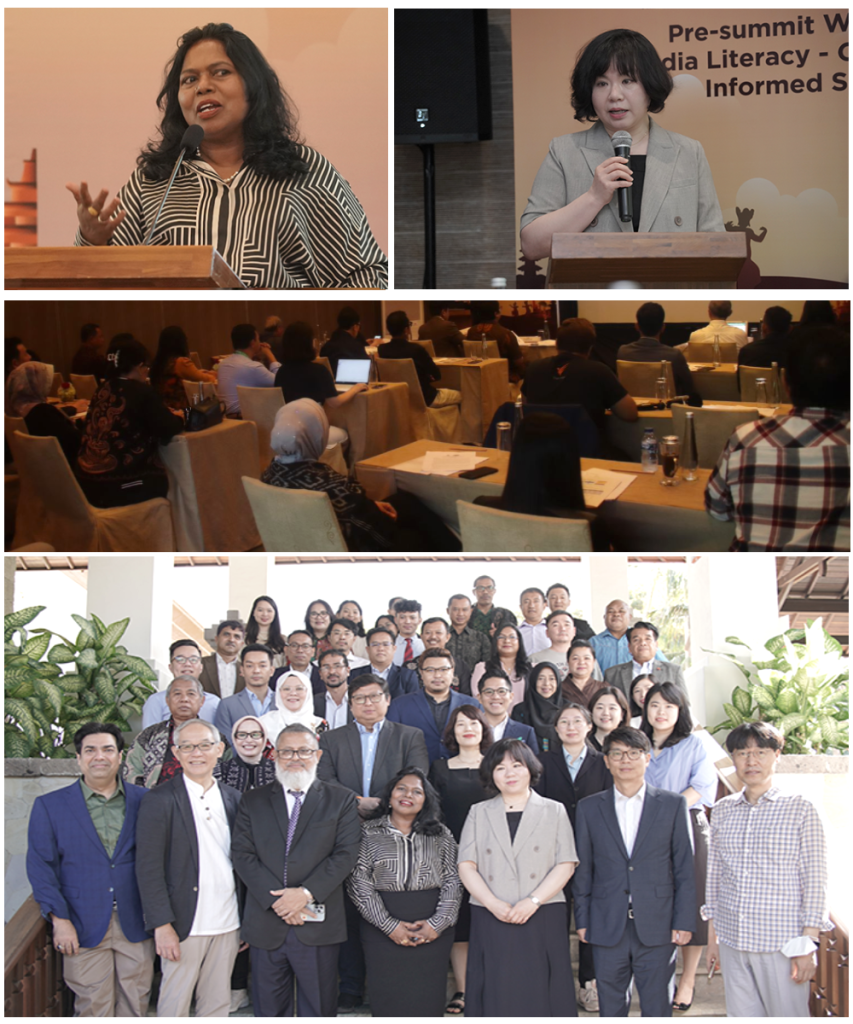 Esteemed media professionals and experts led the sessions, covering a wide range of topics crucial to media literacy in the digital age. Mr. Riza Revolusi, Head of News Gathering at CNN Indonesia, facilitated the first session, delving into the definition and importance of media literacy. Participants explored various forms of media and their influence on society, as well as the challenges posed by disinformation and misinformation.
The second session focused on best practices for promoting media literacy, with insights shared by Ms. Young Lan Yun, Deputy Director of the Regional Media Policy Division at KCC, Korea, and Mr. Nasruallah Irfan, Director General of Bangladesh Betar. They emphasized effective strategies and the role of media in promoting media literacy.
After a refreshing lunch break, the workshop continued with a session dedicated to understanding and coping with information disorders and cognitive biases. Mr. Revolusi Rizal of CNN Indonesia and Mr. Dandy Koswaraputra, Special Project Producer/Writer at BenarNews.org, led the participants in exploring various types of information disorders, the architecture of disinformation, cognitive biases, and the pros and cons of filter bubbles.
The final session of the day focused on the responsible and ethical use of information tools. Mr. Dandy Koswaraputra further emphasized the importance of responsible practices, the best methods for verifying information sources, and ethical considerations when reporting on sensitive topics. The session included a compelling case study from Indonesia, offering practical insights and lessons.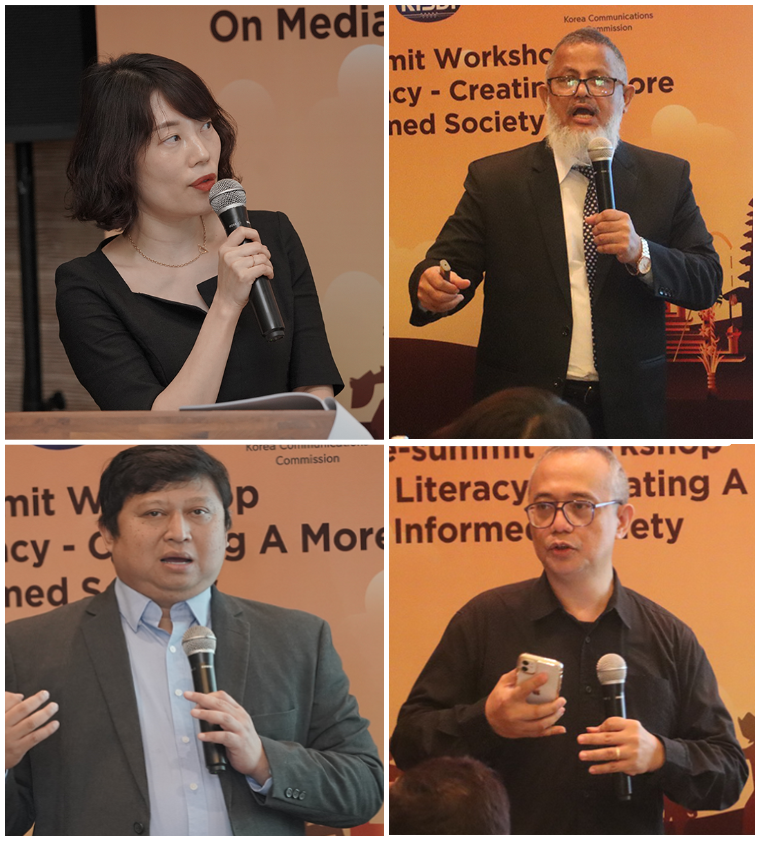 Day two began with a recap of the previous day's discussions and insights, ensuring a seamless transition to new topics. The fifth session, conducted by Mr. Jun Ogawa, International Affairs Representative from BPO Japan, explored the role and responsibility of media in the age of information bombardment. Participants engaged in discussions surrounding the challenges and ethical dilemmas faced by media organizations, drawing inspiration from a compelling case study from Japan.
After a coffee break, the workshop continued with a session dedicated to media literacy for vulnerable groups. Ms. Kim Seulk from the Community Media Foundation in Korea, Mr. Buddhi Bahadur, Executive Director, and Mr. Khagendra Khatri, Deputy Director of Radio Nepal, and Dr. Sreedhar Ramamurthy, a Community Media Specialist from India, shared insights on building systemic media literacy training for vulnerable groups. They discussed effective training methods and explored ways to support media literacy education initiatives by governments.
The workshop's seventh session, led by Ms. Ana Lomatadze, a program specialist from UNESCO Jakarta, addressed the role of social media in promoting peace. The participants witnessed case studies from Indonesia, Bosnia and Herzegovina, Colombia, and Kenya, highlighting the significance of responsible netizenship and digital citizenship initiatives in fostering peacebuilding.
The final session expanded on media literacy for vulnerable groups, focusing on raising awareness and capacity among marginalized communities such as the handicapped, children, and the elderly. Dr. Sreedhar Ramamurthy led the session, shedding light on the importance of empowering these groups and exploring the concept of old-age citizen journalism.
The workshop concluded with guest presentations by Ms. Maryam Waheeda, President, Maldives Broadcasting Commission (Maldives), Mr. Andy Reza Rohadian Bin Khairul Anwar, News Editor, Radio Televisyen Malaysia (Malaysia), Mr. Badral Zayamandakh, Director of Strategy and Cooperation Department, Mongolian National Broadcaster (Mongolia), Mr. Kitipat Chuensukjit, Content Creator, Thai Public Broadcasting Service (TPBS) (Thailand), and Mr. Imdad Hussain, Producer, Pakistan Television (Pakistan). The presenters delivered their case studies based on their respective countries' policies, challenges, and ways forward.
The event culminated with a certificate distribution ceremony, summarizing the key takeaways and achievements of the workshop.
The media literacy pre-summit workshop in Bali served as a vital platform for Asian broadcasters to enhance their understanding of media literacy and develop strategies to promote it within their communities. Mr. Nabeel Tirmazi from AIBD was the programme manager this workshop. With participants from diverse backgrounds and regions, the workshop fostered networking, collaboration, and a collective commitment to advocating for media literacy in the digital age.