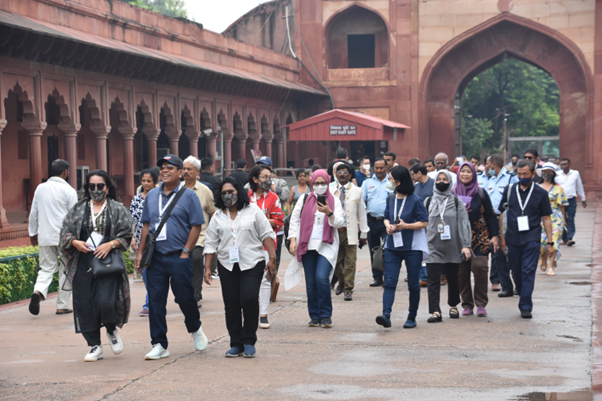 AIBD General Conference Delegates visited Taj Mahal Hosted by Prasar Bharati in India
The Prasar Bharati India hosted a visit to the Taj Mahal as part of the AIBD General Conference 2022 excursion programme on September 21, 2022 for the delegates.
The Taj Mahal, also known as the Crown of the Palace, is an ivory-white marble mausoleum on the right bank of the river Yamuna in the Indian city of Agra. The Mughal emperor Shah Jahan (r. 1628–1658) to house the tomb of his favourite wife, Mumtaz Mahal commissioned it in 1631. It also houses the tomb of Shah Jahan himself. The tomb is the centrepiece of a 17-hectare (42-acre) complex.
The Taj Mahal was designated as a UNESCO World Heritage Site in 1983 for being "the jewel of Muslim art in India and one of the universally admired masterpieces of the world's heritage". Many regard it as the best example of Mughal architecture and a symbol of India's rich history. According to various reports, the Taj Mahal attracts over 6 million visitors a year, and in 2007, it was declared a winner of the New 7 Wonders of the World (2000–2007) initiative.
All the delegates admired the visit to Agra and the Taj Mahal. The host, Prasar Bharati, also hosted a lunch on their way back to Delhi after the visit with delicious food. On the way back to Delhi, the delegates dropped by to catch a glimpse of the India Gate lighted by night lights.