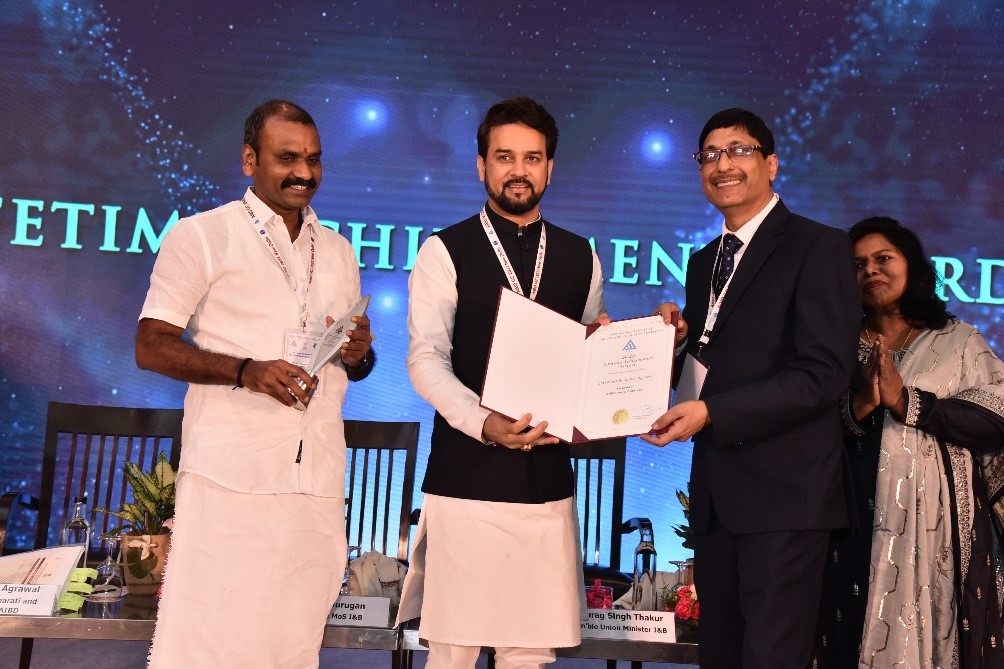 AIBD honors its Patrons and Prominent members of 2021-2022
The AIBD Outstanding Awards were presented in New Delhi on September 19, 2022, at a glittering opening ceremony of AIBD's 20th Annual General Conference. The awards were presented by Mr. Anurag Singh Thakur, Honorable Union Minister of Information and Broadcasting, Government of India.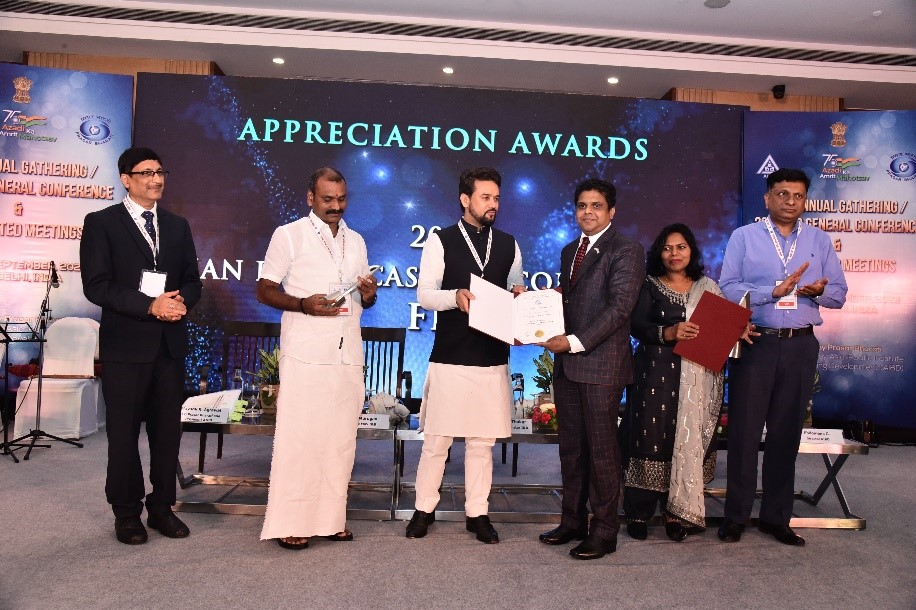 Mr Nilesh Kumar, Counselor, Fiji High Commission Delhi, accepted the two Appreciation Awards 2022 on behalf of the Ministry of Communication Fiji (MOC) and the Fiji Broadcasting Corporation (FBC) for hosting the first virtual Asia Media Summit, dispelling the notion that virtual summits of this magnitude cannot be effective. Regional media witnessed the success of the 17th Asia Media Summit, which took place on May 25th and 26th, 2022. The summit looked at the future of the broadcasting industry and encouraged Pacific nations to showcase to the rest of the world their culture, tourism, and diversity.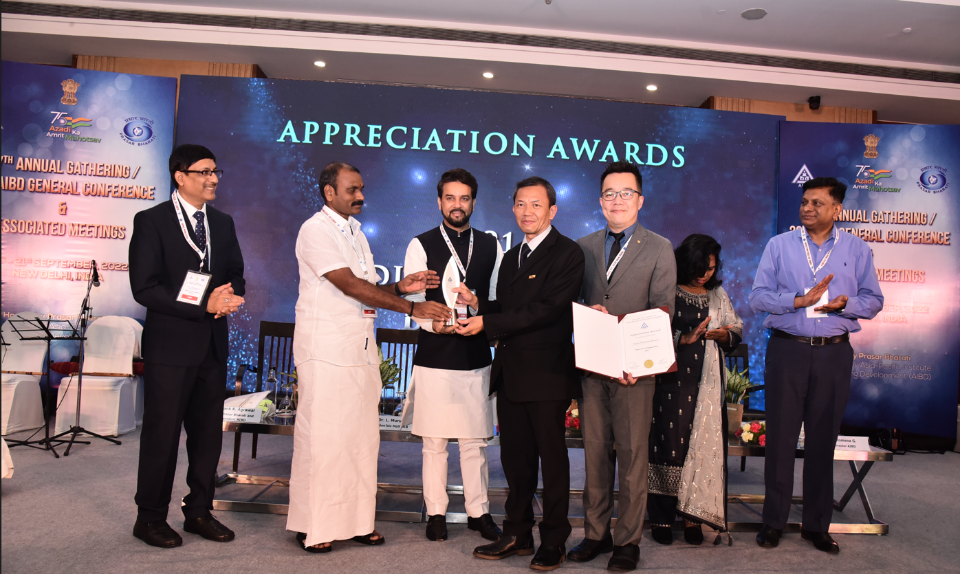 Mr Frankie Chan Kao Siong, Head of International Affairs Section, RTB, Brunei, and Mr Muhammad Zulkarnain bin Haji Brahim, Acting Head of TV Programme, RTB, Brunei, received the Appreciation Award 2021 for their organisation in recognition of Radio Television Brunei's (RTB) exceptional commitment to being the most active member in training activities, particularly during pandemic times, to upskill their human resources. RTB is a dedicated member who has consistently funded several workshops held in the Kingdom, thereby supporting and enhancing AIBD initiatives and training efforts over the years.
H.E Dr Khieu Kanharith, Minister of Information, Kingdom of Cambodia, was awarded Life Time Achievement 2021 for his unwavering support, encouragement, and patronage of AIBD over the years. His Excellency's association with AIBD spans more than four decades, and he has actively supported all AIBD endeavours, particularly the Angkor Anti-Fake News Initiative, as well as supported AIBD in strengthening ties with several Southeast Asian members.
H.E. Has Sam Ath Under Secretary of State Ministry of Information, The Kingdom of Cambodia received the award on the behalf of H.E Dr Khieu Kanharith.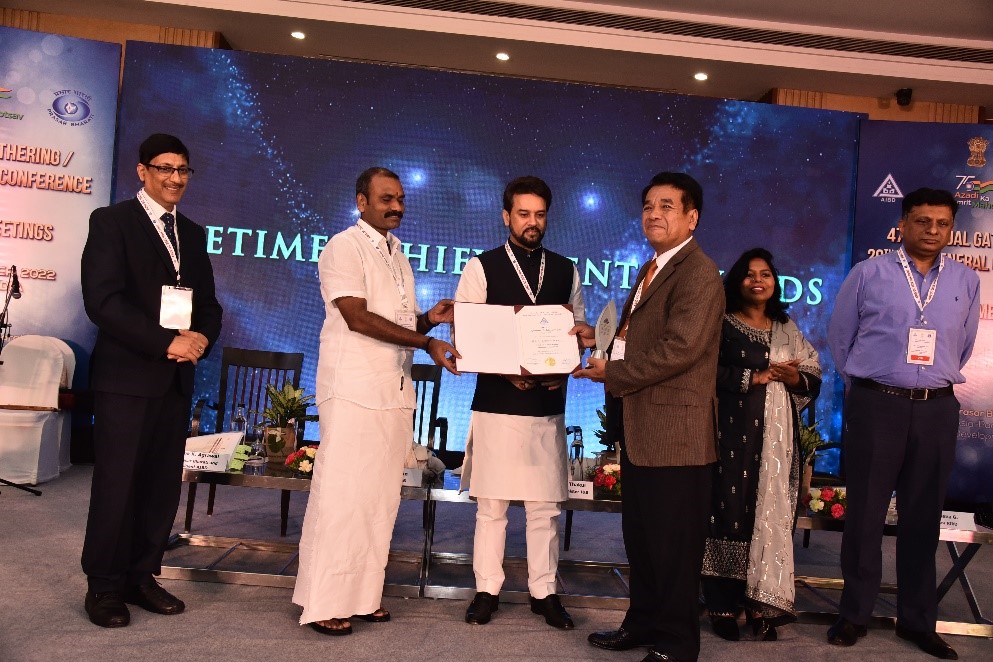 The President of AIBD and CEO of Prasar Bharti, India, was also conferred a Life Time Achievement Award for 2022. AIBD is especially proud that Mr. Mayank Agrawal, as the president of the AIBD GC, has led us through the difficult times. He not only encouraged AIBD with its initiatives, but also provided the institute with sage counsel based on his extensive expertise and exceptional leadership abilities.