Regional Workshop: DAB+ Digital Radio Broadcasting: Technology & Implementation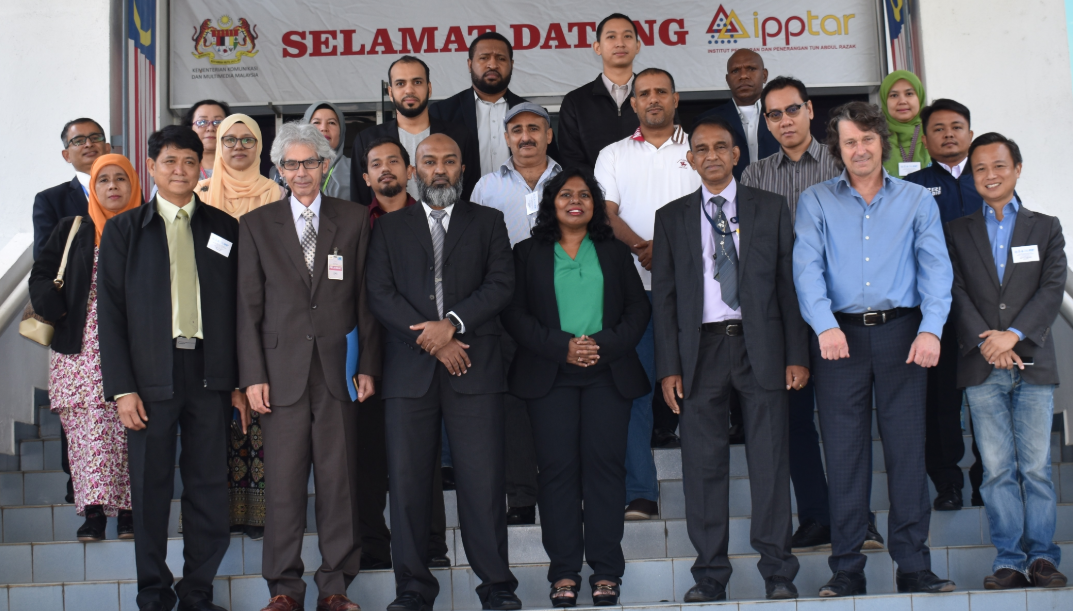 The existing AM and FM analogue systems suffer from inherent short-comings and neither can offer uniform reception quality throughout the coverage area. AM radio reception is constrained by bandwidth limitations which restrict the audio quality, and by interference from other co-channel and adjacent channel transmissions. This is particularly troublesome during the hours of darkness. The start of FM services in the 1950s improved the audio bandwidth and overcame the night-time interference, but the broadcasts were designed to be received using fixed receivers with external antennas. When listened to in vehicles or on portables, reception suffered from the effects of reflected signals and other forms of interference, particularly in suburban and city areas. Digital technology has steadily transformed the way in which programmes are made in the last twenty years. The switch from analogue to digital is moving along the broadcasting chain into transmission and digital developments are drawing together the broadcasting, telecommunications and computer industries in a process of convergence.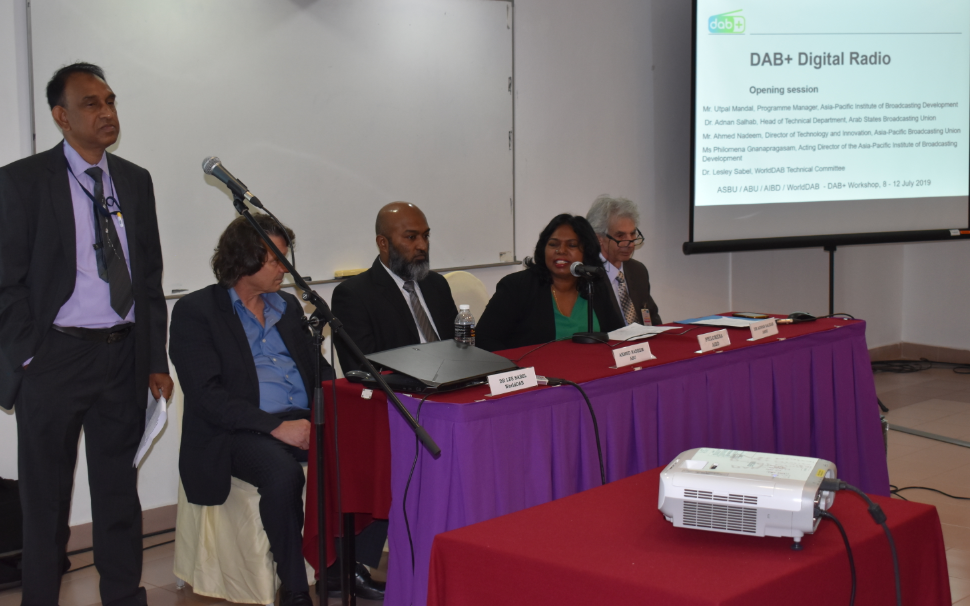 Asia-Pacific Institute for Broadcasting Development (AIBD) in collaboration with Asia- Pacific Broadcasting Union (ABU), Arab States Broadcasting Union (ASBU) and World DAB organised a Regional Workshop on DAB+ Digital Radio Broadcasting at Kuala Lumpur, Malaysia from 08-12 July 2019. The DAB/DAB+/DMB family of standards is a widespread digital radio broadcasting platform, offering radio broadcasters significant cost advantages and offering regulators considerable spectrum efficiencies over analogue and other digital systems. It was originally planned for implementation in two spectrum bands: VHF Band III and L Band, although the use of L Band has now been deprecated. The DAB family of standards includes DAB, DAB+ and T-DMB and is collectively referred as DAB, although DAB+ is the variant which is currently being deployed globally for the delivery of digital radio.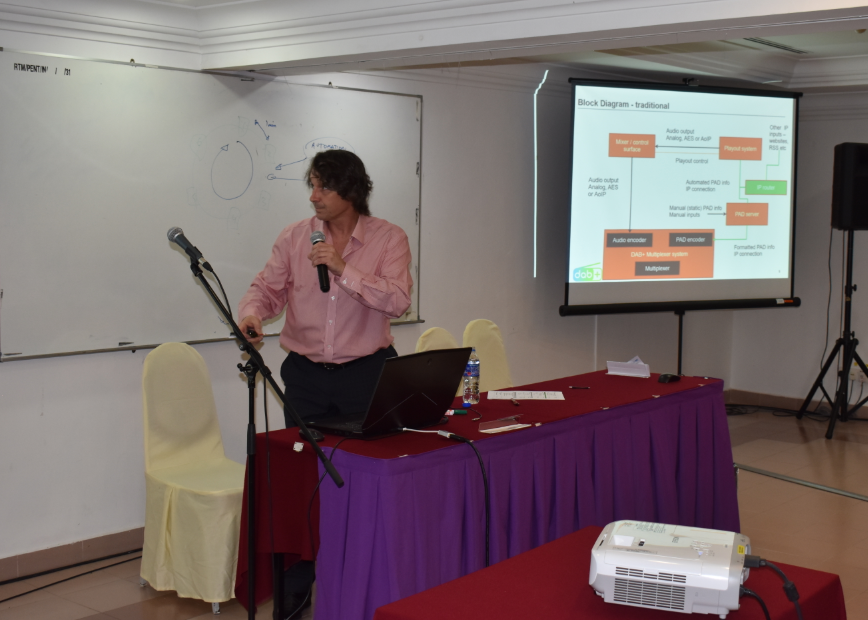 The five-day course covered most of the technical fundamentals and technology used on DAB+ Digital Radio. Sixteen participants from seven AIBD, ABU and ASBU member countries attended the workshop. There were a number of speakers during five days of the workshop. The structure of the DAB family of standards offers a wide range of architectures to allow optimisation and cost minimisation for all types of network combinations and requirements, from ensembles operated by a single network with multiple channels. Dr. Les Sabel from World DAB, the primary consultant for this workshop covered a large number of sessions over the period of training course. On first day he provided the background on digital radio and changes that has come into Radio Industry due to digitalisation. He talked about the DAB+ system structure, systems and networks, current transmitter technologies and architecture. In addition, he delivered on DAB+ policy and regulation, DAB network planning and discussed  case study of Australia.  He further explained about hybrid radio, the PAD delivery systems and different types of receivers. There were sessions for RF coverage, including spectrum and regulation overview, coverage planning, propagation, RF network design, single & multi-frequency networks and RF in­terference.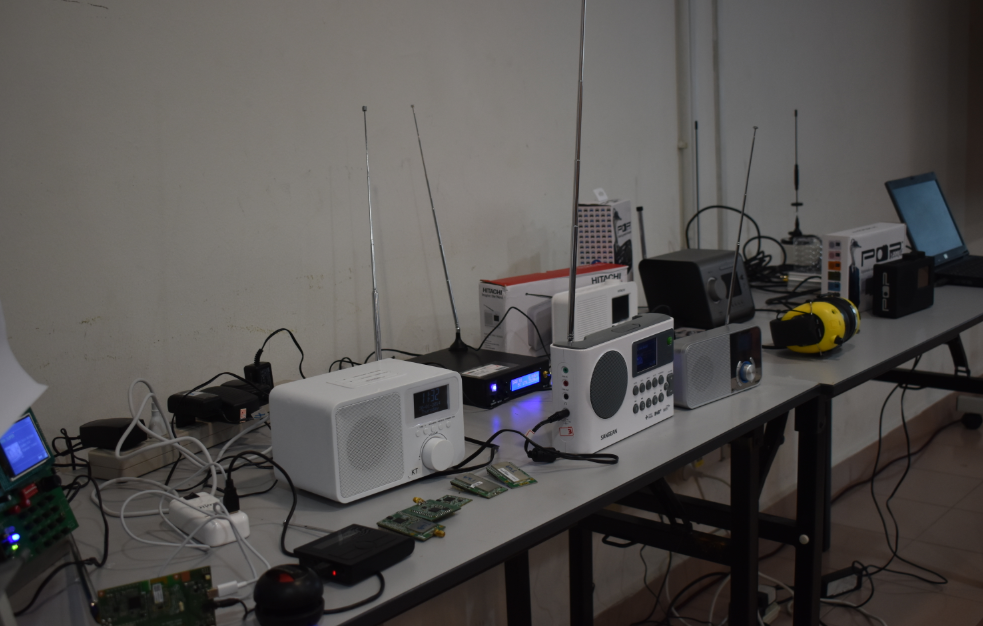 In today's global market, over 75 million DAB, DAB+ and DMB devices have been sold to consumers, and this market continues to grow as the technology becomes more established. Digital radio receivers are available for domestic use and on-the-move, while an increasing number of receivers are being developed to satisfy the demand for in car listening. The manufacturing of digital radios has significantly developed over time both visually and functionally. On the second day Mr Sohan Karunaratne from  Aqipa Australia Pte Ltd  talked about Aqipa-Pure receivers. He mentioned that, as the pioneers of digital radio and the first to fully embrace the technology in 1999, Pure has become the world's leading digital radio manufacturer, with over 5 million sold worldwide. Mr Sohan showed and described various models of Pure manufactured DAB receivers in the categories of portable,personal,bedside,in-car models. Michael Chen of Keystone Semiconductors, Taiwan took a session on digital Radio receivers as well, wherein he described about receiver construction, receiver modules and provided overview of the company products on receivers.
Mr Anupon Tajawanno, Regional Sales Manager, Paneda Tech AB, Thailand in his session spoke about DAB+  Field trial  and DAB+ roll out in Thailand. He mentioned that the Paneda group is active in the area of Digital Radio (DAB+), with its main focus on applications for safety systems in tunnels and buildings. Paneda has developed a complete "break-in system", where it is possible to interrupt the ongoing broadcast signal and replace this with an emergency message.
Mr Jason Mak from Gates Air explained what makes DAB+ environmentally friendly, where he discussed about power consumption and efficiency, space and environment, capital and operating cost and comparisons with FM and DRM+. He also talked about low power VHF radio products and components.
Mr Yahya Khaled, ATDI South Pacific Pt Ltd., Australia discussed on RF Planning software tool developed by the company. ATDI develops, supplies and supports a comprehensive set of software tools for the planning, modelling and regulation of radio communications services. Mr Khaled explained in details on ATDI's network planning and modelling tools considering terrain and associated clutter, supported by the very latest propagation tools. He demonstrated effects of changing various planning parameters taking the DAB+ planning examples.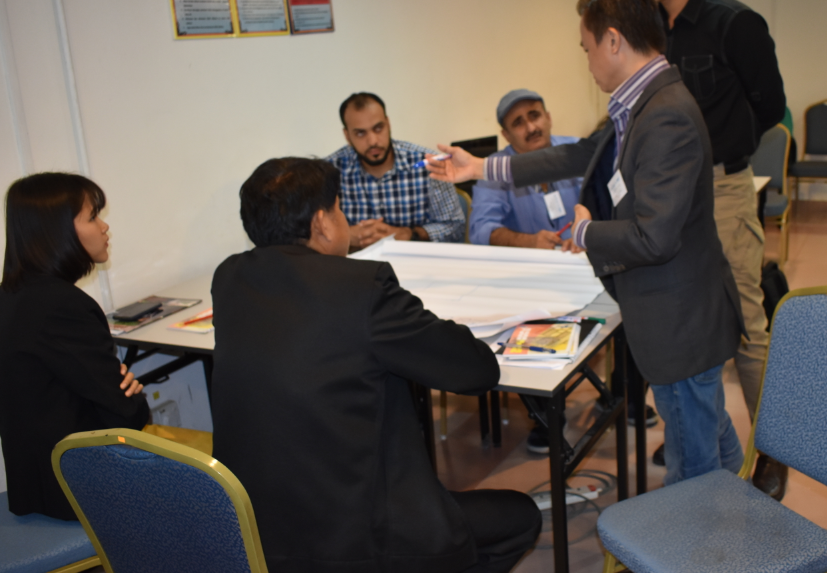 Dr Les arranged a Hand on Exercise for the participants for planning of Digital radio network. Participants were divided into groups having 5-6 in each group.  Discussions held on how to plan, design and implement a digital radio network. Three groups worked over the days in specified slots and presented their respective group's work on the concluding day.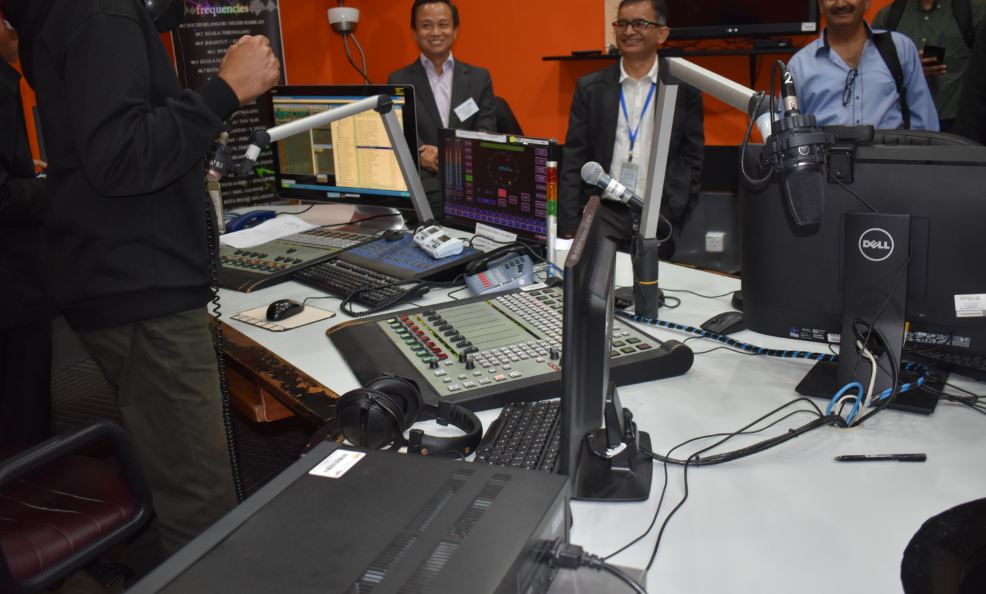 Participants joined a half-day field visit to Radio Television Malaysia (RTM) Radio studio facilities. The Engineer(s) at RTM demonstrated and explained to participants about FM Radio studios at Wisma Radio Complex. Participants fairly got information about FM and Digital Radio facilities at RTM.