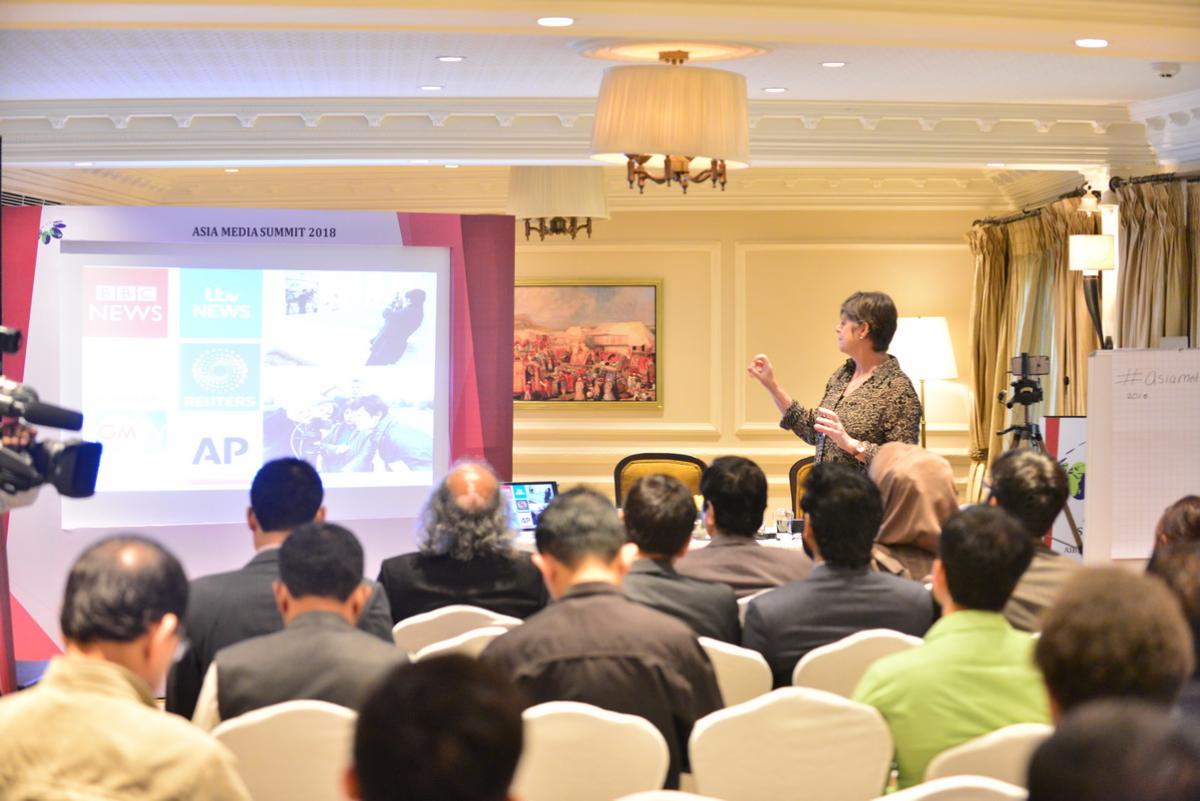 Good Storytelling through Mobile Journalism
Good Storytelling through Mobile Journalism
by Joe Carlos

Twenty-five delegates from ten countries in Asia-Pacific and Africa joined the AIBD/Thomson Foundation regional workshop on mobile journalism, a new media tool for storytelling that allows reporters to use mobile phones with network connectivity in gathering, editing and distributing news.
Ms Deborah Kelly, Head of Training and Communications, Thomson Foundation, conducted the workshop that covered topics on the basics of mobile journalism, composition, filming on mobiles, getting the best sound, planning and sharing content.
The one-day workshop is a pre-summit event to the Asia Media Summit 2018 held in New Delhi, India on 9 May 2018.
A former journalist of BBC and Aljazeera, and ITV News, Ms Kelly said the mobile phone is increasingly becoming an effective tool for journalists because it works quickly across various platforms. It doesn't replace the VCRs, but supplements efforts of journalists to tell good stories in a different way.
"But more than the tool or technology, what's critical is still telling good stories to audiences", she said.
The basic kit for mobile journalism will cover a tripod, special lab microphone you can clip on, headphone, and holder you can put camera in and out.
Aside from being a portable equipment, the mobile phone can be used in places and ways the VCR cameras cannot do. It can provide extreme close up.
In her presentation, she said both smartphone operating systems, IOS and Androids, are excellent. They have far more in common than what divides them, but there are some important differences.
IOS is a close system that has been a more lucrative platform for App developers, providing stability in various platforms while in Androids developers are having a hard time to build Apps.
Ms Kelly also said Androids is more affordable that Apple's IOS, and offers better cameras.
Whether you have the IOS or Androids, "the key thing is really storytelling, producing high quality shots in terms of images, photography, good composition,and good sequencing of the pictures", Ms Kelly pointed out.