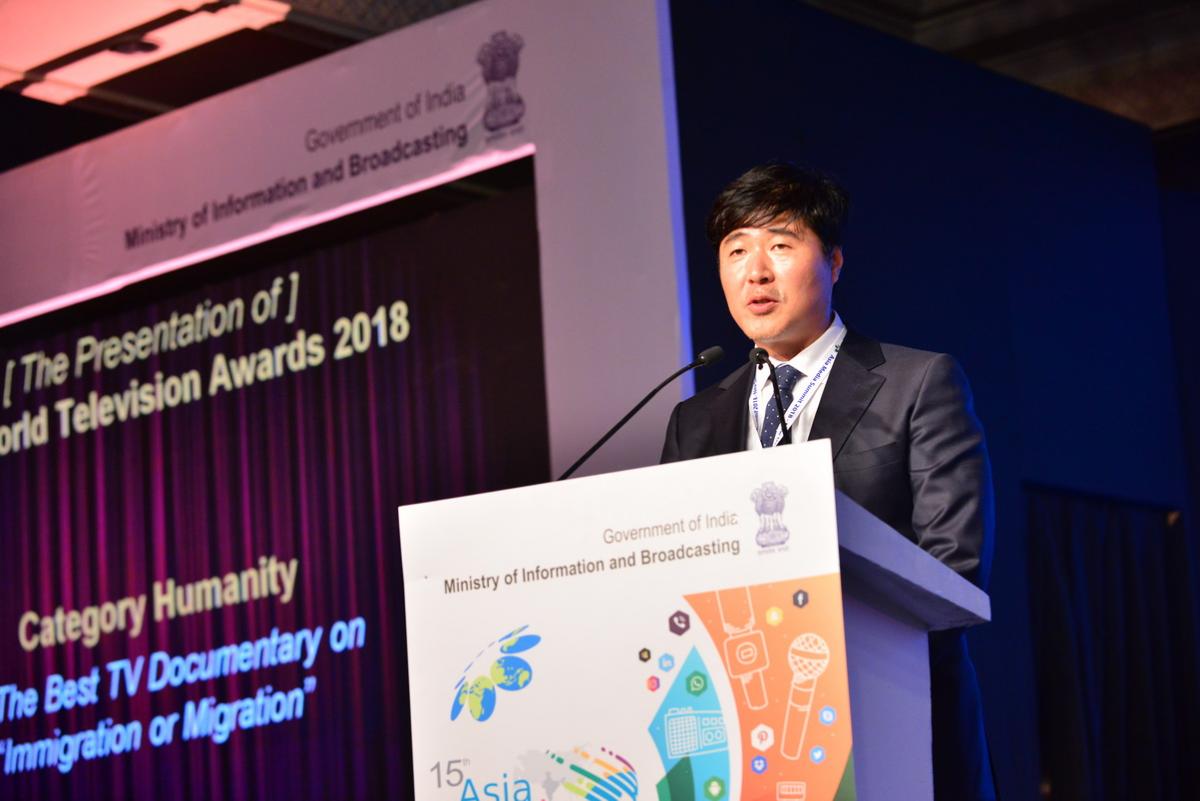 Winners of World TV Awards Announced at AMS
Winners of World TV Awards Announced at AMS
Journey on Foot "Homewards", a TV documentary on the life of an immigrant worker who struggles to realise his dream to return to his homeland,  broadcast by KBS1, Korea, won the World TV Awards  under the Humanity category on Migration or Immigration.
Mr John Maguire, Chairman of the World TV Awards Jury, announced the winner at the Asia Media Summit in New Delhi, India on 11 May 2018. He spoke of the many good content the TV Awards jury screened for this year's awards.
Jae-Gook Shin served as the programme's executive producer and its director Han-Seok Kim received the Awards' trophy and certificate.
The winning entry focuses on Urisamba Ba, a man who spends his days gathering salt in the beautiful Lac Rose of Senegal. He has two wives and 16 children, all dependent on a measly   $10 a day income.
Ba lives for a dream and that is to return to his homeland. He saves money for his dream, but life doesn't make it easy for him as he is exploited by brokers .
In his documentary, Director Kim revealed the harsh environment the migrants  are exposed to and also focused on finding a meaning in life though life is harsh. In accepting the award, he hoped people will appreciate better the meaning of human life.
Mr Abdul Rahim Suleiman, Director-General of the Arab States Broadcasting Union (ASBU), major sponsor for this award on Humanity, congratulated the winner and said their organisation is pleased to be a partner of this important initiative by AIBD and its members.
The winner of the World TV Award for Best TV Programme on Clean Water for Life was "Blueprint for Survival: NEWater produced by MediaCorp, Channel NewsAsia, Singapore.
Ms Mak Ying Kwan, the programme director, received the Award. She said the subject of her programme dealing with the lack of water is a story relevant not only to Singapore but also to the whole world.
" Blueprint for Survival" is a three-part documentary series showcasing crises that threatened Singapore's survival and how rising to meet these challenges strengthened and sharpened the mettle of Singaporeans.  Its winning entry was the episode entitled "Blueprint for Survival: NEWater". It focused on Singapore's efforts  to find solutions to attain water independence. The country's willpower to overcome water shortage made it seek out technology to recycle wastewater for drinking. Key players share insights on how NEWater was created and how it opened doors to huge, unexpected economic opportunities.
Mr Zhang Yilong, Director of Overseas Business Development, StarTimes, sponsor for this Awards' category on Science/Environment, graced the awards presentation ceremony.
Also present at the event were Col Rajyavardhan SIngh Rathore, Minister of State for Information and Broadcasting and Minister of Youth Affairs and Sports, and AIBD Director Chang Jin.