Broadcasters Have a Social Obligation To Reach Out to The Hard Core Poor
Bangladesh Ministry of Information (MOI) Secretary, Mr Martuza Ahmed highlighted AIBD and Bangladeshi media had decades long relationship as the then Director General of Bangladesh Betar (BB), Mr A K M Nesar Uddin Bhuiyan was AIBD's past vice-president for two executive tenure from 2012 to 2016.
Besides, the public broadcasters like Bangladesh Television and Bangladesh Betar and the National Institute of Media Communication (NIMC) are full members of AIBD.
He also expressed his appreciation towards the efforts of AIBD with regards to capacity building of broadcasters in the Asia-Pacific Region.
Mr Ahmed also showed interest in having more meaningful relations in terms of more in-country workshops especially related to community radio and producing programmes on human development.
He disclosed this while having a brief discussion with Director Mr Chang Jin during his visit to the Asia-Pacific Institute for Broadcasting Development (AIBD) in Kuala Lumpur Malaysia.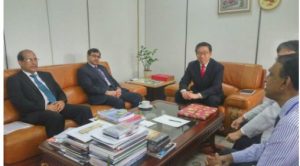 Mr Ahmed felt that broadcasters have a social obligation to reach out to the hard core poor in order to bring them to the main stream of socio-economic development. This is in line with the UN-inspired Sustainable Development Goal 1 – No Poverty by sensitizing the people to partake in development efforts to enhance their socio-economic well-being.
He is happy to note that AIBD in collaboration with Bangladesh Television (BTV) are jointly organising a sub-regional SDG workshop with the theme – Ending Poverty on the 13th and 14th December in Dhaka Bangladesh.
First of its kind, the 2-day workshop has attracted some 30 participants representing the eight South-Asian Association of Regional Cooperation (SAARC) nations including local UN organisations like FAO, UNIC and UNDP.
Esteemed speakers to share their visions in Poverty Alleviating are from the World Bank Bangladesh, UNDP, Bangladesh Planning Commission, Ministry of Local Government, Rural Development and Cooperatives besides BRAC (Building Resource Across Communities), the world's largest NGO dedicated to development and fighting poverty by acting as a catalyst in creating opportunities for people living in extreme hardship to realise their potential.