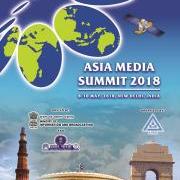 'Telling our Stories- Asia and More'
The AIBD announces that the next Asia Media Summit 2018 in New Delhi, India will focus on the theme "Telling our Stories- Asia and More."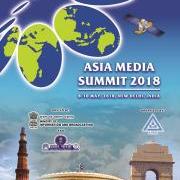 The AIBD announces that the next Asia Media Summit 2018 in New Delhi, India will focus on the theme "Telling our Stories- Asia and More."
AIBD Director Chang Jin recently visited New Delhi for preliminary meetings on the forthcoming summit and the draft content with representatives from the hosts, India's Ministry of Information & Broadcasting, Prasar Bharati and All India Radio.
At the recent 16th General Conference in Maldives, Mr F Shehryar, Director General of All India Radio, told delegates that India is in "a state of complete preparedness" for the AMS from 10-12 May 2018.
The summit will focus not only on diverse local stories in Asia, home to diverse ethnic groups, religions and rich culture, but also on the need to preserve, and share them beyond its boundaries. Moreover, these require to be translated into global context, which should be delivered into local perspective, as a way forward to peace, prosperity and uplifting the society.
Topics covered in the five plenary sessions cover exciting stories on numerous mythologies, folklore and contemporary stories, media regulation policies, and sustainable development stories. The summit will also feature four parallel sessions, moderated debate on Asian values and a CEO Roundtable on story-telling and success of media. There will also be five to six presummit workshops.
Discussions on the Asia Media Summit 2018 were held during the meetings of the AIBD Strategic Planning Team (SPT), Executive Board (EXBO), and the 16th General Conference (GC) in Maldives from 21-22 August 2017.
Many SPT members commended the theme, saying it is focused and wide enough. There were suggestions to include human resource training issues in telling good Asian stories, changing journalism and pursuit of editorially acceptable and commercially viable news documentaries.
"The draft content is well thought of. Story-telling is about Asian content, technologies and how to use them so that stories can be well-received, and business models", Ms Yan Ni, Director of Asia, Africa and Latin America Affairs, SAPPRFT, China, said.
Other members recommended to include pre-summit workshops covering the theme's idea about 'Asia and More,' and topics on co-production and cooperation among broadcasters. Moreover, speakers should provide video presentations of good stories told to make sessions more dynamic and interesting.