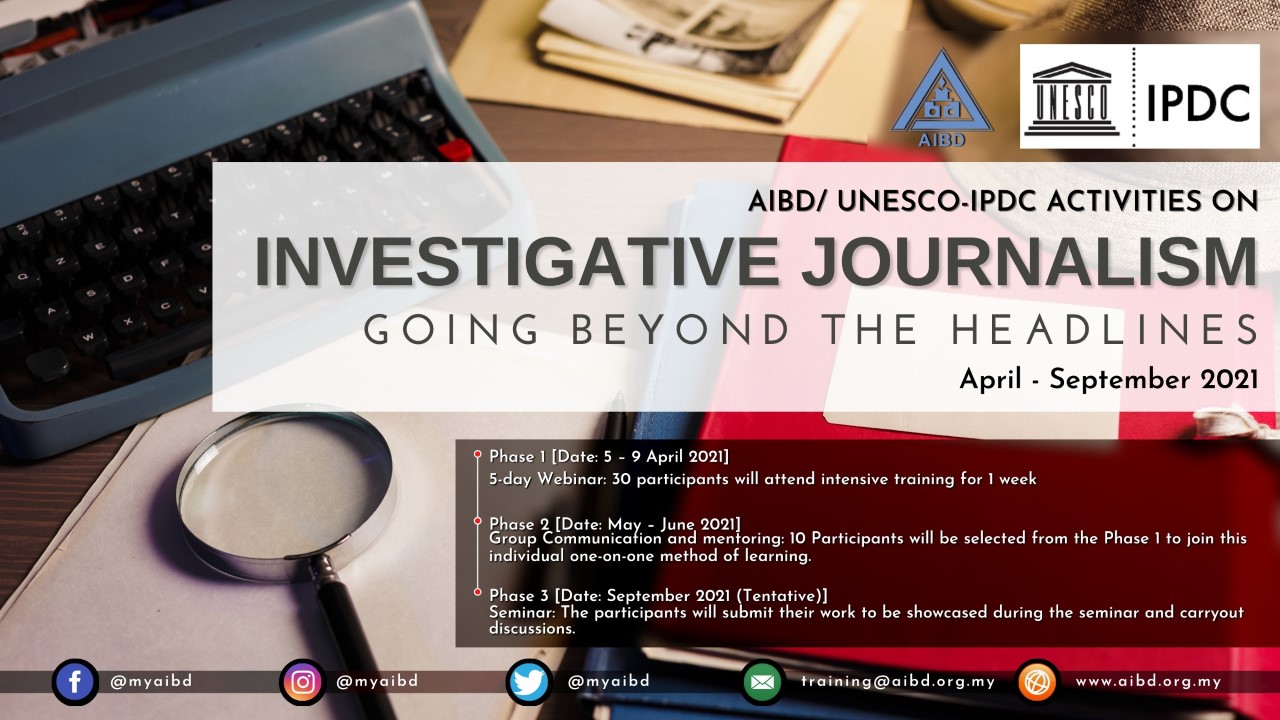 AIBD/UNESCO-IPDC Workshops on Investigative Journalism  
Going Beyond the Headline 
Investigative journalism plays a vital role in bringing attention to topics that are of public interest and are important to public discourse. Right now, with mal-information, misinformation and disinformation finding many outlets, it is imperative for investigative journalist to take the lead by going deeper into issues while using all the approach which made Media 'the fourth pillar of democracy'.   
With Covid pandemic sweeping the world, and leaving in its wake, frightened public that turn to every available news outlets or inversely mistrust all media sources; it has become paramount to build back the trust.  This can only be achieved by producing content that are well-researched and credible; which can be achieved by turning away from popcorn journalism to issue-oriented explanatory news reporting.
This project proposes to bring into focus the inherent power of investigative journalism to enable the society to become fairer and more democratic. With the rapidly spreading perception that there is an alternative to news, it is vital for journalists to expand their job scope to include not only the daily reporting and paparazzi-style news or commentary on celebrity life but to raise the awareness of the society as a whole, on the issues that are most relevant to them.  
Looking at examples from the various protest happening all around the world, when powerful are not held accountable, the society is threated. And media, when utilized correctly is the best tool to create a well-informed and aware societies.  
This project will train journalists from AIBD member countries to enhance their existing investigative skills. They will be tasked to produce material that can be examined and amended, with the mentoring from our expert consultant, that reflects their own interest and opinion, which can be an example of well researched content with many sources that will provide information not readily available/understandable to the general public. 
Description of activities: 
The project proposes to have 3 main phases/activities;
5-day Webinar: selected participants will attend intensive training for 1 week
Methodology: 2 hrs e-class with structured modules with supplementary material and documentation available for flexi-learning during this week. This phase will train 30 journalists, of which selected dedicated participants will be invited to join phase 2. 
Sessions will help journalists learn about the elements of investigative reporting, how to find information, the role data can play in their reporting, how to focus on accuracy, ways to use various platforms to present their work, and more. (See Daily Schedule for more details).
Group Communication and mentoring: 10 Participants will be selected from the Phase 1 to join this individual one-on-one method of learning. 
Methodology: 1/2– month mentoring session will be utilized for the participants to work with consultant. They will be mentored by experts on various aspects of investigation, from journalism to data analysis and visualization. The participants will expand on their topics and discuss the research with the consultant. This will be the initial stages of their pre-production discussions for their final project.
These sessions can help the reporters plan their reporting, find information and overcome obstacles. Mentoring help will include guidance and advice on various aspects of each participant's investigation, from journalism to data analysis and visualization. The participants will expand on their topics and discuss the research with the consultant. 
Regular mentoring sessions will be scheduled, with the specifics to be worked out with each participant, to ensure contact and to help make sure that reporters included in Phase 2 have assistance in making progress on their work. 
The goal of the mentoring for Phase 2 will be to provide expertise and assistance to participants during the reporting phase of their work.
Seminar: The participants will submit their work to be showcased during the seminar and carryout discussions.  
Date: September 2021 (TBC) 
Methodology: The participants will be invited to join this half-day physical seminar to present their respective project and participate in the group discussion on the challenges and opportunities. This will generate recommendations and literature for investigative journalism for media practitioners. 
The seminar, which will be available not only to participants but also to other journalists in the region, will include an overview of investigative journalism, discussion of ethical issues and challenges facing investigative reporters. The work of each participant will be presented, and the results will be discussed, including the potential impact of the work and avenues for further reporting.
methods, limitations and dangers of undercover reporting.

look critically at recent case studies where investigative reporting went wrong and examples of cases where it helped to create awareness necessary to bring out change.   
discuss the legal and ethical constraints on investigative reporting.

look at the importance of data in contemporary investigative reporting.
Criteria for Participant Nomination: 
Reporters from AIBD member organisation with interest for investigative journalism, who are willing to work on the project for an extended period. As the course will be taught exclusively in English, the nominee must have good understanding of written and spoken English (although the final project may be in the local language, they must be subtitled/ translated to English for the presentation and exchange)
The selected participants must;
Be a

n 

active

 reporter

 with at least 2 years of experience

 

Have a good understanding of spoken and 

written

 English

Be committed to work on this project for extended period of time

S

ubmit output 

at the

 

end of 

the project (check 'expected out

puts'

 for acceptable material)
If required, be able to travel to Kuala Lumpur*
*depending on the pandemic situation and travel restriction 
At the end of the project the participants should:
Have the skillsets to go in-depth into subject and pursue topics beyond the daily headlines 

Refined methodologies of research to produce material that includes all necessary factual information

Plan an investigative journalism project; 

Ascertain which documentary evidence to pursue

Conduct traditional document research
Conduct internet research

Conduct interviews

Formulate the story

Present a sufficiently convincing report to persuade editors/producers to run with the story

Engage and train news journalist to work within the basic discipline of investigative journalism
Each participant will be working a final project which must be submitted to AIBD. This project also may be presented in the Phase 3 activity as;
TV reports and documentaries 

Radio reports
Articles and blogs

Leaflets/ brochures/ booklets

Supplementary online content

Infographics

Compiled data & charts
To receive the certificate of completion, participants must submit their projects. 
Associate Professor, University of Missouri School of Journalism
Director, State Government Reporting Program