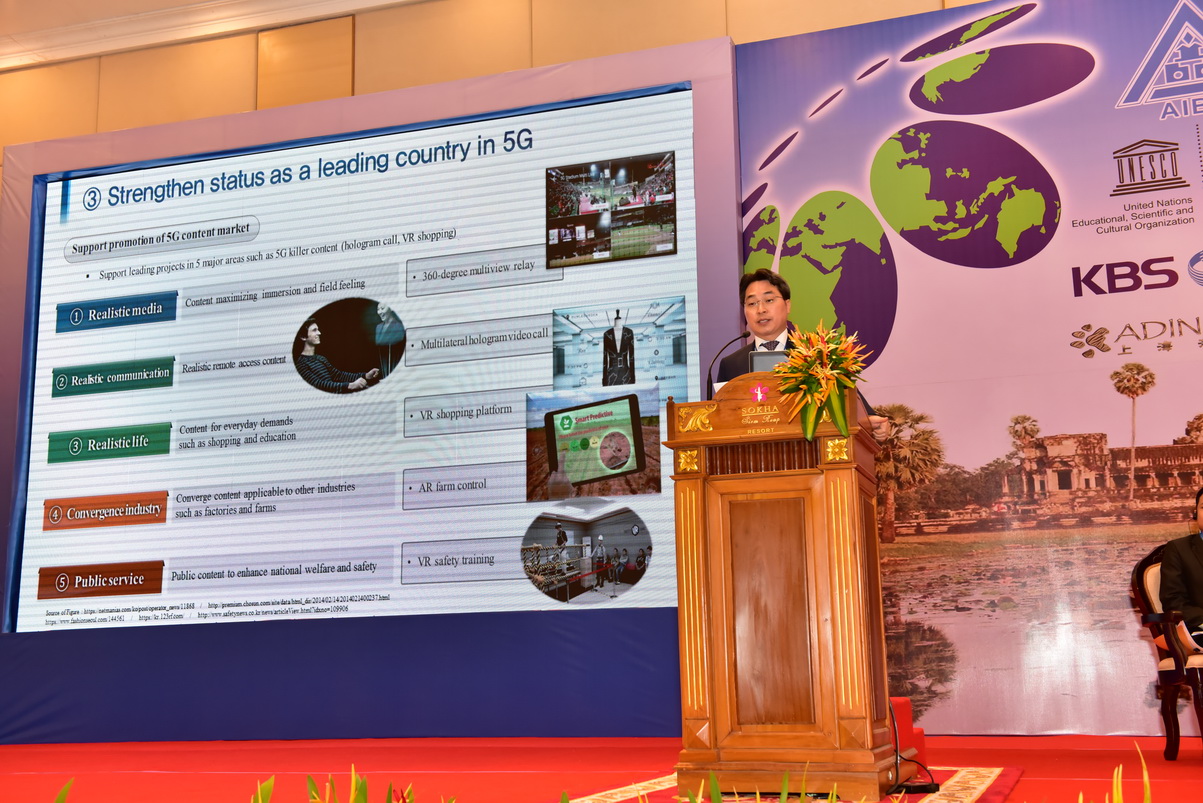 Korea aspires to strengthen status as a leading country in 5G
Your excellency, Minister Khieu Kanarith
Your excellency, Minister Pe Myint
AIBD President
Representatives from all countries
Ladies and gentlemen
I am KO Sam-Seog, standing commissioner of the Korea Communications Commission. I am very pleased to present for the second year in a row at Asia Media Summit.
Last year, I spoke on "President Moon's Media Policy Direction," and explained the role of media in the revolutionary change Korean society experienced. Today I'd like to talk about Korea's media policy in the digital revolution age and share examples from Korea's experience.
In Korea, terrestrial analog broadcasting ended in 2012, resulting in full digital switchover. In 2017, Korea launched the world's first terrestrial UHD broadcasting service.
In telecommunications, from 2nd generation CDMA, 3rd generation WCDMA, 4th generation LTE-A and to 5th generation communications, Korea was the first to commercialize many technologies.
And by responding swiftly to the changes in the broadcasting and communications environment, Korea continues to lead the global market in the digital revolution.
In February 2018, Korea started pilot 5G service at the Pyeongchang Winter Olympic Games. In December last year, it launched B2B service of 5G. This April, it was the first in the world to successfully commercialize smartphone-based B2C 5G service.
As of May 2019, there were approximately 700,000 5G service subscribers.  In June of 2019, that number is expected to exceed 1 million.  The average data usage per person is about 22 gigabits.
5G's characteristics are ultra fast, ultra low latency, hyper-connectivity.
5G's highest throughput is 20 times faster than 4G, and response time is over 10 times faster. Ten times more people and devices can connect through 5G.
The World Economic Forum, OECD, and other prestigious global organizations forecast that 5G will impact all industries, including automobile, medical, distribution, media, providing convenience across the economy and industry. They predict that it will transform the structure of economy and society in a positive and fundamental manner.
5G will enable the digital revolution age, creating 5 "hyper" phenomena:
First, hyper connectivity – it will connect people and things in the IoT
Second, hyper convergence – convergence across industry will dismantle the barrier between industries.
Third, hyper intelligence – embed intelligence into all things and realize big-data based AI
Fourth, hyper real – provide service more realistic than reality through AR and VR,
Finally, Hyper gap – The trend of winner takes all will intensify, and an overwhelming gap will form between those who participate in the 5G digital revolution and those who cannot, as well as between individuals and companies
These phenomena will present a completely new future across our economy and society. And the broadcasting and media sector is no exception.
Along with the digital revolution, the global media environment is also changing rapidly. Strategic partnerships and acquisitions between broadcasting, communications and media companies will strengthen the competitiveness of content and platforms.
Furthermore, global OTT companies like YouTube and Netflix are drawing upon their significant capital to enter global markets. Facebook, Amazon, Google and other global companies are strengthening their online marketing and content share of the market.
In particular, Netflix and YouTube's growth poses a large threat to traditional media. Netflix's annual growth rate is approximately 30% and as of 2019 Q1, the platform had approximately 150 million paid subscribers.
Youtube's monthly active users amounts to 1.5 billion, and it has approximately 5 billion daily views.
Like other countries, in Korea, YouTube is overwhelmingly ahead of other OTT online platforms.
As opposed to the growth of new media, the share of TV, newspapers and traditional media in the advertising market is consistently decreasing. This phenomenon is observed not only in Korea and the US, but is common to the global market.
Along with the change of the media market, user consumption patterns are also changing.
With the proliferation of the Internet and smartphones, the convergence of broadcasting and communications is accelerating. With the advent of multimedia and multi channels, new media will replace traditional media.
In particular, younger generations prefer the Internet and mobile services, and there is a movement from real-time (linear) to non real-time (non-linear) content consumption.
The individualization of content helps explain this trend. In the digital revolution era, there will be an explosive growth of using Internet-based new media over traditional media.
To respond to this rapidly changing digital revolution, Korea is pursuing the following policies and strategies:
First, spread "Hallyu" content.
Second, establish a Korean content platform.
Third, strengthen status as a leading country in 5G.
First, Korean wave "Hallyu" content is receiving the global spotlight.
Starting last year, the boy band BTS began a world tour including the US, Japan, Southeast Asia, Europe, South America, holding over 50 concerts across the world.
This year, BTS held a concert in the world famous Wembley football Stadium in the UK, with 60,000 fans in attendance. The concert was also streamed live through a pay service called V LIVE by the Korean Internet company Naver.
Additionally, Korean director Bong Junho's movie "Parasite" was the first Korean movie to win the Top Award at Cannes Movie Festival.
These examples show that Korean content like music and movies, are competitive in the global market.
As I explained before, Korea is continuously striving to expand Hallyu content based on the strength of Korean content.
First, Korea is focusing on the global expansion of K-pop, drama, games, music and other Hallyu content.
Additionally, by converging media and commerce, Korea is continuing to expand its global influence through content.
For example, Korean studio CJ ENM has a video commerce business, where it has infused fun and storytelling into commerce videos and spread them through social media. I believe it is an interesting and noteworthy business model.
Because of the competitiveness of Hallyu content, Netflix is utilizing Korea as an outpost to circulate content. Additionally, Korea plans to utilize capital from global firms like Netflix to promote the Hallyu content market, if necessary.
Korea is also striving to create a Korean content distribution platform.
CJ and the Korean Ministry of SMEs and Startups have hosted a K-culture festival called KCON every year since 2012. This is not simply a K-pop concert, but includes drama, movies and other cultural content, as well as IT, fashion, beauty and other Hallyu related themes. It is a cultural platform that fuses together exhibition and concert.
Recently Korean telco SKT and three terrestrial broadcasters joined hands to release an OTT service in July to enter the global market. This service will be like a Korean Netflix.
Lastly, the Korean government will not simply stop at being the first in the world to commercialize 5G. The government is actively pursuing a nationwide strategy to make the "world's best 5G".
By preparing the necessary infrastructure early on and expanding the introduction of new services, Korea's strategy is to promote the market in the early stages. To this end, the government released its 10 core industries and 5 core services. Among these, the media-related industry and service will the first stepping stone on the path to 5G promotion.
Taking a closer look at the details, the Korean government plans to support "killer content" in 5 major areas.
360 degree multi-view relay which is immersive and realistic;
Multilateral hologram video calling;
VR shopping platform, which is an area in high demand in our daily lives; and
Through this, our goal is to promote the 5G content market in the early stages.
In the private sector, there are various preparations already underway for diverse 5G services centered on the work of Telcos. For example, realistic media, autonomous vehicles, disaster and emergency response, smart factories and more have potential applications for 5G
Some of these possibilities were showcased at major events such as CES and MWC at the beginning of this year.
The future digital revolution that 5G enables, however, is not all rosy perfect. While the digital revolution has potential to greatly benefit our lives, including in the media use environment, there is a darker side. Therefore, in order to lessen this shadow to the digital revolution, the government emphasizes the importance of policy to reduce the digital gap and protect users.
In the digital revolution age, the gap between countries, and also between domestic users will widen. Additionally, AI based algorithms repeatedly expose users to only their preferred content, which can cause a lack of diversity. Digital sex crimes, fake news, personal data leakages, and cyber terror are other examples of the darker side to this future. There will be increased polarization between leaders and latecomers among firms, between the haves and have nots.
Furthermore, as the shared economy takes place, the advent of new technology and services like Uber will lead to new conflicts between existing and new groups. To resolve these issues, companies own voluntary efforts are important. But I believe the government also needs to respond proactively.
President Moon's administration aims to pursue an innovative strategy in this era of hyper-connectivity that emphasizes innovation and growth, while maintaining a focus on the people. It is proposing a nationwide strategy to this end.
Furthermore, even great technology and services may not necessarily be adapted by individuals and society. There needs to be policy understanding and consideration as to who, why, how of the digital revolution is accepted or rejected, expanded or resisted. Without this, a truly digital revolution is not feasible.
The Korean government proposes that this type of policy consideration and effort be shared with countries in the Asia Pacific region.
Thank you for your kind attention.