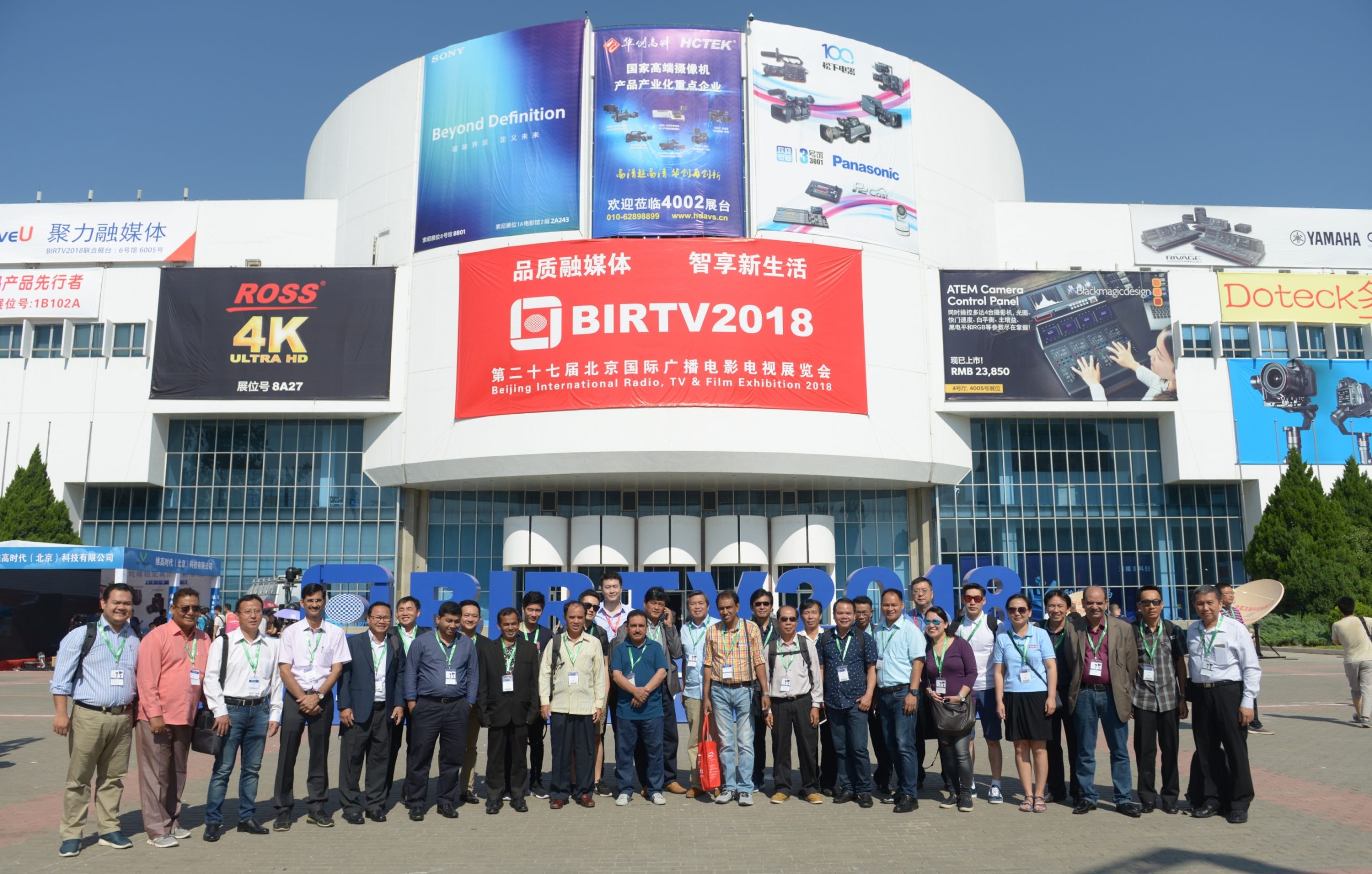 AIBD/BIRTV Media Cooperation Exchange Project from 21 to 26 August 2018 in Beijing, China.
Asia Pacific Institute for Broadcasting Development (AIBD), and Beijing International Radio, TV, Film Equipment Exhibition (BIRTV) jointly organised the Media Cooperation Exchange Programme during 22 -25 August 2018 in Beijing, China. The exchange programme included a seminar and visits to different broadcast organisations and in the exhibitions. The twenty eight participants from 13 countries were technical staff from broadcasting organisations in Asia region.
BIRTV is one of the most influential exhibition in the industry of radio, film & TV in Asia. The exhibition witnesses the latest development and global inspiration of technical innovation. Top exhibitors and manufacturers exhibit the large number of high standard products. The huge number of professionals and visitors make this event very distinctive and unique. As the compelling market of China continues to grow, this exhibition establishes an inspiring platform for all the brightest minds with finest products in the industry to gather and interact with each other. Every year about 500 companies and over 50,000 visitors from Radio and TV stations of various levels in China, neighbouring countries and even Europe or America attend this 50,000 square-meter gala.
The Technical Exchange Project focused on digitization of TV stations. The invited broadcasting technical professionals participated in technical discussions with Chinese technical professionals and visited local broadcasters and broadcasting equipment manufacturers. As guests of BIRTV 2018, they have had a chance to navigate through booths of the latest world-class broadcasting technologies. BIRTV2018, with the core of innovation, highlighted the contents of Media Integration, IP multicast network, Multi-platform distribution of High Definition and Super Definition.
At the Technical Symposium on the first day, Mr. Liu Xinxing, Director of International Business Group, Chengdu Sobay Digital Technology Co. Ltd. provided the understanding of broadcasting market and contribution across the world in general and China in particular. He detailed about the technology innovation the company is currently undergoing in broadcast technology arena and also detailed about the production system for linear TV production and on- line production in unified content platform.
Dr. Yan Chengsheng, Deputy Director General, International Cooperation Department, The National Radio and Television Administration(NRTA), PRC talked about the development of media industry of China and its international exchanges & cooperation and provided the general overview of Chinese media industry, radio, TV, film, press and publication.
Dayang Corporation gave a special report on development of Radio and TV Industry and overseas projects. Also shared UHD production and broadcasting experience and touched upon 4K producing network.
Ms Lu Xiaoli, Senior Engineer of China Central Television (CCTV) presented on Broadcast & Master Control System, News Producing & Broadcasting System, Integrated Producing System, 4K UHD Producing & Broadcasting System, Network & Media Asset System and Advanced Technology Applications. She made detailed introduction on design philosophy and technology architecture as well as equipment manufacturers' key role in building the technology system in CCTV.
Ms. Alina of Alibaba Cloud-International Department presented about the full portfolios of cloud products practiced by Alibaba group inner digitalization cases. She also talked about mature solutions and rich experiences in various industries implementing cloud services.
During the symposium, delegates shared their experiences and concerns on broadcast developments in their respective countries and engaged with resource persons on how best to address broadcast challenges. The sessions remained highly interactive and knowledge sharing.
On second day, delegates visited BIRTV 2018 Exhibition, China's most prestigious exhibition in the radio, film and TV industry and a key part of China International Radio, Film and Television Exposition, to get a full picture of equipment manufacturers' products and technology. Delegates were impressed by China's advances in digital and network transformation, digital TV production and broadcast technologies. In the exhibition hall the participants were taken to the booth of M/s Sobay and then to the booth of M/s Dayang. The representatives present in the booths explained in detail about the technologies and also showed practically the glimpses of production in virtual studio environment.
Visiting CCTV, CRI
In the morning of third day, delegates visited CCTV complex, its studios, broadcasting control room and master control room. They learned the managerial framework and process in CCTV, and how technical equipment, especially Chinese branded technology and equipment are applied. They also exchanged views with the managerial staff of CCTV on the status of TV stations at their home countries.
In the afternoon, the participants visited China Radio International (CRI), where they learned the long history of CRI from Mr Meng Yi, Deputy Director of Overseas Promotion Department of CRI Film & TV Dubbing Services. Mr. Meng introduced CRI's overseas existence and briefed about successful localization of CRI dubbed films and programmes. The delegates have had the opportunity to discuss several issues of their concern.
On the last day, a visit was organised for the delegates to Summer Palace in Beijing. The Summer Palace, in northwest Beijing, is said to be the best-preserved imperial garden in the world, and the largest of its kind still in existence in China. It was exciting experience for participants.