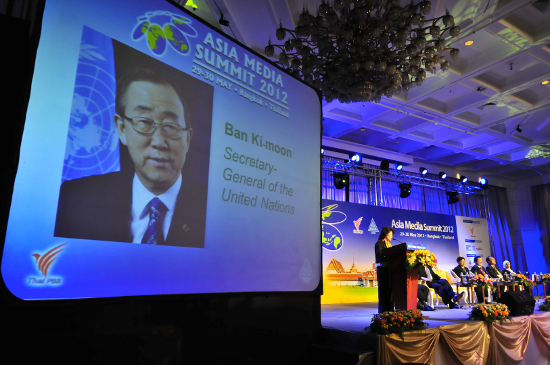 Making a Difference in Development
Mr. Ban Ki-moon, Secretary General of the United Nations, urges broadcasters in Asia-Pacific to tell sustainable development stories in the region, including successes and setbacks that can " serve as a model for the way forward and in offering solutions for tomorrow."
Mr. Ban Ki-moon, Secretary General of the United Nations, urges broadcasters in Asia-Pacific to tell sustainable development stories in the region, including successes and setbacks that can " serve as a model for the way forward and in offering solutions for tomorrow."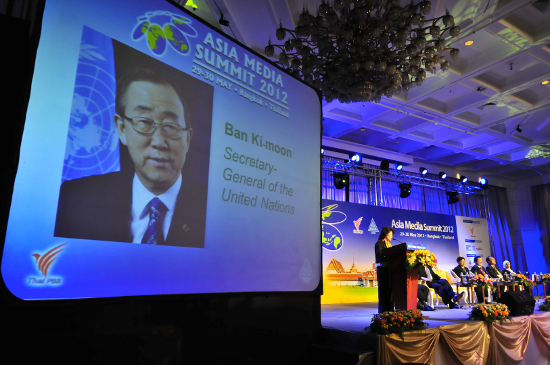 Citing the critical role of media in development, he praised the relevance of the theme of the Asia Media Summit 2012 – Creating Impact: Media in Today's Society, saying that "it is precisely in the field of development where important stories do not receive the attention they should, that the media can really make a difference."
Ban Ki-moon sent a written message to the Summit, which was read at the Summit's inaugural session on 29 May 2012. Last year, the UN Secretary General delivered a video message at the Summit held in Hanoi, Vietnam. In his message, Mr. Ban Ki-moon said that a freely functioning media is essential in world wide efforts to reduce poverty, advance social equity and pursue environmental protection. " We must not forget that a free, vigorous and independent media is a cornerstone not just of democracy, but of a healthy and flourishing society, " he said. He thanked AIBD for its partnership with UN agencies and offices in promoting dialogue between Asia-Pacific and European media, to train journalists and to raise public awareness about the Millennium Development Goals.
Calls for promoting freedom of expression and free press, use of social media to share knowledge and transmit information, and enhanced media role in development were stressed in the video messages from Ms. Irina Bokova, UNESCO Director General, and Dr. Noeleen Heyzer, UN Undersecretary-General and Executive Secretary of UNESCAP.
Mr. Poldej Pinprateep, Chairman of the Board of Governors of Thai Public Broadcasting Service Broadcast (Thai PBS), Thailand, delivered the Summit's keynote address. Thai PBS hosts this year's conference.
Dr. Surin Pitsuwan, ASEAN Secretary General, also spoke at the inaugural session while Ms. Mariyam Mizna Shareef, President of the AIBD General Conference and Minister of State for Tourism, Arts and Culture, Department of Information, Maldives delivered the opening remarks.