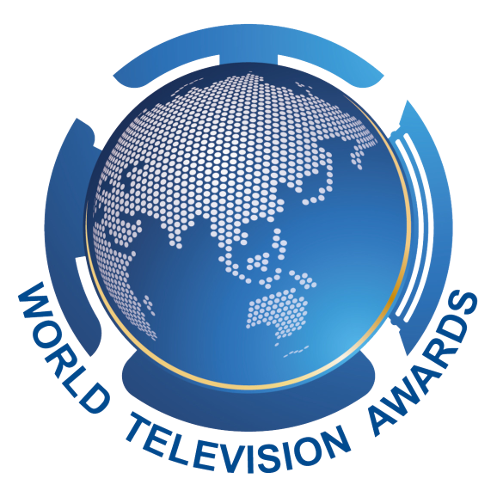 THE WORLD TELEVISION AWARDS
With the aim of recognising the crucial role played by media in promoting the awareness of the audience on major issues such as cultural diversity, religious understanding, tolerance and peace, the World TV Award was initiated in 2004 under the Category Humanity. "Religious Understanding" and "Conflict Resolution" were the initial topics. In 2013, these were replaced by "Natural Disaster" and "Children's Rights". The major sponsor for this category is the Arab States Broadcasting Union (ASBU).

In 2011, AIBD launched the World TV Award, Category Science & Environment in collaboration with United Nations Environment Programme (UNEP).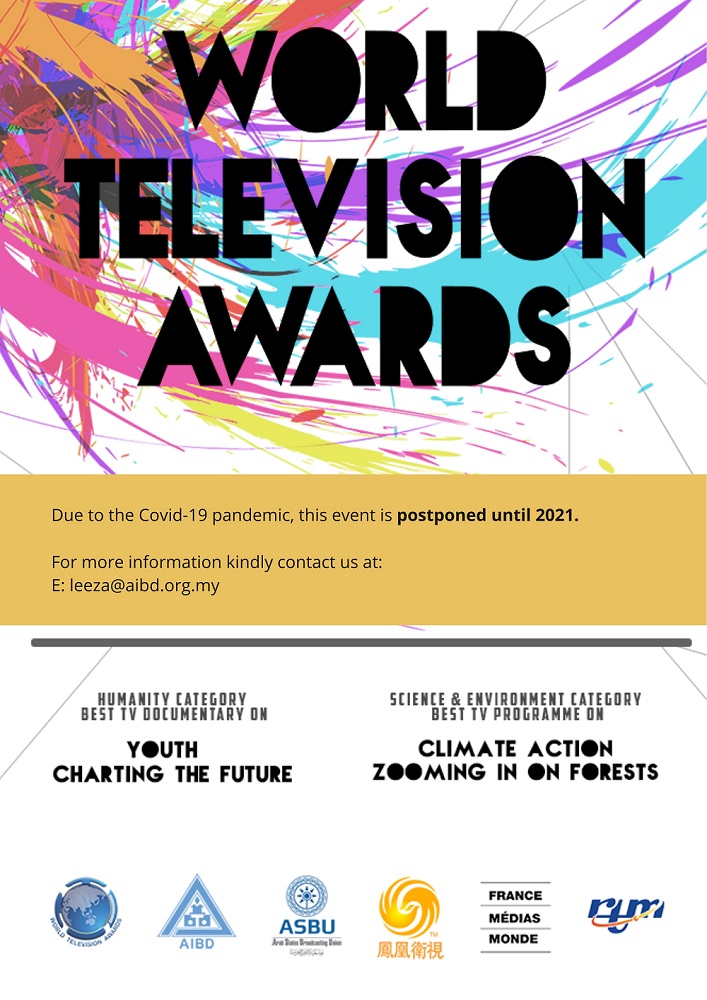 At the Asia-Pacific Institute for Broadcasting Development (AIBD), the safety and wellbeing of our members is a top priority. We have been closely monitoring updates about the COVID-19. As a cautionary measure and to respond to concerns by stakeholders, we have postponed until next year the World Television Award Judging and Awards Ceremony.
Thank you for your understanding. More information on the rescheduled event and a full agenda will be announced in the coming months.

Philomena Gnanapragasam
Director, AIBD
FAQ
What happens to my World Television Awards 2020 entry? 
AIBD has decided that World Television Awards 2020 categories will be carried forward for next year. The applicants have the option to submit new entries on the subject, in which case the previous entry will become void, or to keep their submission as is and AIBD will include them in the submission list.
Do I have to re-submit it to next year's event? 
All the entries submitted in 2020 will be automatically included in the 2021 World Television Award's judging process unless the applicant express otherwise through email. 
For further questions about the awards, contact;
Ms Fathimath Leeza  at [email protected]
AIBD in collaboration with its global partners presents the World Television Awards 2020.
The World TV Awards are open to all broadcasters in Asia, Pacific, Europe, Africa, and North & South America from public, private sector and freelance producers.
"The Winner Prize" consists of US$ 5,000.00 cash prize, a trophy and a certificate presented by AIBD per Award category.
For 2020, the two World TV Awards categories are:
Humanity
Theme: Youth towards agenda 2030 - Building Skills and Knowledge
Title: Youth – Charting the future
The 2030 UN Agenda recognizes youth as 'critical agents of change' for 'creating a new world'. This reorganisation translates the importance of focusing and highlighting the role youth in shaping the world as a stakeholder at all levels.  By including the views of the youth in developing strategies to tackle issues, their leadership qualities will be strengthened.  It will encourage skills and knowledge so that the younger generation will understand the stakes required to successfully navigate the issues that is or will plague the world.
This year's Humanity Category will focus on the importance of having youth oriented viewpoints and youth themselves, who are changing the world by their experience, innovation and expertise.
Science and Environment
Theme: Climate change and how to prevent degradation of resources.
Title: Climate action – Zooming in on Forests
Our planet cannot survive without forests. The forests are stabilising force for sustainability of life. Currently, 25 percent of the world population rely on forests for their livelihood, and it is a home to billions of creatures.
Large swathes of forests are lost every day due to direct and indirect human actions. Managing forests landscapes or halting the loss or degradation of forests and restoring them can help mitigate climate change. According to International Union for Conservation of Nature (IUCV), more than one third of the total mitigation is possible by sustainably managing the forests landscapes.
This year's Science and Environment Category will focus on the importance of forests and look into ways that can restore, maintain and create these life-sustaining natural resources. The impact of forests and lack thereof can lead to two very different futures for the humankind.
Winners will be presented with their Awards during the Asia Media Summit 2020, a global gathering of broadcasters.
Criteria & Entry forms are available below:
Category 1 : Humanity 
Category 2: Science
The World TV Awards 2020 are supported by Arab States Broadcasting Union (ASBU), Phoenix TV, France Médias Monde, Radio Television Malaysia (RTM) and Asia-Pacific Institute for Broadcasting Development (AIBD)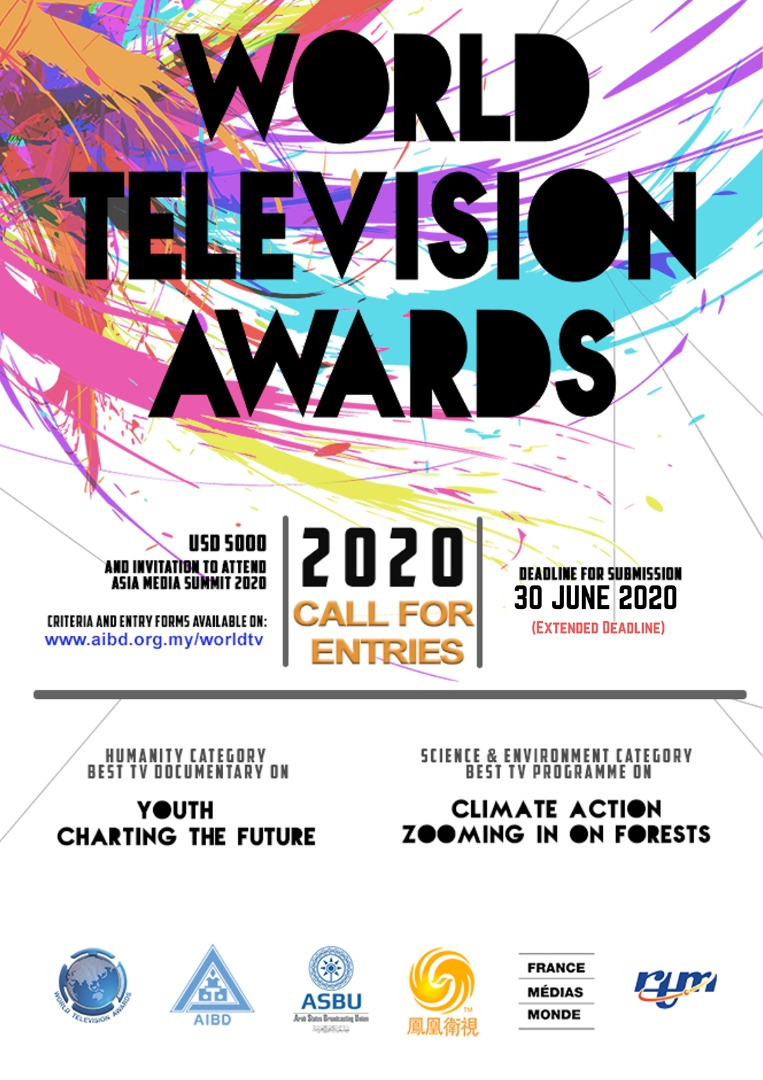 The finalist for World TV Awards 2019 has been selected. The entries come from 15 countries and winner from each category will receive a cash prize of USD 5000, a trophy and a certificate. The winners will be announced at the 2019 Asia Media Summit Awards ceremony in Siem Reap, Cambodia on Thursday 13th June.
Sponsors and Partners

CATEGORY HUMANITY
The Best TV Documentary on
Technology and Humanity – The Impact
Founder's Valley: India – Breaking Silence, Ending Violence, Deutsche Welle, Germany
Conversing with Machine, KBS 1, Korea
Becoming Human: Coding Morality, MediaCorp Pte Ltd. Channel News Asia, Singapore
Astropreneurs: To the Stars & Beyond, MediaCorp Pte Ltd. Channel News Asia, Singapore
Open Prospect with the 4th Industrial Revolution, VTV, Vietnam
CATEGORY SCIENCE / ENVIRONMENT
The Best TV Programme on
Taming the Sea of Plastic
Consuming Contaminants?, RTHK 31, Hong Kong
Plastic Earth, KBS 1, Korea
Save the Beach, Public Service Media, Maldives
Tears of the Ocean, SLRC, Sri Lanka
Trash Hero Thailand, Tlejourn, Thai PBS, Thailand