Every organization is vulnerable to crisis. The days of playing ostrich – burying your head in the sand and hoping the problem goes away – are gone. You can try, but your stakeholders will not be understanding or forgiving because they've watched what happened with Volkswagen, Air Asia and now COVID19.
If you don't prepare, you will incur more damage. When we look at existing crisis management-related plans while conducting a vulnerability audit (the first step in crisis preparedness), what we find is a failure to address the many communications issues related to crisis or disaster response. Experience demonstrates that organizational leadership often does not understand that in the absence of adequate internal and external communications:
· Operational response will break down.
· Stakeholders will not know what is happening and quickly become confused, angry, and negatively reactive.
· The organization will be perceived as inept, at best, and criminally negligent, at worst.
· The length of time required to bring full resolution to the issue will be extended, often dramatically.
· The impact to the financial and reputational bottom line will be more severe.
· If corporate image/reputation takes a beating, thus draining the company's sustainability and profitability.
The basic steps of effective crisis communications are not difficult, but they require advance work in order to minimize damage. If, you're serious about crisis preparedness and response, focus on the Pre-Crisis, During Crisis and Post Crisis, steps discussed in the Webinar, to be ready to face any crisis.
The Pre-Crisis which covers Prevention and Crisis Readiness, involves 3 critical people. The spokesperson, the Point Person and the Legal Person, the SOP's and the Trainings.
During Crisis is to focus on the issue and how you prioritize safety, affected stakeholders, protection of assets, trust, handling criticism and the impact.
Post Crisis is how you evaluate the impact, review the report, reporting, advisory and monitoring the reputational damage.
The session will also cover how to do reputational repair strategies and the steps necessary to face any crisis. Media Communications channel will also be discussed in the period of a crisis.
The session will ultimately, show the WAY FORWAD in managing any crisis that you face in the course of your work.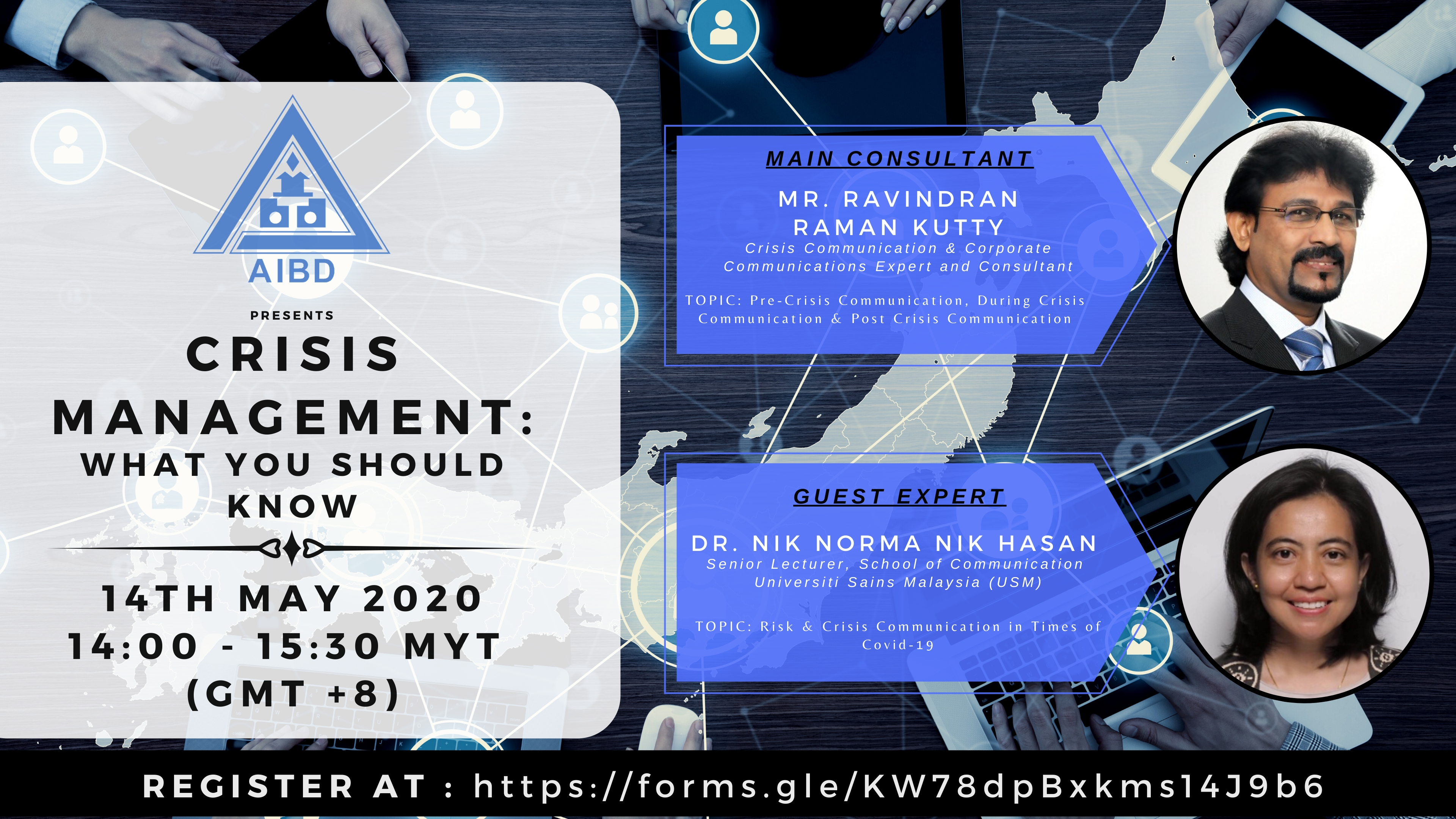 Interested individuals can register via the following link:
https://forms.gle/KW78dpBxkms14J9b6
Once registered, AIBD will provide the details and links to join the virtual session.
image