Radiodays Asia (RDA) is offering a special premium partner price of USD$300 for all AIBD Members, valid until the deadline on 1st of July.   
Participants registering on the website <www.radiodaysasia.com> will need to use the discount code – "AIBD2RADIO" – CAPITAL LETTERS - to get the discounted price.  Payment will be made by credit card online.
The link for registration online is also as shown below:   https://www.radiodaysasia.com/register-now
Radiodays Asia (RDA) 2019 is the NEW conference initiated by the team who produces Radiodays Europe (RDE), AIBD's partner since 2013 for conducting the Asia Media Summit (AMS)'s pre-summit workshop on Radio Broadcasting Development.
To be held at Hotel Istana on 27-28 August, RDA 2019 acts as a catalyst to share RDE's expertise and experiences by creating a professional and international meeting point for the radio and audio industry in the Asia-Pacific region. 
RDE is the world's largest and leading international radio conference for both public and private radios with 1,600 participants from 600 countries and regions worldwide.  RDA 2019 aspires to serve as a platform, akin to the RDE, to learn about international media trends, new technology, content development and business opportunities.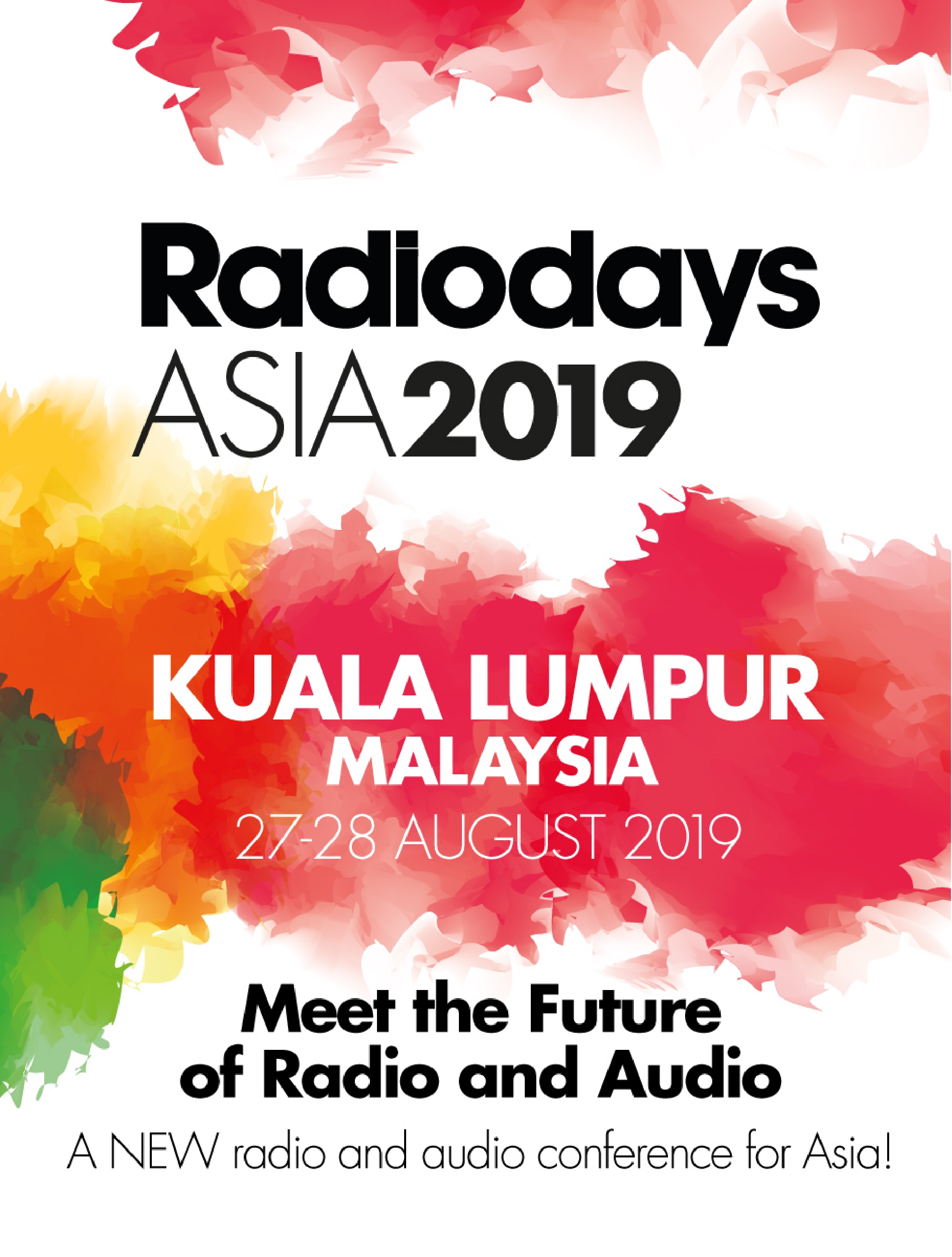 The best speakers from Asia & the rest of the world! 
"Speakers for Radiodays Asia will include the most knowledgeable and sought after international experts from the radio and audio industries, plus those from other fields such as digital trends, new business models and journalism.  Concerted effort has been made to choose speakers who are innovative and inspirational on their chosen related-subject", said Mr Anders Held, Project Manager, Radiodays Asia.  
The Format – 2 days dedicated to radio in Asia!
Radiodays Asia will run over two days and will contain two parallel tracks to enable a wide spread of topics and more specialized sessions. Some sessions will be fast paced, with shorter presentations; others will be panels, keynotes and inspiring case studies.
Join the Exhibition to promote your business or service in Asia
Radiodays Asia will offer commercial companies and service providers business opportunities. Different commercial packages will be offered and a professional exhibition organized. For further information on sponsorship or exhibition opportunities please contact: [email protected]
Radiodays Asia Testimonial Quotes from Premium Partners:
"AIBD is pleased to be a Premium Supporting Partner for Radiodays Asia, to be launched in 2019.  I believe this will be a new and distinct platform for Radiodays Europe to embrace the Asia-Pacific region, and for the latter to learn about the advanced new trends in the radio and audio industry, as an enhancement of the successful cooperation between AIBD and Radiodays Europe in the framework of the Asia Media Summit when they joined hands in 2013.  While the media landscape is being transformed in many ways, there are more challenges and opportunities for the sound media.  AIBD hopes all its members can benefit from this high-calibre industry event and bring the radio and audio in Asia-Pacific to ever new heights", former AIBD Director, Mr Chang Jin.
"CRM is delighted to be a Premium Supporting Partner for Radiodays Asia, to be held in August 2019. A special thanks to Radiodays Europe for giving CRM the opportunity to co-host the first Radiodays Asia in Kuala Lumpur, Malaysia. I believe with such a diverse group of participants from Asia-Pacific region, this conference will be an important platform for us to engage and share experiences on emerging trends and challenges facing the radio and audio industry. We at CRM realise that consumers' media consumption habits are always changing and for that, we continue to embrace and evolve with these changes and coming up with new and exciting revolution in radio. It is our hope that Radiodays Asia will be an inspiring and thought provoking conference in 2019 where Asian broadcasters would benefit the most." Ozarizan Mohd Nor, President, CRM
Media Partners & Partner Organisations:
Commercial Radio Australia

Commercial Radio Australia (CRA) is the national industry body for commercial radio in Australia with 260 AM, FM and DAB+ station members nationwide representing 99% of the commercial radio licensees on air.

"Commercial Radio Australia is pleased to support the launch of Radiodays Asia. As radio continues to reinvent itself, creating new partnerships and looking outwards for collaboration across a range of industries will help us continue to prosper and grow. Radiodays Asia will provide a new forum for ideas and networking across the region and the rest of the world." Joan Warner, CEO, Commercial Radio Australia
Podnews.net
Your free daily briefing email - Join 4,834 subscribers worldwide: get a daily briefing in your inbox every weekday about podcasting and on-demand. Concise, to the point, and a truly global view!

"I've been to every Radiodays Europe since it started; and they are a real
highlight of the year: a collaborative, positive spirit that helps all in
radio and audio. I believe that it's no coincidence that European radio is
posting record revenue and audiences. Now I've moved from Europe to
Australia, I'm delighted that Radiodays Asia will be radio's meeting place
in this part of the world." said James Cridland, Editor of the podcast newsletter Podnews.
 
Launch Partners:
Triton Digital
"Triton Digital is pleased to be a launch partner for Radiodays Asia," said Benjamin Masse, Managing Director, Market Development and Strategy at Triton Digital.  "We are eager to help accelerate the growth of the online audio industry in this diverse and fast-growing region, and are confident that this conference will be the perfect forum to gather both radio and audio professionals to share experiences, success stories, research, trends, and more.  We look forward to the excitement and momentum that this conference will undoubtedly ignite around the present and future of the audio industry in Asia."
RCS
RCS Vice President Asia Pacific, Keith Williams shares his excitement, "RCS has been a sponsor of Radiodays Europe from the beginning. Expanding the event platform on the global stage fits perfectly with our business model and we are pleased Kuala Lumpur is the selected host city. RCS is the World's Largest Broadcast Software company and we look forward to sharing our expertise with the media landscape represented at Radiodays Asia."
Wedel Software
"After being a partner with Radiodays Europe almost since the beginning, we are excited to be a part of this new chapter in Radio. Kuala Lumpur is a great choice for a location since it is the home of one of our largest customer." says Raoul Wedel, CEO, Wedel Software
Image