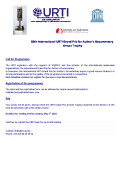 The URTI organises, with the support of UNESCO and the entirety of the international audiovisual organisations, the International Grand Prix for Author's Documentary.
Four prizes will be given, among which the URTI Grand Prix (Arman Trophy) awarded to the director of the best documentary with a 500 dollar reward.
The rules and the registration form can be obtained by simple request addressed to:
[email protected]
Deadline for sending entries: Sunday, May 1st 2016.