AIBD undertook 33 training workshops covering mostly areas dealing with TV and radio production, children's programmes, disaster risk reduction and new media from 1 July 2015 to 30 June 2016.
Close to 700 broadcasters from Asia-Pacific benefitted from these in-country, sub-regional and regional activities.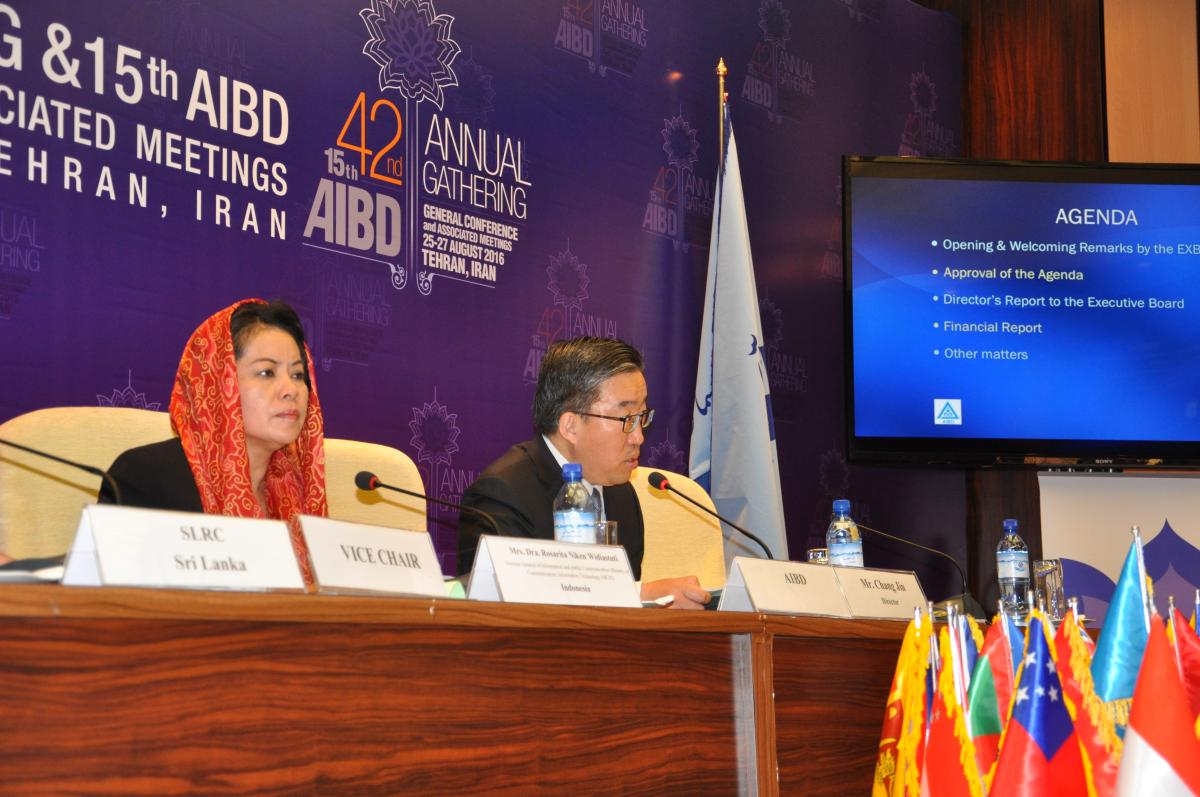 AIBD Director Chang Jin delivered a brief report on these activities and other accomplishments during the Institute's Executive Board (EXBO) meeting in Tehran, Iran on 25 August 2016.
In his presentation to the EXBO meeting, which coincides with the 15th AIBD General Conference & Associated Meetings, Director Chang Jin also cited the publication of the AIBD Annual Media Research. The research project pursued three surveys: a national media survey to generate statistics on the overall broadcasting scenario; a broadcaster review survey to identify members' operations and transmissions, as well as use of social media networks; and the audience consumption survey to determine consumption habits in both traditional and new media.
Another of the Institute's major work was the Asia Media Summit held in Incheon, Korea in May 2016. More than 400 foreign and local delegates from 50 countries across the globe participated in the two-day conference. AMS's main agenda focused on new approaches to create and source compelling and distinctive programmes as well as manage content marketing and distribution.
Representatives from nine countries that form part of EXBO attended the one day-meeting at the Islamic Republic of Iran Broadcasting in Tehran, Iran. Close to 30 members and observers were present.
Mrs Dra Rosarita Niken Widiastuti, Director General of Information and Public Communication, Ministry of Communication, Information Technology, Indonesia, welcomed the participants and urged them to review AIBD's performance and suggest ways to improve it.
Prof. M. Sunil Shantha, Director General of Sri Lanka Rupavahini Corporation, Sri Lanka, chaired the EXBO meeting.
For the next months, AIBD is working on implementing workshops on the UN-led 17 Sustainable Development Goals adopted by world leaders during a UN Summit in September 2015. Given its limited resources, the Institute will cover only 8 of the 17 SDGs aimed at ending poverty, protecting the planet, and ensuring prosperity for all. Each goal has specific targets to be achieved over the next 15 years.
On AIBD memberships, Mr Chang Jin said the Institute has 101 full member and affiliate member organisations, representing 48 countries and regions. He reminded some member countries to pay their arrears in order to beef up the Institutes finances.
Director Chang Jin also reported the successful completion of the World Television Awards 2016 that saw more than 20 entries from the two categories, namely; Best TV Documentary "Promoting Children's Rights," and Best TV Programme "Encouraging Environmental Protection."
"Reel Time: The Price of Gold," broadcast by GMA Network, Inc. Philippines won the Award for Humanity for the Best TV Documentary "Promoting Children's Rights," and "Sumatra's Last Tigers," broadcast by Navistar Sdn Bhd, Malaysia won the Best TV Programme " Encouraging Environmental Protection."
He also cited the AIBD Awards 2016 that had more than 40 entries in four categories, namely Best TV Programme on " Reviving Lost Cultural Heritage" and "Ending Conflict, Promoting Peace" and Best Radio Programme on " Escape from Poverty" and the Reinhard Keune's Memorial Award on Best Radio programme on " Emergency Broadcasting."
On human resource development, Mr Chang Jin said AIBD recruited three additional programme managers to assist in implementing various training workshops, regional seminars and conferences. The Institute is also finalising secondment of selected applicants to AIBD. This programme aims to offer the applicants additional competence by working on some AIBD projects. The applicants are also expected to share their expertise to enhance AIBD's initiatives in various broadcast schemes of operations.
Chang Jin reiterated AIBD's commitment to pursue quality management. In August 2015, AIBD was re-certified for ISAS BCP 9001:2010. That means that AIBD has established and maintained its management system in line with the requirements of the ISAS standards. The next annual surveillance audit of the Institute quality management system is scheduled for August 2017.