AIBD's Executive Board (EXBO) proposed some approaches to beef up AIBD's finances and identified training programmes to meet member countries' needs.
In the 15th AIBD General Conference EXBO Meeting held in Tehran Iran on 25 August 2016, Mrs Dra Rosaria Niken Widiastuti, Director General of Information and Public Communication, Ministry of Communication, Information Technology, Indonesia, recommended to expand cooperation with international institutions for funding assistance.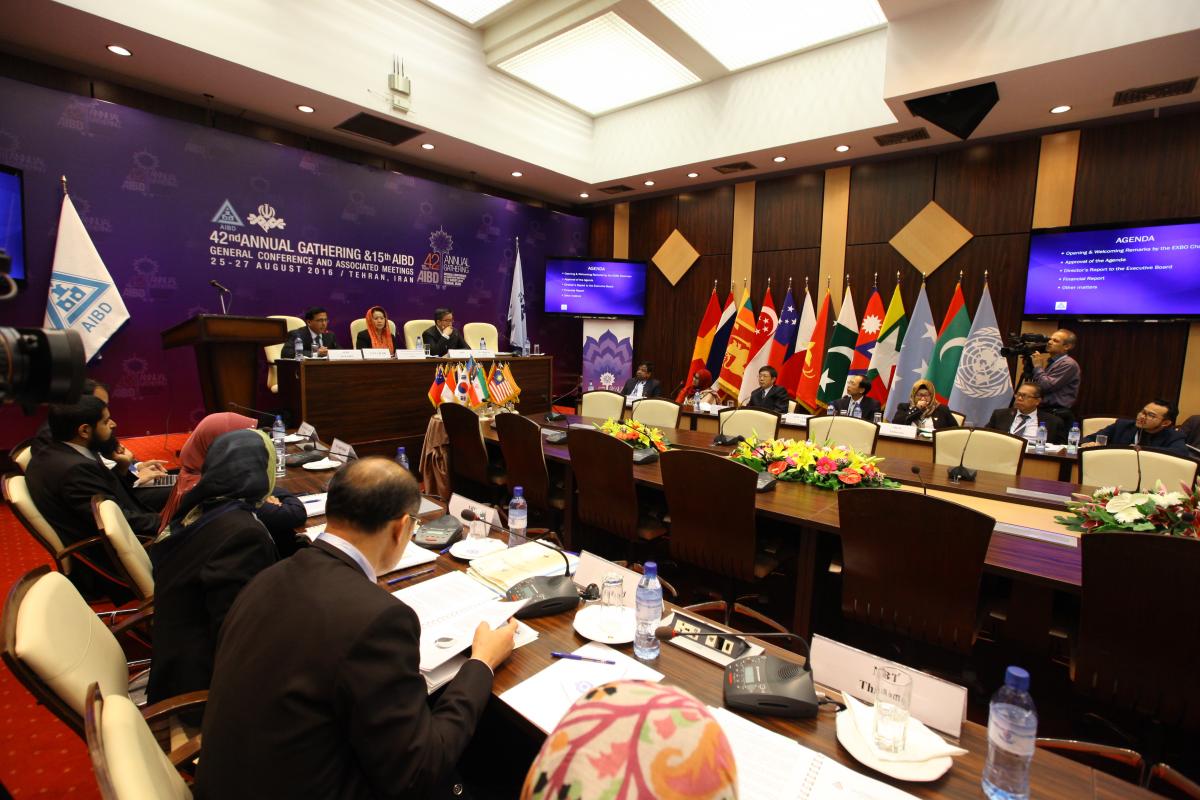 "Such funding can be used to support many workshops and training activities," she said.
Mrs Niken, who is also President of the General Conference, suggested to tap media companies in China, Japan and Thailand for their expertise in providing training programmes for AIBD members. She also said to encourage UN agencies like UNESO to support AIBD.
Mrs Niken's recommendations came after AIBD Director Chang Jin presented a brief report on the Institute's performance covering 1 July 2015 to 30 June 2016.
Prof. M. Sunil Shantha, Director General of Sri Lanka Rupavahini Corporation, Sri Lanka, who chaired the EXBO meeting, requested AIBD to undertake training programmes on digitalisation and the shift from analogue to digital. He said that there is a debate going on in Sri Lanka on which digital standards to use, the European or Japanese versions, and perhaps the Institute can contribute towards a better understanding of the pros and cons of these standards.
Ms Syeda Tasmania Ahmed, Chief News Editor of Bangladesh Television, had a similar request, saying BTV needs training on the requirements to shift to digital as well as information on digital standards that best suit her country. She said BTV is willing to host an in-country workshop to minimise cost.
Director Chang Jin said AIBD has had some workshops on digitalisation, a recent one in Yunnan China on DVB-T2 Transmission last August, and it will consider the request of Sri Lanka and Bangladesh for a similar workshop, perhaps on the Japanese digital standard.
Mrs Sumanpan Kosonsiriset, Director of the Institute of Public Relations, The Government Public Relations Department, Thailand, informed the EXBO that its office is willing to host a workshop on one of the UN-led 17 Sustainable Development Goals in Bangkok.
Mrs Wanida Gajasani, Senior Information, International Cooperation Division, Foreign Office, Thailand, also announced that NBT and AIBD can jointly organise a workshop on climate change. AT the same time, she requested the Institute to organise a workshop on lighting for High Definition TV.
Director Chang Jin welcomed Thailand's offer to host these workshops and promised to follow these up after the GC.
In his remarks, he reminded some members to pay their arrears in order to beef up funding requirements of AIBD and meet member countries' needs for human resource development.