For broadcasters to develop and sustain cutting-edge content, they must ensure it is interactive and produced and delivered on multi-screens. Such content must cater to more young people and also be part of the whole industrial chain.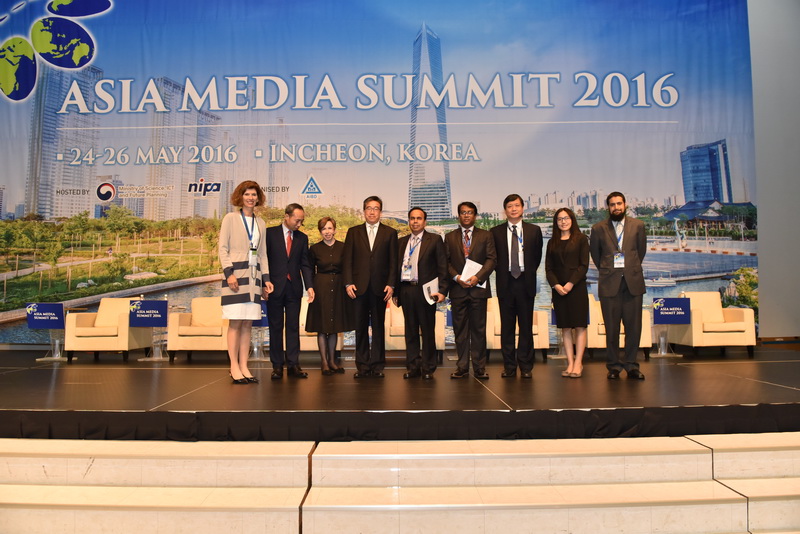 This advice came from Mr Lv Peng, President of Shandong TV, China, who participated in the CEO Roundtable at the 13th Asia Media Summit on 26 May 2016 in Incheon, Korea.

In his remarks, Mr Peng said viewers now switch screens among TV, laptop, Ipad and mobile phone. To reach out to these viewers, he said Shandong TV needed to speed up media convergence, establishing a new media group, and responding to changing consumer viewing behaviour and demands.

"For this purpose, we make corresponding changes in content, genre, time, length and forms," he said.

He also pointed out that young viewers are more fascinated with animation, comics and novel programs as well as games, and cutting-edge content must capture these interests.

With the commercialisation of the fifth-generation network, Mr Peng said new interactive approaches and forms should be important elements of cutting-edge content.

"We take into consideration the whole industry chain including screen content, games and derivatives in order to generate better business returns and more viewers' satisfaction," he said.

Mr S.M Haroon-Or-Rashing, Director General of Bangladesh TV, Bangladesh, also spoke at the CEO Roundtable, emphasising the element of trust if media has to deliver accurate, diverse and creative content.

"We need to work together in order to bring discipline in the media interventions through practicing media ethics and principles," he said.