Audiences will have many screens to watch news anytime and anywhere, and to draw their attention, particularly the young, broadcast journalists must have a story to tell, one that offers accuracy, analysis, and expertise, and must help audiences make sense of it.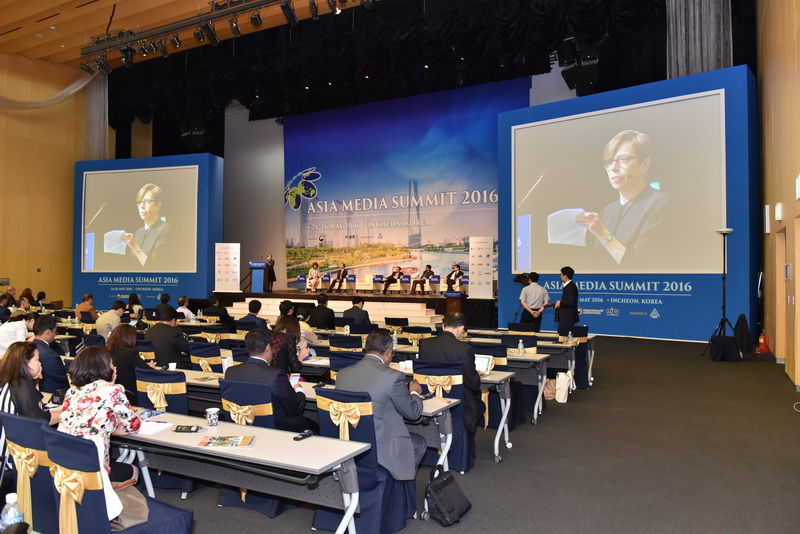 This approach is how BBC World Service has operated in the world, says Ms Francesca Unsworth, Director, World Serive Group, BBC, United KIngdom, emphasising that "content remains queen or king."

She spoke at the CEO Roundtable of the Asia Media Summit on 26 May 2016 in Incheon, Korea.
Speaking on the topic "Looking Forward: Vision for Cutting-edge Content," Ms Unsworth said BBC World Service experiments a lot to keep pace with new consumption habits.

To ensure BBC World Service increase its reputation as one of the most trusted international news providers in the world,"BBC World Service tells stories from a broad range of perspective, using their different languages service. We also tackle issues that local content can't do the same way such as women rights, homosexuality and free speech in countries like North Korea, Honking and Saudi Arabia," Ms Unsworth pointed out. In addition, BBC uses new technologies such as drones, 360 degree virtual reality, and live streaming.

She said news around the world is experiencing a digital, commercial, competitive and audience revolution. Broadcasters are developing new business models, confronted by dynamic competitors including digitally-based players and content aggregators like Google, Facebook and Apple, and changing consumption behaviour, especially of the young who are embracing new ways of engaging with news.

To deal with this revolution and serve more countries where freedom is under threat, BBC World Service will soon begin its biggest expansion since the 1940s.

"We will go over the heads of dictators and governments who are averse to open and accessible news and, thus, will make the provision of news more complex," she said.

In order to sustain their relationships with audiences, which tend to be younger and more female, Ms Unsworth said they will take digital at the heart of what they do by making sure they keep in touch with audiences, talk directly to them and allow them to talk to each other.