Mr. Choi Yanghee, Korean Minister of Science, ICT and Future Planning (MSIP) said on Tuesday that the Asia-Pacific region, home to four billion people and the world's dynamic economy will be able to leverage its long history and rich cultural heritage to lead the development of global broadcasting content.

"We must continuously produce innovative and new media content to create added value and bring more joy to audience," Minister Choi said in his keynote address at the inaugural session of the 13th Asia Media Summit (AMS) held in Incheon, Korea.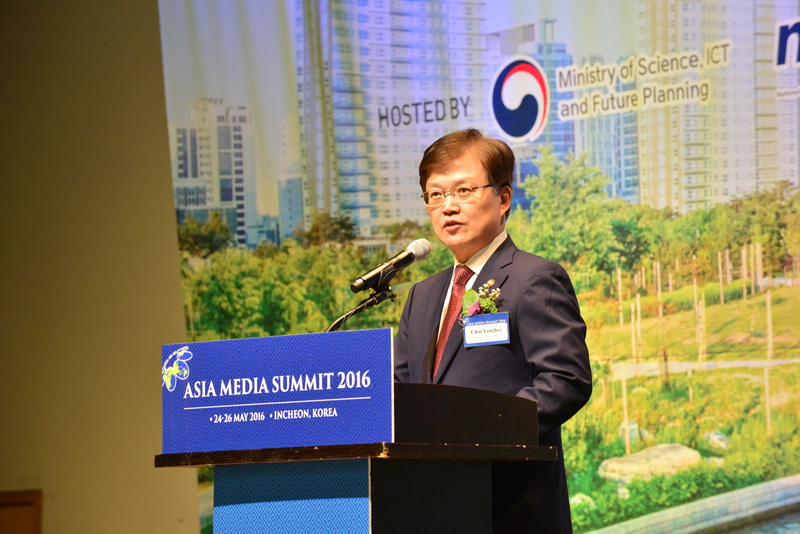 Some 400 top-ranking broadcasters, decision makers, media professionals, regulators, scholars, and stakeholders from within and outside the region are participating in the two-day conference.

Minister Choi commended AIBD for choosing the conference theme "New horizons for Media Content: Asia and Beyond" and urged broadcasters to take advantage of programmes Korea offers in developing new and innovative content for various platforms.

In his speech, the Minister said that in the last two decades, Korea has seen amazing growth in media content that pushed broadcasting to the next level and expanded the market, benefitting other sectors like consumer goods and tourism.

Aside from expanding and upgrading cutting-edge broadcasting technology infrastructure, the Ministry offers training to creators who can lead in producing quality broadcast content and support the creation of new, innovative content for mobile and online one-person creators.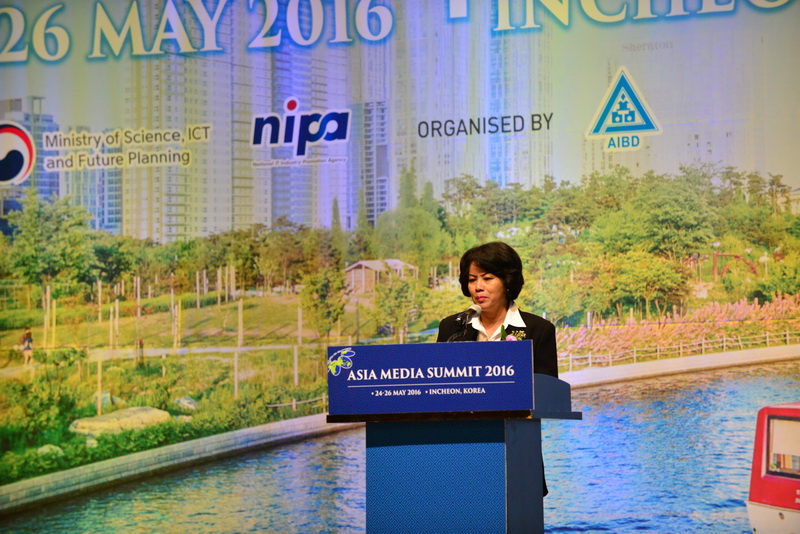 Technological advances, he said, must go hand in hand with the development of content to deliver greater satisfaction to audiences.

In her welcome remarks, Mrs Dra Rosaria Niken Widiastuti, President of AIBD General Conference and Director General of Public Communication Information, Indonesia, said capturing and producing new horizons for content requires a deep understanding of our audiences to achieve a competitive edge.

"Our biggest challenge, after all, is the fierce competition for people's time from an ever-increasing group of content, media and entertainment providers," she said.

She also said that audiences will watch good programmes not channels regardless of the
platform these are delivered, and consume entertainment that makes them smile, laugh
and cry, and information that enhances knowledge and matters to their lives and
citizenship. She added that viewers will watch programmes that create great experiences for them, and drive real-time participation and engagement 24/7.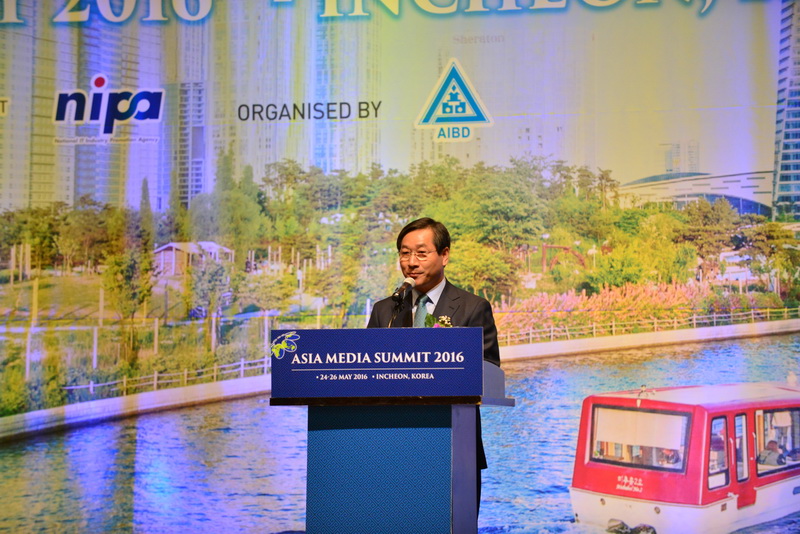 Mr Yoo Jeong-bok, Mayor of Incheon Metropolitan City, commended the AMS as a
platform for intercultural understanding and cooperation, encouraging broadcasters to use
this venue to not only to gain knowledge about new content creation and production, but also to forge a better future for humanity.

The AMS is organised by the Asia-Pacific Institute for Broadcasting Development (AIBD) and co-hosted by the Ministry of Science, ICT and Future Planning (MSIP) of the Republic of Korea and the National IT Industry Promotion Agency (NIPA). It is being held from 24 to 26 May 2016.