Korea promises that the next Asia Media Summit to be held in Seoul from 24 - 26 May 2016 will be a fruitful, exciting and meaningful event.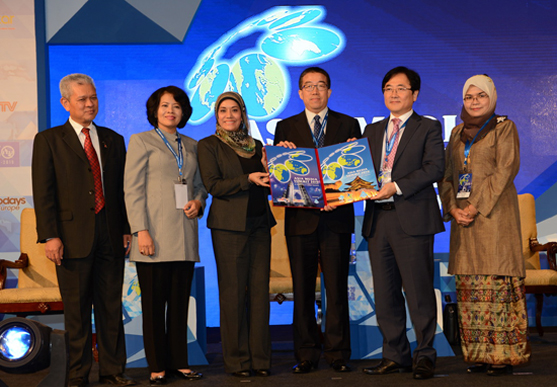 "As host of the 13th AMS, we will ensure that this Summit is a future-oriented conference", Mr. Sanghun Lee of the Multilateral Cooperation Division, Ministry of Science, ICT and Future Planning, Republic of Korea, said at the closing ceremony of the AMS 2015 in Kuala Lumpur, Malaysia on 28 May 2015.
Mr. Lee said that the Korean delegation has been learning from AMS 2015 in Kuala Lumpur, saying the government will exert best efforts to do the same.
A short video clip was presented highlighting various popular places participants can visit while in Korea.
In inviting local and foreign participants to Korea, Mr. Lee said participants will also have the opportunity to visit the production facility for the popular K Pop Group and hologram stations of KBS.
Dato' Sri Dr. Sharifah Zarah Syed Ahmad, Secretary General, Ministry of Communications and Multimedia Malaysia in the witness of Mrs. Dra Rosarita Niken Widiastuti, President of the AIBD General Conference and President Director of Radio Republik Indonesia, and Mr. Chang Jin, AIBD Director,officially turned over to Mr. Lee a symbolic certificate signifying the change of host.
AIBD and the Korean Ministry have begun preparations to finalise the theme and topics as well as logistical requirements for the next Asia Media Summit.