The Asia Media Summit 2015 in Kuala Lumpur, Malaysia will offer public as well as private broadcasters in Asia Pacific a wide range of opportunities to debate, examine and formulate a clear vision for social media and pursue innovative strategies in dealing with this new media platform. As they recognise the growing symbiotic relationship they have with social media, broadcasters need to master this social media landscape in order to enhance their programmes, audience engagement and income generation.
While some broadcasters consider social media competition, others believe they can co-exist with social media and make this new platform a key partner to achieve their organisation's goals.
More than 50 speakers from across the globe are expected to share their knowledge and expertise in building broadcast markets, content and business by tapping social media. The Summit aims to attract some 500 CEOs, senior officials and other broadcast stakeholders from more than 50 countries to attend this event at the Shangri-la Hotel in Kuala Lumpur.
As the AMS organiser, AIBD in collabora­tion with this year's hosts, Malaysia's Min­istry of Communication and Multimedia (KKMM) and Tun Abdul Razak Broadcast­ing and Information Institute (IPPTAR), Malaysia expects to tap some 15 foreign and local partners and organisations to support the three-day Summit from 26-28 May 2015. The Summit's theme is "Trans­forming Broadcasting in the Social Media Era."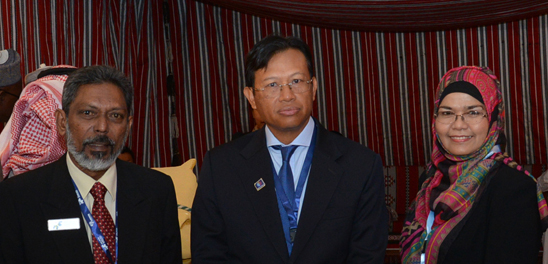 "We will support the AMS 2015 and ensure that a diversity of perspectives will be presented to help broadcasters in the region transform the ways they face the influence and impact of social media," Dato' Sri Ahmad Shabery Cheek, Minister of Communication and Multimedia, Malaysia, said in a recent meeting with AIBD and IPPTAR officials to discuss the Summit preparations.
Mr. Marcel Gomez, AIBD Acting Director, says this year's conference will continue its tradition of providing broadcasters every opportunity to learn from the expertise of foreign and local resource persons and network with their peers within and outside the region.
AIBD and IPPTAR have had several meetings to facilitate preparations, solicit partnerships and ensure that delegates will have a meaningful and productive participation as well as an enjoyable experience while in Malaysia's capital.
Delegate online registration will open by the first week of March 2015.