Any effective curriculum models for social media-based training must start with the audience and an understanding of what motivates them towards social media and related interactions.
It's not just the curriculum, but the method and practice of teaching/learning must transform to embrace these 'social norms' … sort of like "Education 2.0".
Adding a social media platform to "old world" teaching approaches will not work.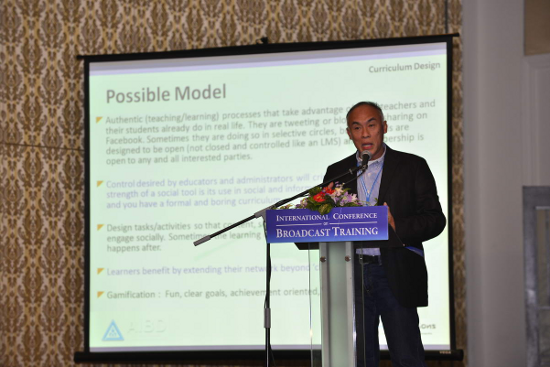 These are some of the approaches that Mr. Azhar Azib, Founder/Principal of Rawonion Decisions, Singapore suggested in his presentation during the session on 'Effective Curriculum Models for Social Media-Based Training' at the 2nd International Conference on Broadcast Training on 25 February 2014 in Kuala Lumpur, Malaysia.
As a marketer and management consultant, Mr. Azib recommended possible models. These are:
Authentic (teaching/learning) processes that take advantage of what teachers and their students already do in real life. They are tweeting or blogging or sharing on Facebook. Sometimes they are doing so in selective circles, but the tools are designed to be open (not closed and controlled like an LMS) and membership is open to any and all interested parties.
Control desired by educators and administrators will cripple engagement. The strength of a social tool is its use in social and informal contexts. Take those away and you have a formal and boring curriculum.
Design tasks/activities so that content, skills and/or attitudes are learnt as they engage socially. Sometimes the learning happens as they interact; sometimes it happens after.
Learners benefit by extending their network beyond 'class and faculty'.
Gamification: Fun, clear goals, achievement oriented, strategy + creativity
To succeed, he said educators and curriculum designers must understand dynamics of social media and its 'inhabitants'. Participants must be 'digital natives' and the curriculum must promote or require active engagement – sharing, collaboration.
"Participants must see benefit of extended networking and must promote a culture of peer review, including feedback, and comments," he added.