The Asia Media Summit (AMS) 2013, organised by the Asia-Pacific Institute for Broadcasting Development (AIBD) and hosted by Ministry of Communication and Information Technology (MCIT) together with Provincial and Local Governments will be held in Manado, Indonesia from 29 to 31 May 2013. Several pre-summit events will also be held from 26 - 28 May 2013.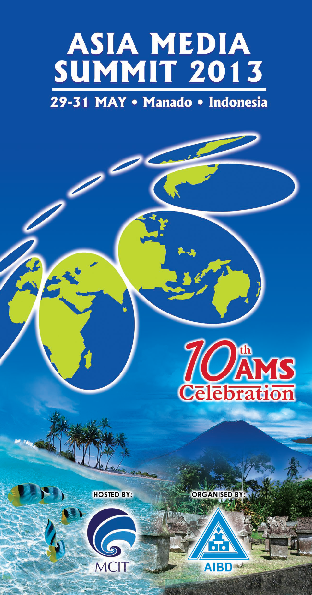 The AMS, which was initiated in 2004, is organised annually and has travelled to Malaysia, China, Vietnam and Thailand. It has become the premium media and intellectual gathering in the Asia-Pacific region and is widely supported by regional and international broadcasting unions and associations.

The theme for AMS 2013 is "Delivering on Broadcasting's Future". The Summit, expects to gather some 500 top-ranking broadcasters, decision makers, media professionals, regulators, scholars, and stakeholders from within and outside Asia Pacific to examine what the future holds for broadcasters in a region so diverse in culture, lifestyle and religion that is seeing dynamic growth in development, challenging demands in nation building and a mix of opportunities in the changing media landscape.

We have the pleasure of welcoming all media professionals to the Asia Media Summit 2013 in Manado, for the 10th AMS celebration.

10 Years of Significant Service to Broadcasters

AIBD Director Yang Binyuan has commended member countries from Asia Pacific for helping build and sustain the Asia Media Summit (AMS), which celebrates this year its 10 years of service to broadcasters and key partners in the region.
In his brief message to the AMS participants, he said the AMS is a 'milestone in AIBD's history, rich of significance in many respects'.

Aside from bringing together top players in the broadcast industry of diverse cultural, religious, political and economic backgrounds in the Asia-Pacific region, the AMS has expanded networking opportunities that led to partnerships and business contracts dealing with programs, technology and skills upgrading.

He said that the Summit "has brought to the fore issues that have received minimal attention, yet critical to strengthening media's role in delivering public service and enhancing the public good." Among these issues were discussion and analysis on gender equality, religion, cultural diversity, labor migration, climate change, HIV-AIDS, and rights of children, among others.

"In ten years, the AMS has helped define how broadcasters should move forward and face the industry's future. It continues to do so as the AMS 2013 in Manado tackles the theme Delivering on Broadcasting's Future." he said.

Organized in 2004, the AMS was the first immediate outcome of the Bangkok Declaration that was approved during the first Conference of the Ministers on Information and Broadcasting in Asia and the Pacific in Bangkok from 27-28 May 2003.
Call for Meaningful Outcomes
Freddy H. Tulung, Director General of Information and Public Communication, Ministry of Communication and Information Technology (MCIT), Indonesia calls on participants to the Asia Media Summit in Manado to generate meaningful outcomes from the various discussions and meetings that can help move the broadcast industry's future to a brighter and more relevant future.

In his brief message, Mr. Tulung said Manado, home to a fun-loving and peaceful community and venue for the two-day Summit, will contribute towards a conducive environment for knowledge sharing, networking and relationship building among local and foreign delegates.

A total of ten plenary and parallel sessions will be featured in the Summit, which is celebrating this years its ten years of significant service to broadcasters in Asia Pacific.

Mr. Tulung leads a group of government and media organizations hosting and helping co-organize with AIBD the Summit. The governor of Sulawesi, North Sulawesi Tourism Board and the Mayor of Manado have also provided support in ensuring a successful conference.

"We have treasured our engagement with AIBD and the Asia Media Summit, and hope to strengthen the bonding that we have so far nurtured," he said.