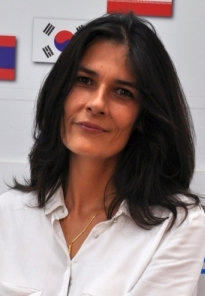 Geraldine Mouche joined AIBD as Programme Manager in 2011. Her areas of interest include video production, marketing and communication.
Geraldine has an in-depth experience in development and production of media projects, and in promotion and advertising. She started her career as CD-ROM Project Manager at Marshall Cavendish Editions before joining a leader in cable TV in France, Numericable, as Promotion and Advertising Officer.
After those two complementary experiences, she was appointed Audiovisual Project Manager, in charge of DVD and Blu-ray, for the French Cinema Publisher and Distributor Metropolitan Filmexport, in collaboration with American majors as New Line Cinema. In particular she worked during three years on the French Edition of The Lord Of The Rings.
Geraldine holds a French Bachelor's degree in Communication and a Master's degree in Corporate Communication from the University of Poitiers in France.