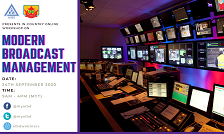 The media landscape around the globe has evolved significantly over the past two decades, through the convergence of broadcast, print and digital media and evolving social media platforms. This has provided audiences with diverse choice beyond traditional media and offered opportunity for almost unlimited consumer driven content. It also gives marketers, individuals and companies almost unlimited scope to reach consumers without the need to advertise through mainstream media. The consequence of these changes has been the disruption of traditional media business models where advertising revenue has, in many cases, all but disappeared and where broadcasters and newspapers are no longer guaranteed significant audience reach and share.
Therefore, broadcasting organisations needs to become even more nimble and capable of change, in order to reach audiences in new ways and to demonstrate relevance whilst being of high interest to audiences in the digital age. This can only be achieved if broadcasters strategize their management practices and adopt new models of leadership in order to maintain relevance and enhance their ability to reach audiences on multiple platforms, both those that are existing and those that are emerging. Modern leaders need to know and understand the interests and aspirations of their target audiences as well as how these audiences are consuming and producing content. Leaders also need to know how they can provide content that is a compelling, if not essential component of people's daily and hourly media consumption decisions. 
Aims
The aim of the online workshop is to enhance leadership capabilities of managers and supervisors to assist in developing knowledge and understanding of the requisite skills and attributes necessary for effective modern broadcast industry leadership.
Objectives
The objective of the workshop is to enhance participants' productivity and effectiveness in terms of work performance. By focusing the leadership capabilities on organisiational objectives, community expectations and audience practices the knowledge acquired in the workshop will improve the participants' capacity to be more confident in leading creative teams more effectively. A concurrent focus on effective management systems to compliment effective leadership will equip participants with some more effective tools for leading creative teams productively.
Expected outcomes
To enhance the leadership capabilities of Senior and Middle Managers in the following areas: 
Approach to leadership

Capacity to develop good management systems that add value to leadership and outcomes

Capacity to be creative to improve strategic outcomes

Connection with colleagues, team members and audiences to build on successes

Effective connection with all stakeholders

Leadership of a creative and innovative work environment
image