AIBD in collaboration with its global partners presents the World Television Awards 2020.
The World TV Awards are open to all broadcasters in Asia, Pacific, Europe, Africa, and North & South America from public, private sector and freelance producers.
"The Winner Prize" consists of US$ 5,000.00 cash prize, a trophy and a certificate presented by AIBD per Award category.
For 2020, the two World TV Awards categories are:
Humanity
Theme: Youth towards agenda 2030 - Building Skills and Knowledge
Title: Youth – Charting the future
The 2030 UN Agenda recognizes youth as 'critical agents of change' for 'creating a new world'. This reorganisation translates the importance of focusing and highlighting the role youth in shaping the world as a stakeholder at all levels.  By including the views of the youth in developing strategies to tackle issues, their leadership qualities will be strengthened.  It will encourage skills and knowledge so that the younger generation will understand the stakes required to successfully navigate the issues that is or will plague the world.
This year's Humanity Category will focus on the importance of having youth oriented viewpoints and youth themselves, who are changing the world by their experience, innovation and expertise.
Science and Environment
Theme: Climate change and how to prevent degradation of resources.
Title: Climate action – Zooming in on Forests
Our planet cannot survive without forests. The forests are stabilising force for sustainability of life. Currently, 25 percent of the world population rely on forests for their livelihood, and it is a home to billions of creatures.
Large swathes of forests are lost every day due to direct and indirect human actions. Managing forests landscapes or halting the loss or degradation of forests and restoring them can help mitigate climate change. According to International Union for Conservation of Nature (IUCV), more than one third of the total mitigation is possible by sustainably managing the forests landscapes.
This year's Science and Environment Category will focus on the importance of forests and look into ways that can restore, maintain and create these life-sustaining natural resources. The impact of forests and lack thereof can lead to two very different futures for the humankind.
Winners will be presented with their Awards during the Asia Media Summit 2020, a global gathering of broadcasters.
Criteria & Entry forms are available below:
Category 1 : Humanity 
Category 2: Science
The World TV Awards 2020 are supported by Arab States Broadcasting Union (ASBU), Phoenix TV, France Médias Monde, Radio Television Malaysia (RTM) and Asia-Pacific Institute for Broadcasting Development (AIBD)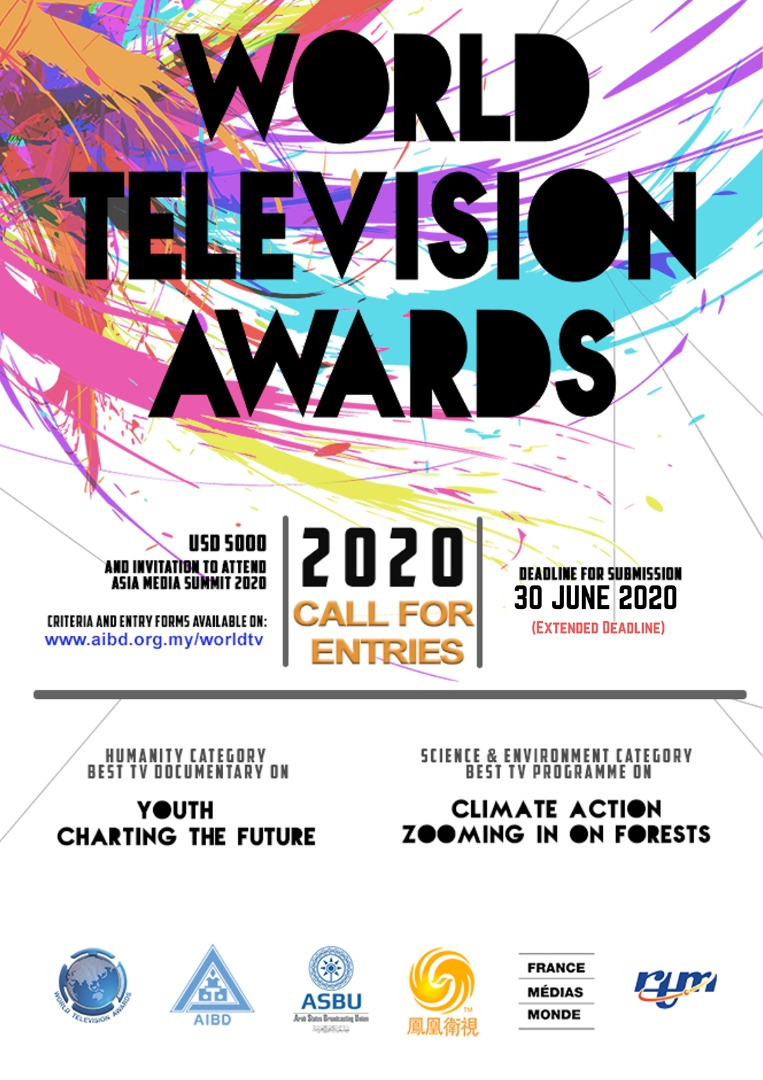 Image