The use of virtual studio and virtual studio implantation technology is bringing a new visual experience for the TV audience, and providing new thinking and creative new tools for television producers.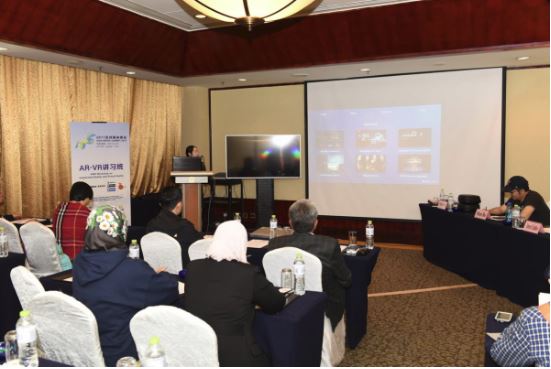 They are applications of the virtual reality technology and are becoming a new trend in the broadcast industry in Asia Pacific, Mr Huang Lei, Product Manager
"Soap Opera: From the Idea to the Production" is the second regional workshop of the third year training programmes dedicated to TV content, formats and visual dynamics supported by the French Government and AIBD. From November 14 to 17, 2011 in Manila, Philippines, the local TV channel GMA hosted the workshop, which included participants from Media Prima (Malaysia), SCTV (Indonesia) and GMA.
[img_assist|nid=2023|title=|desc=|link=none|align=middle|width=539|height=265]
…
[img_assist|nid=2005|title=|desc=|link=none|align=right|width=350|height=263][img_assist|nid=2006|title=|desc=|link=none|align=right|width=350|height=173]
Amidst snowing the Sub-Regional Workshop on Media and Good Governance started on Tuesday 8th November 2011 in Dushanbe, Tajikistan. Twenty participants are taking part in the workshop.
Mr Karomatullo Olimov, Chairman of the Tajikistan National Commission for UNESCO opened the workshop. In his speech he said, "We would like to give a special focus to the transparency of…
17 senior managers have attended the four-day regional workshop on Broadcast Management in Kuala Lumpur, organized and hosted by AIBD, and supported by ABU, FES, ER and MSF.
[img_assist|nid=1895|title=|desc=|link=none|align=none|width=500|height=332]
The participants are from the Radio & Television Broadcasting organizations from 11 countries including Bangladesh, Maldives, Malaysia, Mauritius, Myanmar, Nigeria, Pakistan, Sri Lanka, Tanzania, Thailand and Vietnam.
…