Asia media summit
AIBD in collaboration with its partners and international organisations is organising the Asia Media Summit (AMS). The conference provides a unique opportunity for broadcasters in the region to share their thoughts on Broadcasting and Information.
Decision makers, media professionals, scholars, and stakeholders of news and programming from Asia, Pacific, Africa, Europe, Middle East and North America attended this annual conference. Almost all regional and International Broadcasting Unions and Associations support the AMS.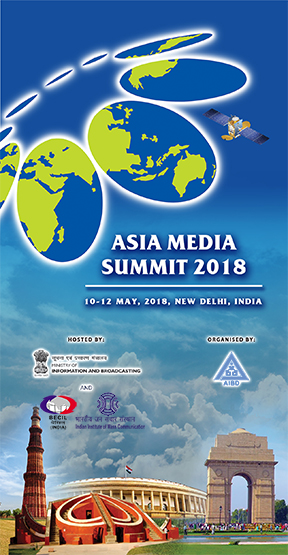 ASBU, AIBD Seek Stronger Cooperation
The Arab States Broadcasting Union (ASBU) and AIBD pledged to expand their cooperation in capacity building activities for their members.
In their annual partnership committee meeting held in New Delhi, India on 11 May 2018, Mr
India's Prime Minister Modi says Asia Pacific has emerged as one of the most promising regions for media business, especially the broadcasting sector, and offers opportunities for international cooperation ranging from technology partnership to sharing of successful strategies of inclusive communication.
"Our eventual aim shall be to
AIBD/ASBU Meeting
11 April 2018, New Delhi, India
Minutes of the Meeting
The meeting convened at 6:30 p.m.
AIBD Director Chang Jin reported the Institute with support from ASBU will continue to organise the 4th regional workshop